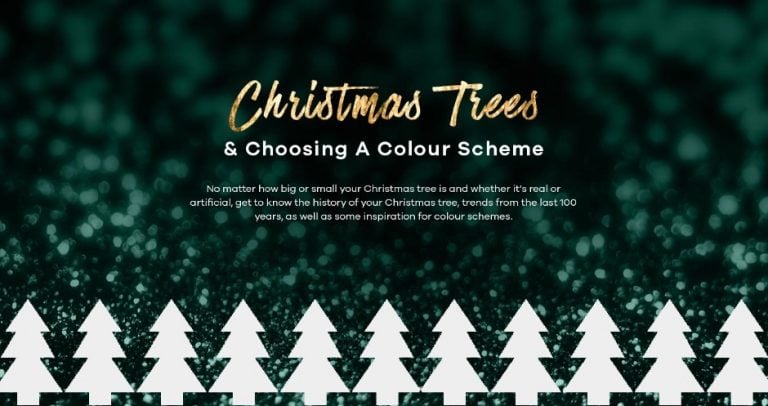 We all love to put up a Christmas tree in our homes for the festive period but why is this a tradition and when did it all come about? The below guide outlines everything you need to know about Christmas trees and if you're yet to put up your own tree, there's plenty of inspiration for colour schemes as well.

JD Williams have been doing their research and they've looked into the different types of natural tree you can buy – including average costs, average heights, as well as how the fragrance and colours compare. If you're wondering about the history of the Christmas tree as well as tree decorating trends from the last 100 years, then this guide has you covered! There's also some fun facts arounds the top ten most famous Christmas trees around the world, as well as the top five most expensive trees. No matter how big or small your Christmas tree is and whether it's a natural or artificial one, get to know all about one of most loved festive traditions.
Is First Gen An Overlooked Power Play That Deserves A Re-Rating?
The post was originally published here. Highlights: Resolving gas supply issues ensures longevity A pioneer in renewable energy should be future proof Undemanding valuation could lead to re-rating Q1 2022 hedge fund letters, conferences and more
Christmas Tree Types
The tradition of bringing a natural tree into your home over Christmas is very much still alive, however quite a few people are now (and have been for a while) opting for artificial trees which they can keep re-using year after year. Both natural trees and artificial trees have their pros and cons though. The big debate is which one you should go for, as well as deciding which species of tree to go for as well.
You might be someone who prefers a stronger and bolder colour over fragrance, or you might prefer a smaller tree in height but has a stronger scent. To discover your perfect tree, check out the below comparisons. Even if you're opting for an artificial tree, you'll still need to know which style to go for as many of the fake ones look incredibly realistic!
Natural
Pros: Recyclable, biodegradable, lower carbon footprint than artificial, nice fragrance, more memorable experience for the whole family to go out and choose a tree
Cons: More costly, more upkeep, quite flammable when dries out, chance of bringing insects into the home, chance of making any allergies worse
Artificial
Pros: Cost effective, convenient, doesn't drop any needles
Cons: Storage, higher carbon footprint than natural, non-recyclable, non-biodegradable
| | | | | |
| --- | --- | --- | --- | --- |
| Type of Tree | Height in Forest | Average Cost | Colour | Fragrance |
| Fraser Fir | 50ft | £60 | Yellow green | Strong |
| Blue Spruce | 75ft | £35 | Silver blue | Strong |
| Norway Spruce | 180ft | £48 | Green | Medium |
| Douglas Fir | 230ft | £60 | Dark green | Strong |
| Noble Fir | 230ft | £62 | Dark green | Strong |
| Nordmann Fir | 250ft | £60 | Dark green | Medium |
Christmas Tree History
Where and when did the Christmas tree tradition start? The modern Christmas tree tradition was thought to have originated in 16th century Germany, where small evergreen trees were decorated with the likes of candles, apples, nuts and berries. The first known English tree though was set up by Queen Charlotte, the German wife of George III, at Queen's Lodge in Windsor in December 1800.
Today, people generally put up the Christmas tree when they feel like it whether that's the end of November, the first weekend of December or even the last weekend before Christmas. It was another story though back in the day, as the tree wasn't put up until the afternoon of Christmas Eve. Others might believe the tree should go up at the start of Advent, which is the period leading up to Christmas.
Christmas Tree Trends From The Last 100 Years
Christmas tree decorations have come a long way since the paper decorations from the 1910s and no matter what your personal tastes and style is, today there is a massive range available and pretty much anything goes. Whether you've noticed it or not though, the trends are always changing. For this year especially, people seem to be swaying more towards the nostalgic route of mixed decorations which hold more sentiment compared to the coordinated colour themes from the 1990s.
For a trip down memory lane, check out the below timeline for a snapshot of tree decorating trends from the last 100 years…
1910s – Fruits and paper decorations
1920s – Elaborate paper decorations (colourful paper chains)
1930s – Electric lights were starting to be used
1940s – Smaller trees and homemade ornaments, due to World War II
1950s – The age of tinsel
1960s  – Artificial trees were in full swing
1970s – Modern decorations were widely available
1980s – Plastic ornaments alongside traditional glass models
1990s – Coordinated colour themes and the designer tree
2000s – People ditching artificial trees
2010s – People less inclined to keep up with holiday traditions such as carolling, sending cards, and even the Christmas tree
Famous Christmas Trees Around The World
Did you know that the Christmas tree outside the Rockefeller Center in New York City is expected to attract an average of 750,000 expected daily viewers during the holiday season? Not only that but this year's tree is roughly 75 years old and will host 50,000+ Christmas lights. The Rockefeller Center tree is the most famous in the world, however there are a few others as well which you might have heard of. Have you been lucky enough to see any of the below? If not, pop them on your bucket list to soak up some festive atmosphere…
Rockefeller Center, New York City, US
Suvarnabhumi Airport, Bangkok, Thailand
Ipanema Lagoon, Rio De Janeiro, Brazil
The White House, Washington D.C, US
Galleria Dallas, Dallas, Texas
Trafalgar Square, London, England
Peter's Square, Rome, Italy
Galeries Lafayette, Paris, France
Praça do Comércio, Lisbon, Portugal
Red Square, Moscow, Russia
Top 5 Most Expensive Christmas Trees
We all love to stop and stare at a stunning Christmas display but has it ever crossed your mind as to how much that display has cost? Listed below are the top five most expensive Christmas tree displays around the world… two of which are in Tokyo!
11.4 million USD – The Emirates Palace Hotel, Decorated Christmas Tree, Abu Dhabi
4.2 million – Ginza Tanaka, Disney Gold Christmas Tree, Tokyo
1.8 million – Swarovski Crystal Christmas Tree, Hong Kong
1.8 million – Takashimaya Department Store, Rose Mini Christmas Tree, Singapore
1.8 million – Ginza Tanaka Jewelry shop, Tabletop Tree, Tokyo
Now that you've got to know the Christmas tree and it's history a little better, it's now time to talk decorations and colour schemes. For some ideas on different colour schemes you could try, as well as two of the top trends for Christmas 2018, have a look at the below infographic which has been designed by JD Williams.

Updated on