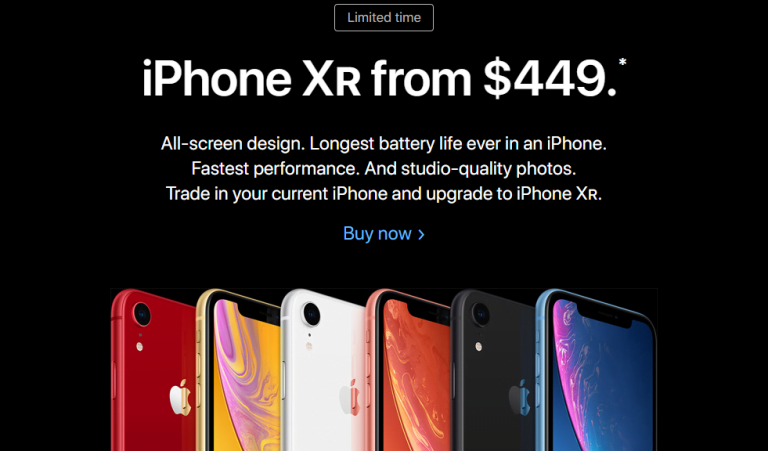 When Apple launched the iPhone XR, we and many other outlets argued that it was a better buy than the more expensive iPhone XS. At just $749, it offers a beautiful and giant display, an insanely powerful processor, a brilliant camera, and tons of other capabilities. But it doesn't seem to be selling as well as Apple and Wall Street analysts had hoped. The Poor iPhone XR sales suggest it could meet the same fate as the iPhone 5C a few years ago.
There is enough indication that the iPhone XR hasn't been well received by consumers, even though Apple executives claim otherwise. The tech giant told investors during the latest earnings call that it would stop reporting unit sales of its products, an indirect acknowledgment that it doesn't expect unit shipments to grow at a healthy rate in the future. The company also issued a weak guidance for the current quarter.
But that's not the clearest and most definitive indication of poor iPhone XR sales. There are many more. GizmoChina reports that Japan Display has slashed the output of the iPhone XR screens due to "disappointing sales." The Japanese display panel maker is reliant heavily on Apple.
Despite 60% Loss On Shorts, Yarra Square Up 20% In 2020
Yarra Square Partners returned 19.5% net in 2020, outperforming its benchmark, the S&P 500, which returned 18.4% throughout the year. According to a copy of the firm's fourth-quarter and full-year letter to investors, which ValueWalk has been able to review, 2020 was a year of two halves for the investment manager. Q1 2021 hedge fund Read More
Japan Display had earlier said it was expecting sales growth of 10-20% during the current fiscal year ending March 2019. But now it has reduced the growth forecast to 5-15% due to lower orders from Apple. It has also reduced its operating profit margin estimate. Another report from Nikkei Asian Review said that the Cupertino company had asked its component suppliers to produce 20% fewer components for this year's iPhones compared to last year.
Apple's desperation speaks volumes about poor iPhone XR sales
Bloomberg reported earlier this month that Apple had reassigned some of its marketing staff to focus on maximizing the iPhone XS and XR sales during the holiday quarter. Such a move from Apple indicates that the devices haven't received an enthusiastic response from customers. The larger and more expensive iPhone XS Max is said to be selling pretty well.
Amid all this, Apple has launched mouth-watering trade-in deals on its website, a rare step from a company that tries way too hard to maintain its premium image. Depending on the device you want to trade-in, you can get the iPhone XR for as low as $249. If you trade-in the iPhone X, you get a $500 discount. Trading in the iPhone 5 will get you only $25 discount, though. The promotions could get more aggressive after the holiday shopping season is over.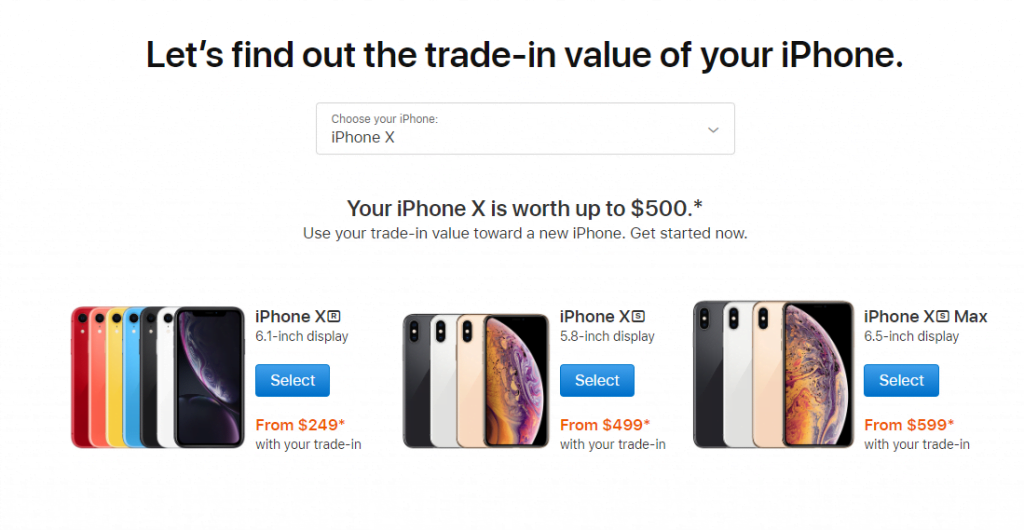 Apple has also embarked on a rather aggressive advertising campaign to promote the new iPhones. Offering steep trade-in discounts on its flagship models in the very first quarter of launch is unusual for Apple. UBS Securities said in its latest report that there is a disconnect between the iPhone XR production and sales.
Consumers are keeping their iPhones for longer or buying the older ones, which are still great value and are cheaper than iPhone XR. The tech giant launched the XR as a cheaper alternative to iPhone XR, just like the iPhone 5C was to the iPhone 5S. It looks like Apple is so focused on maintaining its premium brand image that it doesn't know how to do "cheap" well. The iPhone 5C was far from a bestseller, and the poor iPhone XR sales suggest this model is going the same way.
What's coming next year?
If you are hoping that things would change dramatically next year, don't get your hopes too high. According to Nomura analyst Anne Lee, all three iPhones coming in 2019 will have the same form factor as this year's models, though they will get some augmented reality features. It means the notch is here to stay for a while longer.
The Android vendors such as OnePlus, Samsung, Huawei, and others are pushing novel technologies such as foldable screens, 5G technology, and notchless displays. But Apple won't introduce 5G in 2019, and a foldable iPhone is still a few years away, according to analysts.
Lee predicts Apple will overhaul the iPhone design and introduce innovative features only in 2020. She predicts the iPhone unit shipments will decline from 213 million in FY2018 to 204 million in FY2019, and further to 200 million units in 2020. Of course, revenues could still go up as Apple continues to increase the prices of the iPhones, iPads, and Macs. But Lee's prediction sheds light on why Apple might have stopped reporting unit sales.