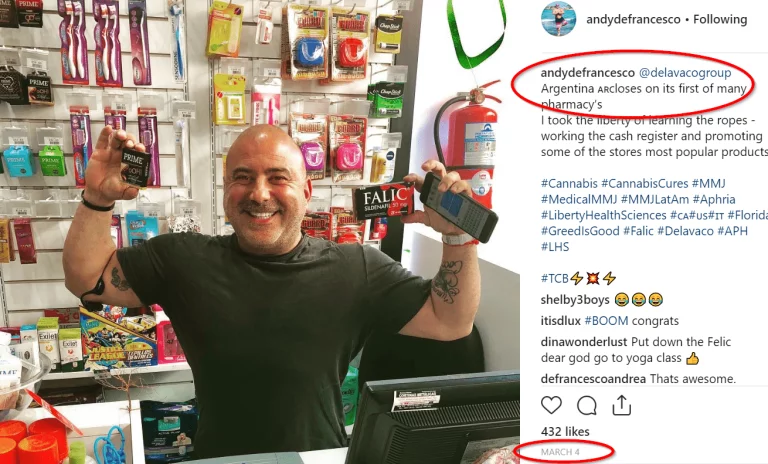 This morning, Aphria Inc (APHA) responded to our report detailing believed undisclosed conflicts of interest and signs of worthlessness relating to its LatAm transactions. The company's response largely reiterated its earlier press releases touting the supposed worth of its acquisitions and did nothing to dispute our core findings.
We believe it is of utmost importance to note what the company did NOT say in response to our reporting:
Q3 hedge fund letters, conference, scoops etc
Incorporating ESG in the Investment Process with Trillium's John Quealy
ValueWalk's Raul Panganiban interviews John Quealy, CIO and PM of the ESG Global Equity Strategy at Trillium Asset Management, and discuss his approach to investing, ESG, and where he finds opportunities. Q1 2021 hedge fund letters, conferences and more The following is a computer generated transcript and may contain some errors. Investment Interview with Trillium's Read More
We alleged that the company acquired its supposed assets through a series of shell companies established by a key Aphria/Scythian insider and deal partner Andy DeFrancesco.
The company did not dispute the structure of these transactions.
We alleged that the official registered office of Aphria's Jamaica subsidiary is an abandoned building that was sold off by the bank earlier this year.
The company's response: none.
We alleged that Aphria's Jamaica subsidiary leased "unit 51" of a building complex that only goes up to "unit 50". In other words, "unit 51" didn't exist.
The company's response: none.
We alleged that after 6 months, the company's office lease in Jamaica had a paper sign on its door and showed virtually zero signs of activity.
The company's response: none.
We alleged that a purported director of Aphria's Jamaica subsidiary denied IN WRITING that she had ever served as a director at the company.
The company's response: none.
We alleged that other supposed directors and supposed top scientists associated with Aphria's Jamaica subsidiary appeared to either not exist or had no/limited online presence.
The company's response: none.
We alleged that the company's much-touted cannabis licenses in Jamaica cost only about $500 to acquire and require minimal effort.
The company's response: none.
We alleged that individuals associated with key insider/deal partner Andy DeFrancesco purchased shares in the Jamaican entity for only US $118 (not millions) and flipped them months later for C$18 million.
The company's response: none.
We alleged that an employee of the company's Argentine subsidiary stated that annual revenues were US$430 thousand, which directly contradicted press releases that annual revenues at the subsidiary were US$ 11 million.
The company's response: none. We urge the company to release the audited financials for this entity.
We alleged that the company's supposed major "purchase order" with a local Argentine hospital was actually a donation.
The company's response: none.
We alleged that the company's Colombian subsidiary was a newly-formed operation with exactly zero operating activity as of end of the year.
The company's response: none.
We alleged that the company's supposed "strong" retail presence in Argentina consisted of exactly one tiny pharmacy.
The company's response: none.
We alleged that on current Scythian Chairman Andy DeFrancesco's private Instagram account we saw his bragging about purchasing the very pharmacy into his own private equity firm one week before flipping the Argentine entity to Scythian for C$27 million (and hashtagging #GreedIsGood)
The company's response: none.
We alleged that the company's supposed distribution business in Argentina consists of an empty, unfinished warehouse.
The company's response: none.
We alleged that Andy DeFrancesco has a deep longstanding ties to both Aphria Inc (APHA) & Scythian. In regard to Scythian, the company until recently listed its head office at the same address and suite number of the Toronto office of DeFrancesco's private equity firm, the Delavaco Group. Scythian's CFO until late September was Jonathan Held, who operates his consulting firm out of the exact same address and suite number as the Delavaco Group's Toronto office. Delavaco's COO was the "finder" of Scythian's reverse-merger deal to take the company public. Delavaco participated in Scythian's bought deals. DeFrancesco was named Scythian's Chairman of the Board and Chief Investment Officer on the EXACT SAME DAY the company closed on its acquisition of the Argentine entity.
The company's response: technically DeFrancesco wasn't an insider.
We alleged that Canadian regulators said Andy DeFrancesco has "little regard for the truth" and was involved in a forgery scheme. We alleged that DeFrancesco had business ties with multiple individuals the SEC has alleged to have committed securities fraud including Barry Honig, John Stetson, and John O'Rourke.
DeFrancesco's response, per Barron's: "Guys who put companies together come across each other and co-invest"
We allege that the company did not have all its required licenses in Colombia needed for cultivation.
The company's response: Admits. The company was granted a characterization permit "allowing the company to assess seeds and initiated a pilot test of its strains prior to full scale cultivation."
All told, we find the company's response to be supremely underwhelming. We note with some amusement the following line from the response:
"Since closing this important strategic acquisition in September, we have made considerable progress supporting and building out our operations on the ground in Latin America and the Caribbean."
Typically, when a company makes an acquisition for C$280 million they purchase assets that already exist, not ones that need to be built out later. Note that our on-the-ground visits were recent, ranging from September to November of this year.
We demand that the company actually respond to our research and allegations. In addition, we demand the following information from the company:
Who are ALL of the shareholders of the acquired shell companies? In filings with the Canadian Stock Exchange the company REDACTED the names of the beneficiaries of these deals. (1, 2)
Did the beneficiaries of these shell deals include Aphria Inc (APHA) insiders, their spouses, family members, or other deal partners?
We do not place any value in the 'fairness opinion' that Aphria Inc (APHA) bought to justify this transaction. We note that the bank that issued the opinion, Cormark Securities, has been an underwriter in Aphria's dilutive bought-deal financings and was the same bank that provided a 'fairness opinion' for Aphria's Nuuvera transaction. Recall that we had also identified signs of worthlessness and undisclosed related-party dealings relating to the Nuuvera transaction in our earlier reporting. Nonetheless, the company should release this document and make it available for public scrutiny.
Shareholders deserve FULL TRANSPARENCY on these issues and we will continue to report on this subject until they receive it.
Disclosure: We are short APHA.