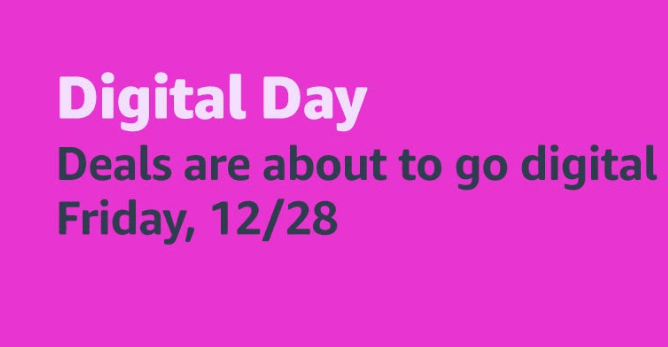 Amazon has announced the date for its annual Digital Day sales event. The Amazon Digital Day event is scheduled for Dec. 28, and it will offer buyers up to 80% off on digital products.

Everything you need to know about the Amazon Digital Day event
This will be Amazon's third such annual event, and it promises big savings to potential buyers.
"Digital Day offers great end-of-year deals on digital content across Amazon—arriving just in-time to stock-up on content for your newly gifted devices," the online retailer said in a post announcing the event.
Morningstar Investment Conference: What To Do During The Fed Rate Hiking Cycle
The U.S. Federal Reserve is treading carefully with raising rates amid the widespread economic, macro and geopolitical uncertainties sweeping around the world. The Fed raised its target level as high as 20% in the early 1980s to deal with runaway inflation, but we're a far cry from that today — a time when inflation threatens Read More
Amazon will have massive expectations for its Digital Day event, considering that it has already declared Cyber Monday 2018 to be its biggest-ever sales day.
Some of the deals will be available on Dec. 26, but the online retailer says the "the biggest savings" will start at 12 a.m. Eastern on Dec. 28. If you want Amazon to notify you when the deals start, visit the Digital Day landing page.
Once the deals are live, they will be available via Amazon's Digital Day page, the Amazon App store and the Amazon App. You can also shop Digital Day deals from your Fire tablet, Kindle, and Fire TV.
We expect these deals
The company has hinted about the deals we can expect on Amazon Digital Day. They will include discounts of up to 75% off on the best-selling books for its Kindle e-reader, including My Squirrel Days, Summer I Turned Pretty, Manhattan Beach, In the Midst of Winter, Indianapolis, and Great At Work. Some of Marvel's best-selling graphic novels will be available for up to 80% off, including Runaways Vol. 1: Pride and Joy, X-Men: Days of Future Past, You Are Deadpool, and Jessica Jones: Blind Spot.
Some digital magazines will be as much as 60% off, like Better Homes and Gardens, Entertainment Weekly, Martha Stewart Living, Bon Appétit, Wired, Shape, Men's Journal, Vanity Fair, and People.
On Amazon Digital Day you will also see deep discounts on "hundreds of movies" on Prime Video. Some of the titles that will be discounted include Avengers: Infinity War, The Spy Who Dumped Me, Christopher Robin, Incredibles 2, Ant-Man and The Wasp. Prime members will get up to 65% off on movies, including Red Sparrow, Sicario: Day of the Soldado, Jurassic World: Fallen Kingdom, Tomb Raider, and Book Club.
For gaming fans, Amazon is offering 25% more gold bars on all Candy Crush Friends Saga December Deals and 25% off on some Final Fantasy Brave Exvius Lapis Bundles. Buyers will also get 35% off on several items in Clash of Clans. 
Speaking of subscription-related deals, on Amazon Digital Day you can also get three months of Kindle Unlimited for just 99 cents and three months of Amazon FreeTime Unlimited for just $2.99. Both offers are for new subscribers only.
If you are planning to buy a new paid subscription to ESPN+, Showtime, AMC Premiere, or CBS All Access, Amazon will give you a $10 credit. The same offer applies to a new paid subscription to ABCmouse.
As far as apps, you can get up to 66% off on the PBS Kids apps for Peg + Cat, Daniel Tiger, and more and up to 30% off on language-learning software from Babbel and Rosetta Stone. Amazon will also be giving a discount of 50% or more on software like H&R Block, Norton Security, and Quicken Personal Finance.
The Fire HD 10 tablet will be available for $50 less than the standard price and will include a three-month free trial to Audible. If you are buying the Audible Romance Package, then you get 33% off for the first three months. In an exclusive deal for Audible members, Amazon will be offering "buy one, get one free" deals on "hundreds" of Audible books.
Could Digital Day help with flattening Prime membership growth?
The offers from the Amazon Digital Day event surely sound like good deals, so start making the list of the new games, books, movies, apps, eBooks and more that you want to buy.
"We're excited to help customers add new apps, games, movies, eBooks, Audible books, and more to their current device or the latest Amazon Fire tablet, Fire TV, or Kindle they just received over the holidays," Vice President of Digital, App, and Game Services Aaron Rubenson said in a press release.
With the Amazon Digital Day event, the online retailer aims to take on the offers brick-and-mortar retailers will come up with to lure buyers. Amazon will also be hoping the event provides a much-needed boost to its U.S. Prime membership, which is showing signs of flattening. Over the past 12 months, U.S. Prime memberships have increased just 8%, which is the lowest since Consumer Intelligence Research Partners started tracking it in 2012. Amazon's U.S. Prime membership is estimated to be at 97 million.
Updated on