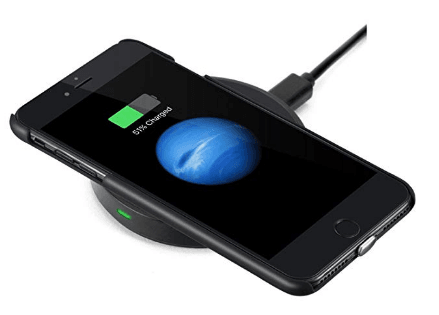 Apple's newest iPhones come with some great features, but they also come with an expensive price tag. The 2018 iPhone models will cost you anywhere between $750 and $1,450. If the high price is holding you back from upgrading to the new iPhones, but the wireless charging support interests you, there is some good news. It is possible to add wireless charging to older iPhones.
How to add wireless charging to older iPhones
One of the best features of the iPhone models released this year and last year is wireless charging, which enables you to get rid of cords while charging your iPhone. Even though Apple has only included the feature in the newer models, it is possible to add wireless charging to older iPhones as well. All you need is a simple phone attachment to add wireless charging to older iPhones.
There are two main types of wireless charging tech: Qi and Powermat. Qi, which is the more popular of the two, uses an inductive form of wireless charging based on induction coils which generate an electromagnetic field to transfer energy. The newer iPhones also use this tech for wireless charging.
From The Archives: Apple IPO Original Document
Today, Apple is the largest public company in the world, and the group's iPhones can be found in stores all over the globe, but not long ago the company was a baby when the Apple IPO was filed in the 1970s. Not only is Apple the world's most valuable company, but it's also arguable that Read More
It is possible to add this mechanism to older iPhones very easily with the help of Qi Cards, which are incredibly cheap and lightweight. The cards are almost like a sticker placed on the back of your phone, and they connect to the Lightning port. All the iPhone models with Lightning ports are compatible with this Qi card.
These cards cost as little as $10 on Amazon, and prices depend on the circuit and coil quality and additional features. You can attach them to almost any case to conceal them. They also protect iPhones from overcharging and offer temperature protection.
However, they have their downsides as well; for example, they are very fragile. Protecting them with a case may also limit their connectivity, depending on the thickness of the case. For this reason, it may be better to buy a wireless charging case which supports Qi tech, but they cost a bit more than Qi cards. Many cases are available, with prices varying from $10 to $50.
Points to remember
If you are going with a Qi card, then you should follow these steps.
First, remove the case, if you have one, before attaching the card. Next, insert the Qi card's Lighting connector into your iPhone and ensure it is properly inserted. Now attach the body of the card with the coils to the iPhone body. Most Qi cards come with a sticky area to easily attach them to the iPhone body. Now you can put the case back on your phone.
If you are buying an iPhone case with wireless charging support, there are a few points you must remember. Make sure the iPhone case you are buying is not thick. The efficiency of the wireless charging decreases as the case thickness increases. For best results, the case thickness should be 3-7 mm (about 0.1-0.3 inches). Also keep in mind that metal body cases don't support Qi receivers.
Now you are ready to charge your old iPhone wirelessly. When you place the phone on top of the wireless charger bed, make sure you put it in the right position.
One limitation
If you are opting for the charging case, you might consider the Antye Wireless Charging Receiver Case, which we believe to be one of the best options. It costs between $16 and $17 on Amazon, and different versions are available for different iPhone models.
"Built-in newest [sic] Qi wireless charging receiver module chip delivers wireless charging capabilities to your iPhone 7 Plus, wireless [sic] charging your phone like iPhone 8, 8 Plus, [sic] X," reads the description of the case on Amazon.
Using a Qi card or a supported case to add wireless charging to older iPhones has one drawback as well. Although not all users are affected the same way — and this may not even be an issue for some — it still is viewed as a drawback. By attaching the Qi receiver coil to your iPhone, you are permanently using (or reserving) the iPhone's Lightning port. Thus, if you drive a lot, you will have to remove the connector to insert the wired car charger. This could be an irritating issue for regular travelers as they will have to pull the connector in and out based on their situation. To overcome this limitation to an extent, you can buy a wireless charger for your car.