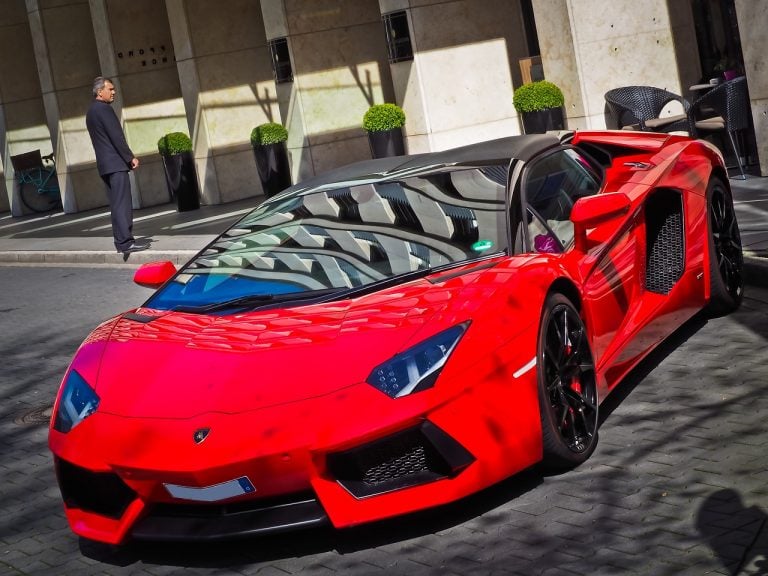 There are a bunch of luxury cars, sportscars, and supercars out there from brands like Rolls-Royce, Audi, BMW, Lamborghini, Aston Martin, and others. These are meant for the ultra-rich and powerful people and they are supposed to do more than just vehicles that get you from point A to point B. The top 10 most expensive cars in the world are all about luxury, performance, style, and status symbol.
Top 10 most expensive cars in the world
This list doesn't include the decades-old classic cars auctioned at exorbitant prices. It's worth pointing out that the prices of these cars could vary depending on customer build requests. Without further ado, here are the top 10 most expensive cars in the world.
10- Aston Martin Valkyrie: $2.6 million
How Warren Buffett Turned Three Deep Value Stocks Into A $700 Billion Conglomerate
It took decades for Warren Buffett to build Berkshire Hathaway into the conglomerate it is today. Along the way, the Oracle of Omaha and his business partners have acquired a range of different companies and extracted cash from failing businesses to reinvest back into growth stocks. Q2 2021 hedge fund letters, conferences and more The Read More
The Aston Martin Valkyrie is a renovation of the old Aston Martin-Red Bull AM-RB 001. The aerodynamic scheme for this car was specifically designed by Red Racing's renowned aerodynamicist Adrian Newey. The automaker hasn't officially revealed its price, but industry experts predict it would start at $2.6 million, making it one of the world's top 10 most expensive cars. The Valkyrie is designed to produce super high levels of downforce on the track. It will go on sale next year and the company has planned to produce only 150 units. The Valkyrie gets a lightweight carbon fiber chassis and a 6.5-liter, naturally-aspirated V12 hybrid powertrain.
9- Ferrari LaFerrari FXX K: $2.7  million
The Ferrari FXX K is an insanely powerful car jam-packed with track-tested technology. The automaker has made several body modifications to improve its downforce by up to 50%. Ferrari claims it has a top speed of above 350 km/hour. Its engine output is 950 horsepower. The car uses Pirelli tires that are embedded with various sensors to monitor lateral, longitudinal, and radial acceleration, temperature, and pressure, notes Digital Trends.
8- Bugatti Chiron: $2.9 million
The Chiron is a follow-up to the iconic Veryon 6.4, and it's totally worth the price (if you can afford it). Bugatti claims the Chiron can go from 0-100 km/h in 2.5 seconds and 0-400 km/h in just 42 seconds! It runs an upgraded version of the company's quad-turbocharged 8.0-liter W16 engine that produces 1,500 horsepower of output. Its top speed is limited to 261mph on the road. It costs close to $3 million.
7- Ferrari Pininfarina Sergio: $3 million
One more Ferrari among the world's top 10 most expensive cars. It was introduced about five years ago as a concept car in the memory of the deceased son of the founder of Italian design firm Pininfarina. With a price tag of $3 million, Sergio is one of the most coveted cars out there. Only six units of them have been made so far. It is based on the Ferrari 458 Spider, meaning it has no roof, windshield or side windows. It comes with a 4.5-liter F136F V8 engine that sends 560 horsepower to the wheels. The most interesting part about this car is that each customer was hand-picked by Ferrari itself.
6- Bugatti Veyron Mansory Vivere Edition: $3.4 million
This limited edition of Bugatti Veyron was launched more than a decade ago, and has been upgraded four times since. It's one of the fastest cars in the world with a top speed of 254mph. The Mansory Vivere edition has a lacquered carbon-fiber body with larger side scoops, a shortened hood, upgraded LED lights, a smarter cabin and front grill. This limited edition car is powered by an 8.0-liter W16 engine outputting 1,200 horsepower and 1,106 pound-feet of torque.
5- Lykan Hypersport: $3.4 million
Designed and built by W Motors, it is often described as the "first Arab supercar." It costs $3.4 million and W Motors is expected to build only seven units of this car. You may already have seen it in the movie Furious 7, where it crashes through three skyscrapers in Dubai. Notably, the Abu Dhabi police use one of these for patrol duty! Its headlights are encrusted with 240 15-karat diamonds and the LED blades are made of 420 15-karat diamonds. If you don't like diamonds, you can choose another precious stone that you like. Its 3.7-liter twin-turbo flat-six engine produces 770 hp of power and can take you from 0-100 km/h in just 2.8 seconds! It has a top speed of 240mph.
4- Lamborghini Veneno: $4.5 million
Lamborghini launched the Veneno (which means Poison) to celebrate its 50th birthday. The car looks gorgeous from every angle. Its 6.5-liter V12 engine yields 740 hp and 507 pound-feet of torque. It can go from 0-60mph in just 2.9 seconds. It comes with an all-wheel-drive system and its total weight is just 3,285 pounds, thanks to its carbon fiber body. The company has made only nine units of them. If you thought a brand new Lamborghini Veneno is too expensive at $4.5 million, you don't know its value in the resale market. One Veneno owner sold their car for a staggering $11 million.
3- Koenigsegg CCXR Trevita: $4.8 million
It's arguably the world's most expensive street-legal production car. The CCXR Trevita is coated with real diamonds. The carbon fiber is coated with a diamond dust-impregnated resin, which turns the fibers from black to silvery white. The Swedish automaker has packed the car with a 4.8-liter dual-supercharged V8 engine capable of producing 1,004 horsepower and 797 pound-feet of torque. However, only three of them were ever made.
2- Mercedes-Benz Maybach Exelero: $8 million
The Maybach Exelero was made in 2004 and had a price tag of $8 million. Adjusted for inflation, it's going to cost you slightly above $10 million. This car represents Mercedes-Benz's futuristic take on the 1930s sports cars. The Exelero comes loaded with luxurious amenities. It's powered by a twin-turbo V12 engine that produces 700 hp of power.
1- Rolls-Royce Sweptail: $13 million
The Sweptail is the most expensive car in the world. But you won't be able to buy it. Rolls-Royce had built it from ground up for a customer whose name the company has declined to divulge. The Sweptail's design is inspired by the classic Rolls-Royce models while its styling is inspired by super-yachts. This $13 million car can seat only two people. Its interior is handcrafted with leather and wood. Almost every part used in the car is unique, which explains why it took the company four years to finish this car.
These are the top 10 most expensive cars in the world. If you have tens or hundreds of millions of dollars sitting in the bank accounts, you might be interested in one of these.