Whitney Tilson's email to investors discussing Howard Hughes presentations; Bitcoin/crypo crash; Bondholders paid in ham and the world's toughest mudder.
1) Housing-related stocks have gotten whacked due to concerns of a slowdown, which this article captures: Housing Market Slows, as Rising Prices Outpace Wages. Excerpt:
Is It A Good Time to Be a Stock Picker? Interview With Worm Capital
ValueWalk's Raul Panganiban interviews Eric Markowitz, Director of Research, and Dan Crowley, Director of Portfolio Management, at Worm Capital. In today's episode they discuss their approach at Worm Capital and where they find opportunities. Q4 2020 hedge fund letters, conferences and more Interview with Worm Capital's Eric Markowitz and Dan Crowley  
Q3 hedge fund letters, conference, scoops etc
Denver's once-soaring housing market has run into turbulence. Sales and construction activity have slowed in recent months. Houses that would once have drawn a frenzy of offers are sitting on the market for days or weeks. Selling prices are rising more slowly, and asking prices are being slashed to attract buyers.
Similar slowdowns have hit New York, Seattle and even San Francisco, cities that until recently ranked among the nation's hottest housing markets. The specifics vary, but economists, real estate agents and home builders say the core issue is the same: Home buyers are reaching a breaking point after years of breakneck price increases that far exceeded income gains.
"The local economy is still fantastic, all the fundamentals are there, but obviously wages are not keeping pace," said Steve Danyliw, a Denver realtor. "As the market continues to move up, buyers are being pushed out."
I think there are opportunities in this sector – the one I own is Howard Hughes Corp. (HHC). I've posted here four presentations on the company (197 pages total) by Bill Ackman (the chairman), Glenn and me, and two other investors. They're dated, but the company hasn't changed much – just executed superbly. If you're in NYC, check out the new South Street Seaport – it will blow you away!
2) Bitcoin is down 15% in the last week, on its way to being down at least 80% (which would be $4,000), as I predicted at the exact peak ($20,000) in mid-December last year. Someday, there may well be bargains amidst the bursting of the blockchain/cryptocurrency bubble, but that day isn't today. When absurd bubbles like this collapse, the decline is never 50%, 60% or 70% -- it's always at least 80%, usually 90%+.
The cryptocurrency that always cracked me up the most is Dogecoin, which was set up as a joke and was mocked by The Daily Show last December – but look at what happened to its price at the height of the craziness!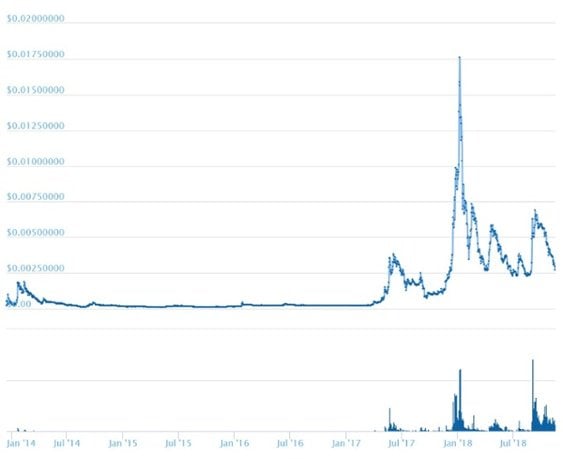 It's down by 85% from its peak – and will surely go down by 99%.
3) Speaking of funny, check this out: These Chinese Bondholders Are Being Paid in Ham Instead of Cash. Full story:
A Chinese company has come up with an innovative way to placate creditors - as long as they like ham.
Chuying Agro-Pastoral Group Co. said holders of 271 million yuan ($39 million) of its debt have agreed to take ham or pork gift packages instead of interest payments, according to a filing on the Shenzhen Stock Exchange on Thursday. The Zhengzhou-based pork producer failed to repay 500 million yuan of local bonds due this week amid a cash crunch caused by the spread of African swine fever.
"Payment in kind becomes PIH (Pay In Ham)," said Owen Gallimore, head of credit strategy from Australia & New Zealand Banking Group.
For Judy Kwok-Cheung, director of fixed income research at Bank of Singapore, these cases illustrate the liquidity concerns facing small and medium enterprises in China. "Payment in kind is generally not seen as acceptable for debt repayment," she said.
Still, at least it's luxurious ham. A gift package from Chuying Agro-Pastoral costs 8,999 yuan ($1,298) on the e-commerce website of JD.Com.
4) I not only survived the World's Toughest Mudder endurance obstacle course race last weekend, but won the 50+ age division for the second time in the three years I've done it, completing 60 miles and ~250 obstacles in 25+ hours amidst brutal, below-32-degree temperatures that caused 40% of the 1,207 competitors to drop out. 98% of the competitors were younger than me, but I finished in the top 4% overall. Here's a picture of me in my full gear that I did nearly the entire race in: thick wetsuit (we were wet the entire race, as numerous obstacles required full water submersion), water- and wind-proof ski jacket, etc.: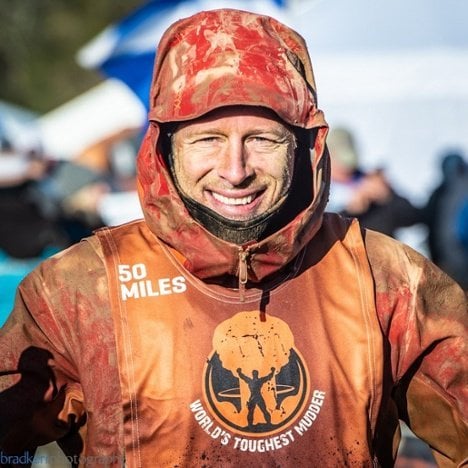 I posted more pics and my write-ups of the race here and here.