Whitney Tilson's email to investors discussing his Yahoo Finance appearance; Shorting conference deal & new speaker; Angel Onuoha & BLK Capital; Shane Parrish & Farnam Street blog; Roddy Boyd & Callidus Capital; Mexico City airport.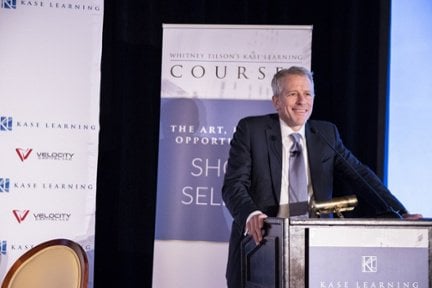 1) I was on Yahoo Finance TV this morning with Julia La Roche talking about our shorting conference coming up on Monday (which Yahoo Finance will be covering all day), the environment for short sellers (it's gone from "impossibly difficult" to "tolerable"), why the pot stocks (Tilray, Canopy Growth and Aurora) are even better shorts now than they were when I called the top on Sept. 19, why I like Google and Facebook, and why I don't see any problem with Amazon running sponsored ads. To watch it, click here (9 min).
ValueWalk's August 2021 Hedge Fund Update: Point72 Suffers Loss; Hedge Fund Assets Hit $4 Trillion
Welcome to our latest issue of ValueWalk's hedge fund update. Below subscribers can find an excerpt in text and the full issue in PDF format. Please send us your feedback! Featuring Point72 Asset Management losing about 10% in January, Millennium Management on a hiring spree, and hedge fund industry's assets under management swell to nearly Read More
Q3 hedge fund letters, conference, scoops etc
2) Speaking of the shorting conference, we always leave a few extra seats for students and emerging/young investors, so if you fall into these categories and would like to attend in person or livestream,  hurry!
Use VW10 for a discount!
3) We just added one additional speaker for the conference, Sunny Puri of Anson Funds in Toronto (here is a list of all 17 speakers):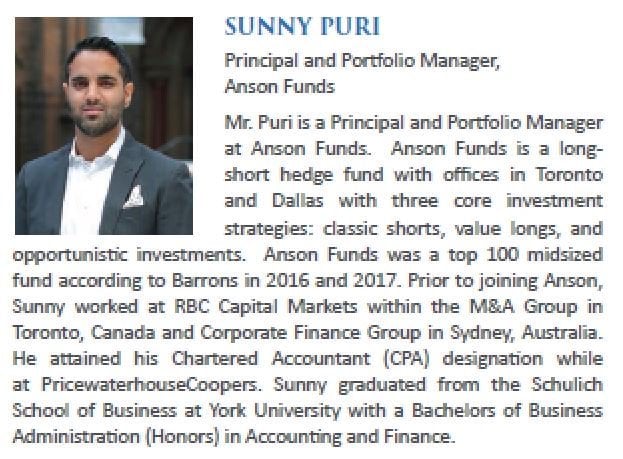 4) A nice profile of Harvard student Angel Onuoha, who took one of our seminars in June, who's the founder of BLK Capital Management, an organization that aims to help black students break into the finance industry. Nonprofit gives black students key financial skills. Excerpt:
After noticing a lack of people of color during his 2017 summer internship at a New York City investment bank, Onuoha, along with Harvard junior Drew Tucker and Princeton University junior Menelik Graham, decided to start an organization focused on managing a long-short equity portfolio and teaching black students about the world of finance. The trio opened a rolling application and soon started raising capital with 30 Ivy league members.
BLK gives its members — black college students from across the country that it calls analysts — a chance to research and pitch promising stocks for the firm to invest in. Big banks such as Goldman Sachs and Morgan Stanley have sponsored the fund's small pot of gold — $100,000 — but Onuoha says it's about more than money. The real-life investment experience teaches members valuable skills that they may not get in their early college courses, he said. Harvard alumni serve as mentors, but students who make it through the three-step application process fill all positions at BLK, right up to Onuoha as chief executive.
5) Another nice profile, this one of Shane Parrish of the Farnam Street blog: How a Former Canadian Spy Helps Wall Street Mavens Think Smarter. Excerpt:
Shane Parrish was a cybersecurity expert at Canada's top intelligence agency and an occasional blogger when he noticed something curious about his modest readership six years ago: 80 percent of his followers worked on Wall Street.
6) Roddy Boyd of the Southern Investigative Reporting Foundation nailed Newton Glassman, head of Catalyst Capital Group Inc., a Toronto-based private equity fund with $4.3 billion in capital commitments, and its sister company, publicly traded Callidus Capital Corp., in this article in April, Newton Glassman's Legacy of Ashes, Since then, Callidus' stock is down by 67%. Here's Roddy's update from yesterday: Newton Glassman and Other People's Money. Excerpt:
Things are not going well for Newton Glassman.
.............
On both fronts, incredibly, things have gotten worse.
Callidus is kept alive only because Glassman has repeatedly violated one of the cardinal tenets of investing: don't throw good money after bad.
7) Andrés Manuel López Obrador, a maverick leftist, will become president of Mexico on Saturday. Among many steps he's promised to take is cancelling the half-built new airport in Mexico City, which is freaking out investors, as hilariously captured in this Hitler meme, Amlove's Downfall.(There are hundreds of these Hitler Downfall parodies – The Telegraph's top 25 are here. My favorite is Hitler reacts to Donald Trump Getting the Republican Nomination for President.)