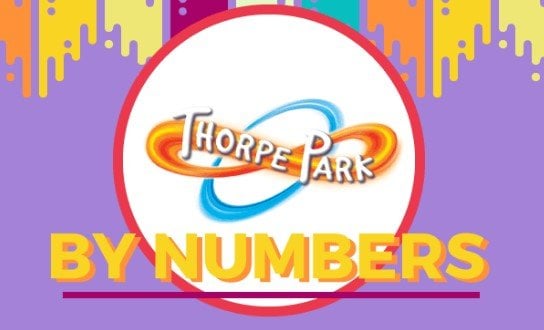 Since it opened in 1979, Thorpe Park Resort has become one of the UK's most popular theme parks. With over 30 thrilling rides, attractions and live events, it is an island theme park like no other and the UK's must-visit destination to share endless fun with family and friends.

From Angry Birds Land; with the world's first Angry Birds 4D experience where the feathered flock roost on the 100ft rapid drop tower ride Detonator and Red Bird and the Bad Piggies go bump to bump on a classic dodgems attraction, to world-class rides such as the UK's first winged rollercoaster The Swarm, Stealth, one of Europe's fastest and tallest roller coasters, and the 100ft 'beyond vertical' drop of the movie themed coaster SAW-The Ride, There really is something for the whole family to enjoy!
London Value Investor Conference: Joel Greenblatt On Value Investing In 2022
The first London Value Investor Conference was held in April 2012 and it has since grown to become the largest gathering of Value Investors in Europe, bringing together some of the best investors every year. At this year's conference, held on May 19th, Simon Brewer, the former CIO of Morgan Stanley and Senior Adviser to Read More
[REITs]
Q3 hedge fund letters, conference, scoops etc
After demolition of the Thorpe Park Estate in the 1930s, the site became a gravel pit. Thorpe Park Resort was built in the 1970s on the gravel pit which was partially flooded, creating a water-based theme for the park. This essentially allows guests to view the park as an island, which is where the park's current "island like no other" slogan originates from. It was officially opened to the public by Lord Louis Mountbatten in 1979. It has since grown into one of the major theme parks in the UK and now also features a hotel.
These days, you can enjoy major attractions such as water ride Tidal Wave, a number of rollercoasters including Colossus and Nemesis Inferno, which, until 2004 held the record for the "Most Naked People on a Rollercoaster". The unique inverted volcano-coaster will fling you through tight vertical loops, zero-G rolls, 180-degree swoops groundwards and interlocking corkscrews at an intense 75kmph!
Stealth, where riders will go from 0-80mph in 1.8 seconds on the tallest launch coaster in the UK and experience a moment of weightlessness on one of the fastest rollercoasters in Europe 205ft maximum-adrenaline attraction. You return to the station in a mere 8 seconds…
The hydraulic launched coaster themed to a 50's speedway in little ol' Amity Cove saw Thorpe Park Resort break their 100ft mainland height restriction as the 'top hat' element took riders further skyward than ever before. Standing at a monumental 205ft, Stealth is one very imposing structure that can be seen from all around the park. The only way you'll ever feel the same acceleration is if you're a pilot in a jet being launched of an aircraft carrier.
Saw – The Ride, often voted one of the world's best rollercoasters, which features a long 'dark ride' section with scary surprises, a stunning 100° drop – the world's steepest, brakeless drop, a large Immelmann loop , a negative-g-hill, a dive loop and an overbanked turn.
The park also features The Swarm, The Walking Dead: The Ride and dark ride Derren Brown's Ghost Train. Other attractions include water area Amity Beach and a walkthrough attraction based on I'm a Celebrity…Get Me Out of Here!
Like most theme parks, Thorpe Park Resort goes all out for Halloween, and 2018 is no exception. This year, 'Fright Nights' are darker and more twisted than ever before as the park prepares to unveil 10 Halloween themed attractions. Brand new for 2018 is the Walking Dead: Do or Die ride, based on the hit TV series;
"Your road to safety is within reach as you make your way through the compound to reach safety in this live-action outdoor maze. Follow in the footsteps of survivors on your journey to refuge and meet the local residents. But it seems gaining a place at Sanctum isn't as easy as it seems, you must find food or become food. Rumour has it that there is an unexplored Del Arno trailer nearby that might have supplies, but beware of what may be lurking in the dark."
365 Tickets have decided to celebrate Thorpe Park's success by creating Thorpe Park by Numbers. Check out the stats, and the infographic below:

10 – Colossus which was opened in 2002 was the world's first 10 looping roller coaster.
52 – At a height of 52ft, Loggers Leap is the tallest log flume in the UK.
1.8 – Stealth stands at 205 ft tall and goes from 0 – 80 mph in 1.8 secs; the fastest acceleration of any rollercoaster in Europe and is the second tallest coaster in the UK (the highest launched coaster in the UK).
100 – At 100 degrees, SAW holds the title of steepest free-fall drop in the world.
1.8 million – 2017 saw 1.8 million people visit the park.
There are a total of 29 total rides in the park.
7 of which are roller coasters.
5 are water rides.
39 – After opening on 24 May 1979, Thorpe Park has been open for 39 years.
31.54 minutes is the average time spent waiting for rides at Thorpe Park.
15,000 visitors forced Thorpe Park to close its gates in 2006 as the park reached capacity.
1,300 – Thorpe Park Resort employs around 200 staff permanently with an incredible 1,300 staff supporting the resort on a seasonal basis between March and November.
Book your next visit here!
Updated on