Third Point Reinsurance Ltd. investor presentation for the month of November 2018.
OUR COMPANY
Specialty property & casualty reinsurer based in Bermuda
A- (Excellent) financial strength rating from A.M. Best Company
Began operations in January 2012 and completed IPO in August 2013
Investment portfolio managed by Third Point LLC
Total return business model

Flexible and opportunistic reinsurance underwriting
Superior investment management
Q3 hedge fund letters, conference, scoops etc
DG Value Adds 36.4% YTD As Distressed Stocks Surge
Dov Gertzulin's DG Capital is having a strong year. According to a copy of the hedge fund's letter to investors of its DG Value Partners Class C strategy, the fund is up 36.4% of the year to the end of June, after a performance of 12.8% in the second quarter. The Class C strategy is Read More
RECENT DEVELOPMENTS
Incrementally adding underwriting risk to reinsurance portfolio

We plan to get combined ratio under 100% during 2019
We are targeting specialty lines of business with additional risk/ margin
Will write a measured amount of property cat in 2019

Recent hires of senior, well-respected reinsurance underwriters

Steve Wilson - Former Head of Professional and Specialty Lines, Munich
Dave Drury - Former Chief Risk and Underwriting Officer, ACE/Chubb Tempest Re Group
Experience in writing existing lines as well as targeted lines as part of shift in underwriting risk appetite

Restructuring of our investment account

Change from separate account structure to fund structure

Results in presentation of our investment in fund at NAV on balance sheet

Similar expected exposures, returns, fees and liquidity features of our existing account in the new fund
Significant operational and financial reporting efficiencies achieved
KEY METRICS
TOTAL RETURN BUSINESS MODEL DESIGNED TO DELIVER SUPERIOR RETURNS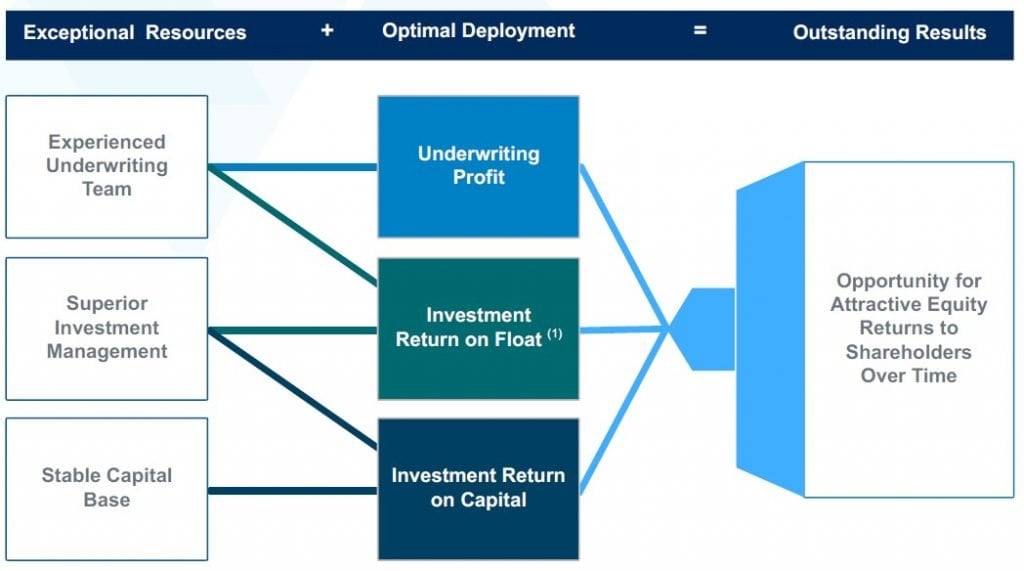 EXPERIENCED SENIOR MANAGEMENT TEAM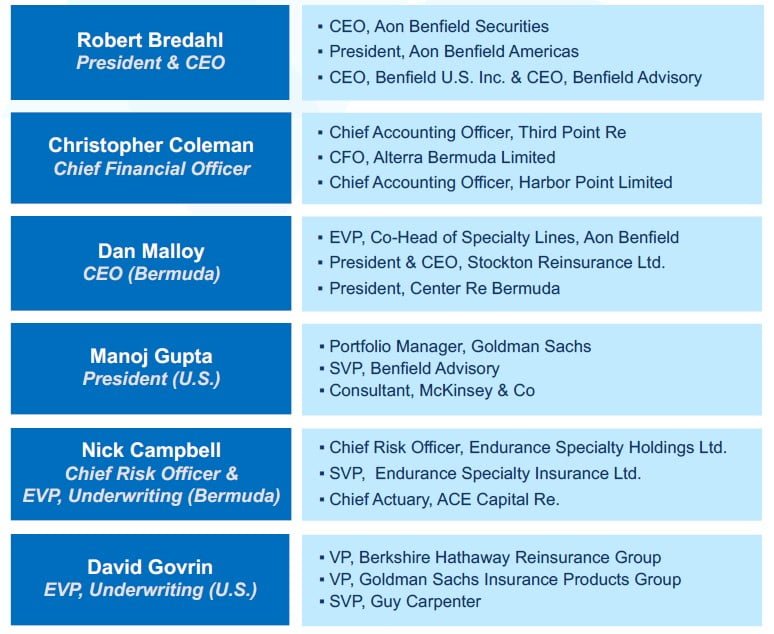 Strong business relationships
Expertise in writing all lines of property, casualty & specialty reinsurance
Track record of capitalizing on market opportunities
Significant businessbuilding experience
ORGANIZATIONAL STRUCTURE – KEY ENTITIES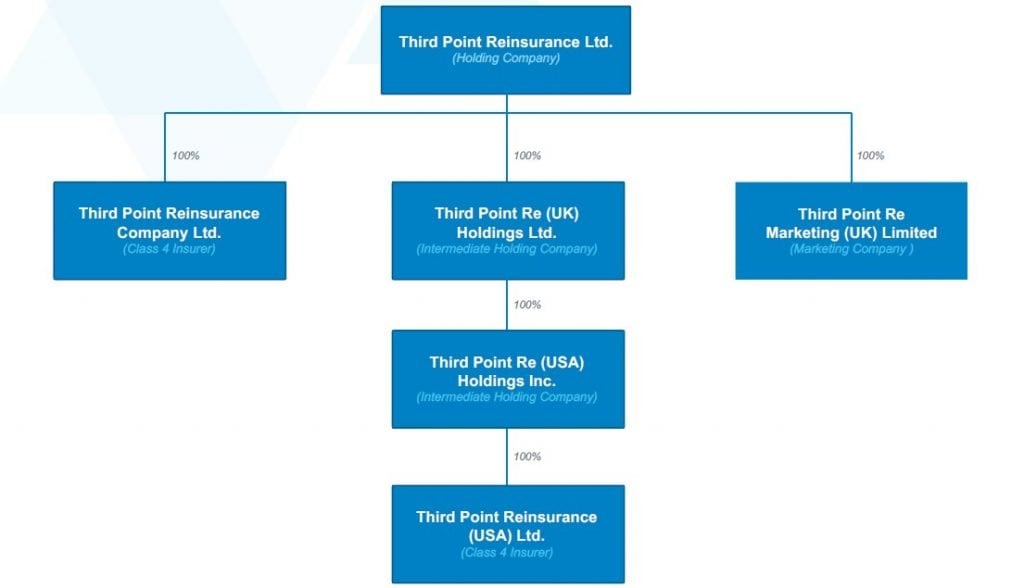 EVOLUTION OF OUR PORTFOLIO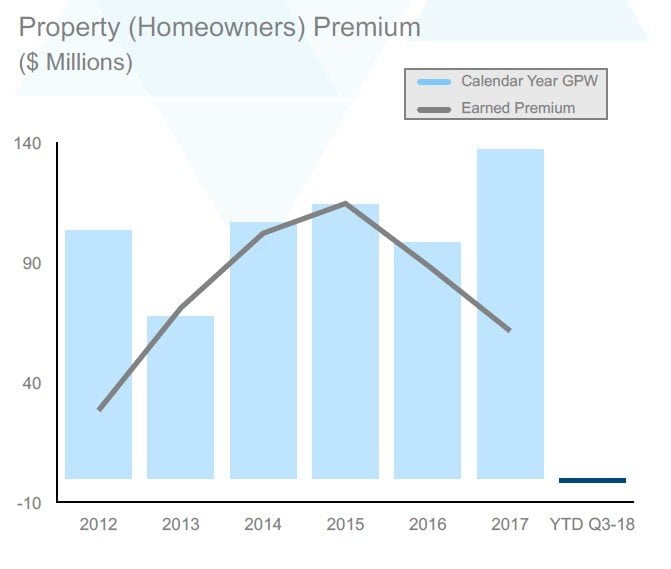 Portfolio of primarily Florida carriers built from past relationships and now also includes a Northeast carrier
Identified Assignment of Benefits (AOB) issue in Florida early, but did not adequately price for it
Renewed two contracts in Q4-17, on a two-year basis, at significantly improved ceding commissions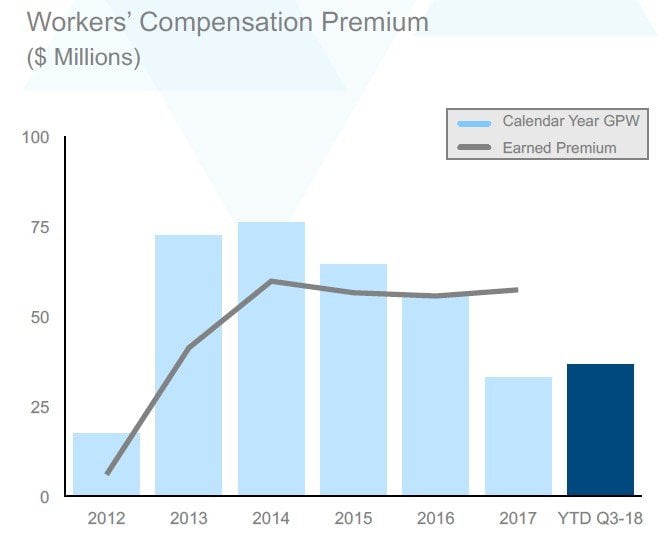 Market conditions vary widely by state, segment and carrier
We are opportunistically targeting carrier deals with good historical results
Carefully watching today's tight labor market's impact on results
Have started to write some lower layer excess covers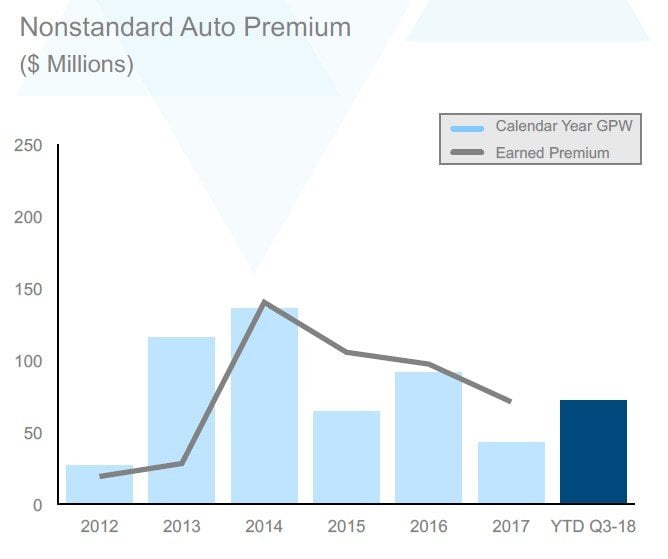 Portfolio of MGA-driven nonstandard auto business built from past relationships
Re-oriented our approach to focus on best-in-class carriers/ MGAs with the size and differentiation to navigate difficult market conditions
Harder market conditions due to recent poor results are providing an increased flow of opportunities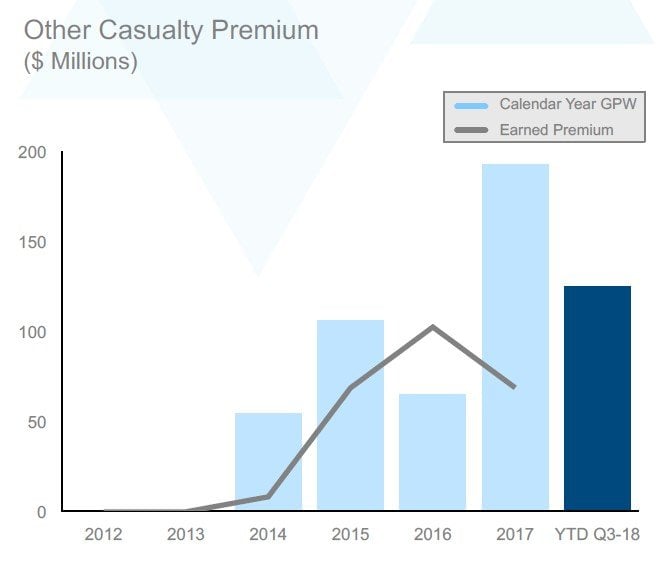 Portfolio is dominated by broad casualty retrocession deals
We also write a growing number of transaction liability and professional lines reinsurance treaties
Adverse loss trends in some lines are being offset by underlying rate increases and some improvement in reinsurance terms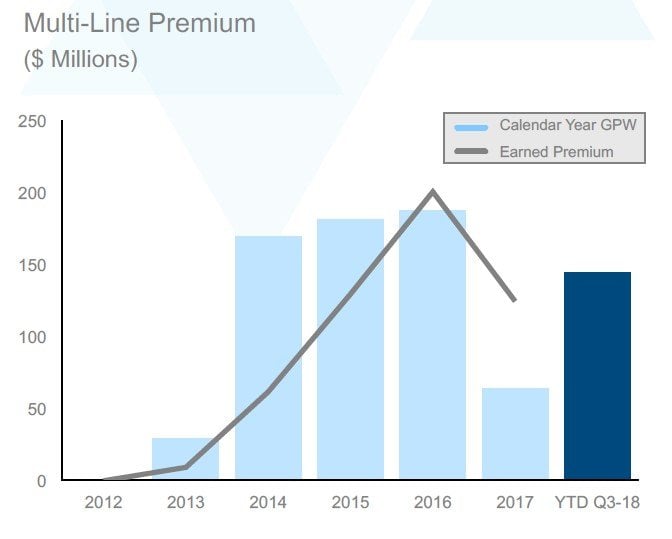 Portfolio is primarily quota share and retrocessional contracts of Lloyds entities and reinsurance companies
Have seen an increase in inquiries following recent cat events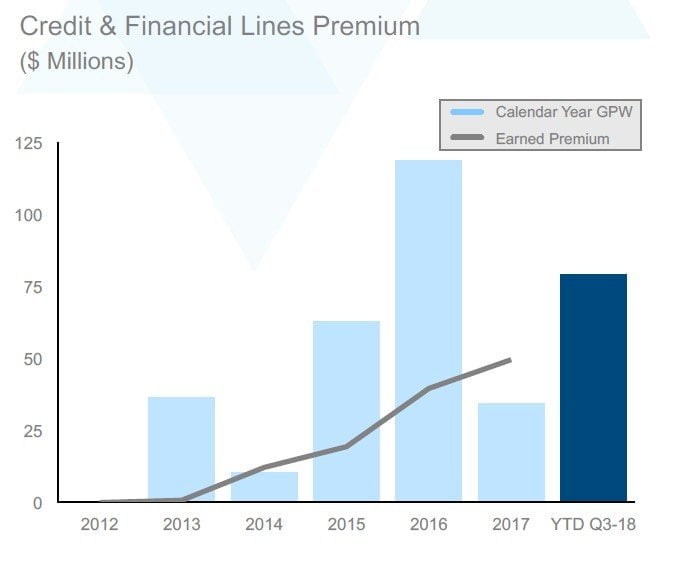 Portfolio is primarily mortgage but also includes political risk, trade credit, structured credit, surety, title and residual value
We believe pricing and terms & conditions of mortgage risk have held up well due to rapidly increasing demand
Traditional credit and political risk insurance is highly competitive. We favor market leads with the capacity and expertise to transact in less commoditized areas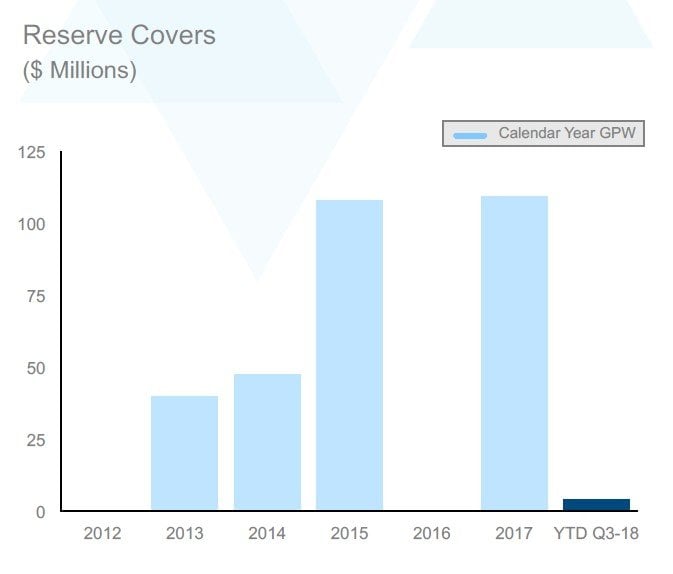 Written premium earned and losses incurred at inception
Reserve covers provide clients with capital benefit and work particularly well within Lloyds and Solvency II capital regimes
Increased capital requirements imposed by Lloyds on its member syndicates is generating demand
Reserve covers provide TPRE with float
DIVERSIFIED PREMIUM BASE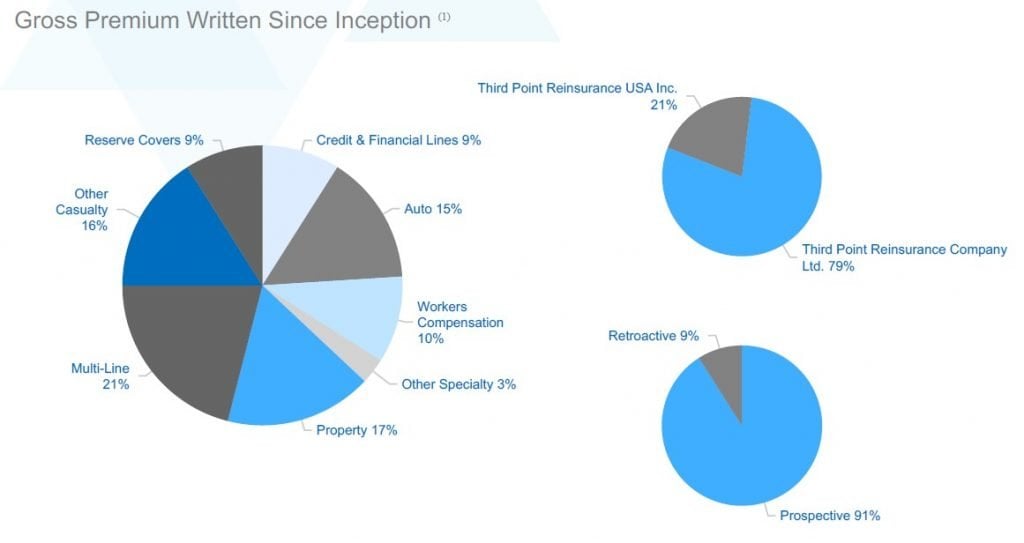 REINSURANCE RISK MANAGEMENT
Risk Management Culture
Reinsurance business plan complements our investment management strategy: premium, reserve and asset leverage lower than peer group
Company-wide focus on risk management
Robust underwriting and operational controls
Close interaction between underwriting and risk management functions
Holistic Risk Control Framework
Measure use of risk capital using internally-developed capital model, A.M. Best BCAR model and Bermuda Monetary Authority BSCR model
Developed a comprehensive Risk Register that we believe is appropriate for our business model
Risk appetite and limit statements govern overall risk tolerances in underwriting and investment portfolios
Ongoing Risk Oversight
Own Risk Self Assessment (ORSA) report produced quarterly with outcomes and results provided to management / Board of Directors
Quarterly reporting provides management with meaningful analysis relative to our current capital requirements and comparisons to our risk appetite statements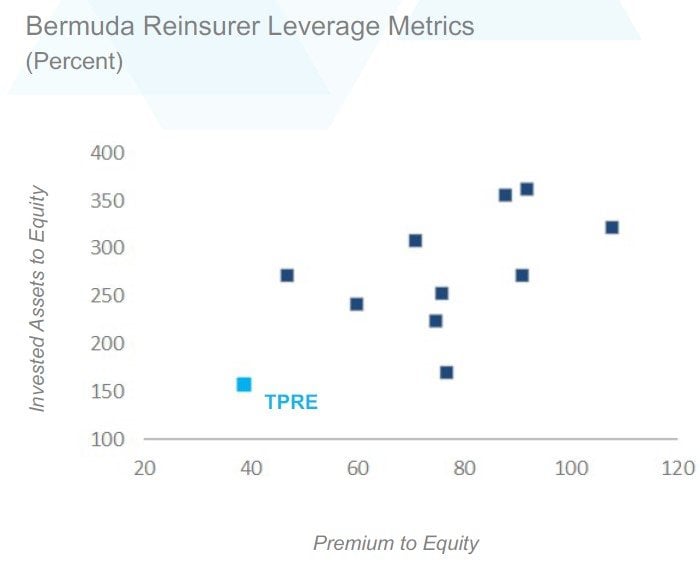 Low premium leverage and asset leverage compared to peer group
Limited legacy reserves
Limited catastrophe risk
MARKET-LEADING INVESTMENT MANAGEMENT BY THIRD POINT LLC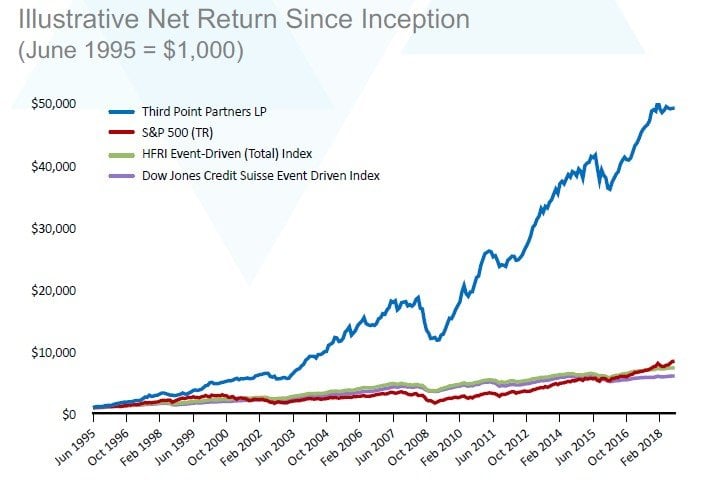 Third Point LLC owned and led by Daniel S. Loeb
18.2% net annualized returns for Third Point Partners LP since inception in 1995(1)
9.6% net annualized return on TPRE managed account since inception (Jan. 1, 2012)(1)
INVESTMENT RETURNS PROFILE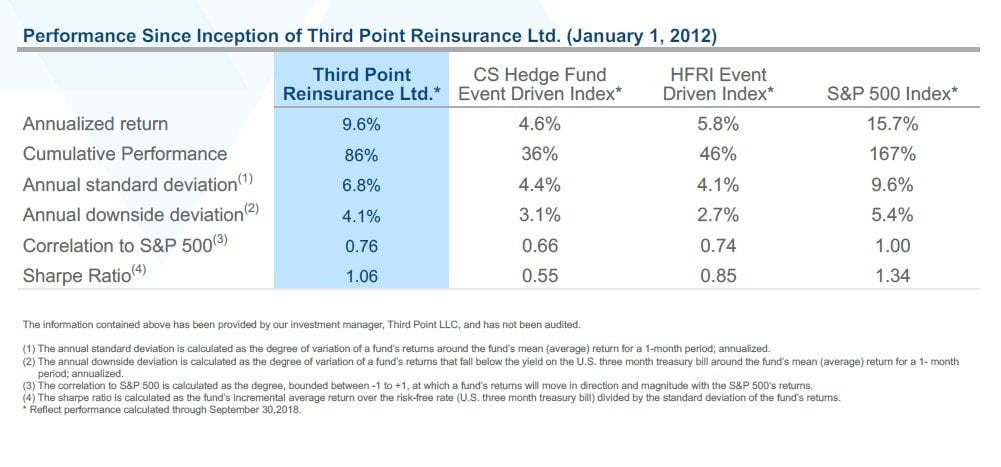 RELATIONSHIP WITH THIRD POINT LLC
Limited Partnership Agreement
Exclusive relationship through 2021, followed by successive 3-year terms on renewal
Investments are managed on substantially the same basis as the main Third Point LLC hedge funds
We pay a 1.5% (exposure adjusted) management fee and 20% performance allocation. The performance allocation is subject to a standard high water mark
Risk Management
Restrictions on leverage, position concentrations and net exposure limits
Key man and performance termination provisions
Allowed to diversify portfolio to address concerns of A.M. Best or regulator
Liquidity
Weekly redemption rights to pay claims and expenses as well as manage required capital
Portfolio concentrated in large cap long equity positions
No material changes in liquidity by moving to fund structure
THIRD POINT LLC PORTFOLIO RISK MANAGEMENT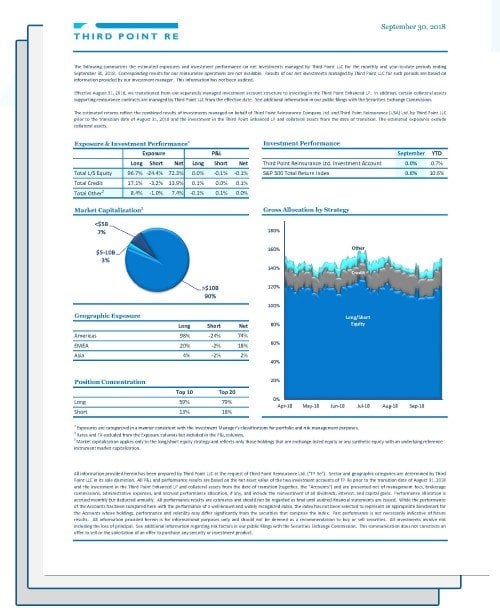 Portfolio diversification across industries, geographies, asset classes and strategies
Highly liquid portfolio – investment manager can dynamically shift exposures depending on macro/market developments
Security selection with extensive diligence process
Approach includes index and macro hedging and tail risk protection
Institutional platform with robust investment and operational risk management procedures
GROSS PREMIUM WRITTEN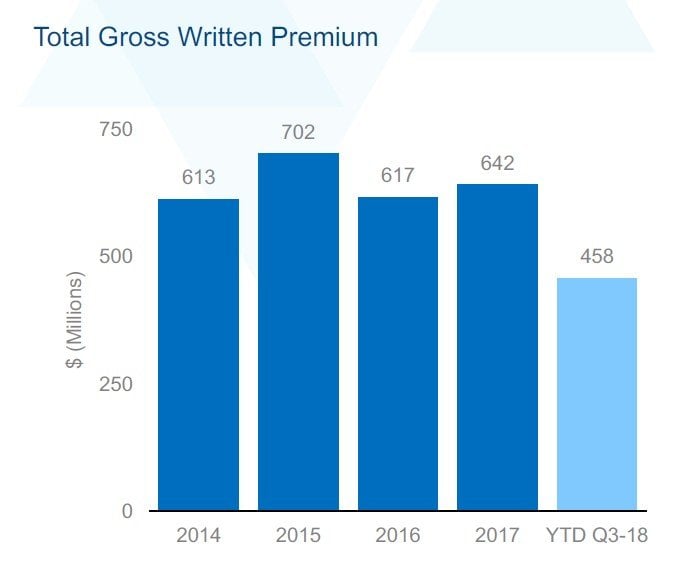 Broad range of lines of business and distribution sources (brokers)
Management believes the company has a strong pipeline of opportunities
We may experience volatility in the amount of gross premiums written and period to period comparisons may not be meaningful
IMPROVING REINSURANCE MARKET CONDITIONS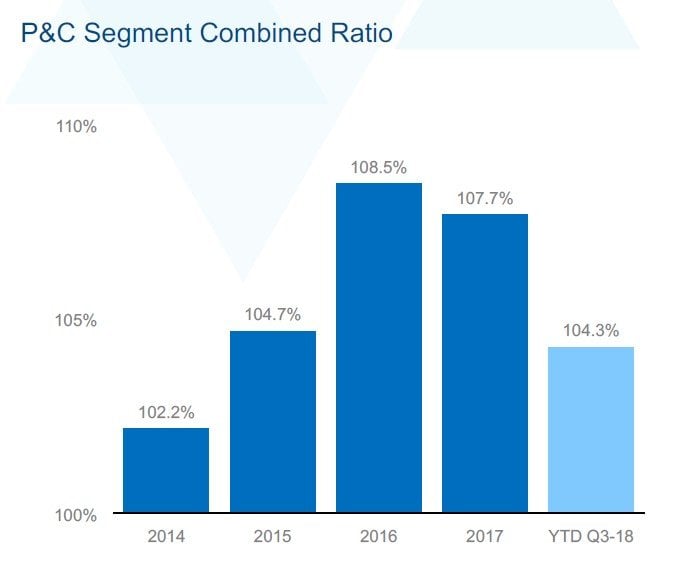 Underlying pricing combined with reinsurance terms and pricing are keeping pace with loss cost trends
We plan to further reduce our combined ratio by incrementally increasing the risk profile of our underwriting portfolio
We continue to carefully manage expenses
INVESTED ASSET LEVERAGE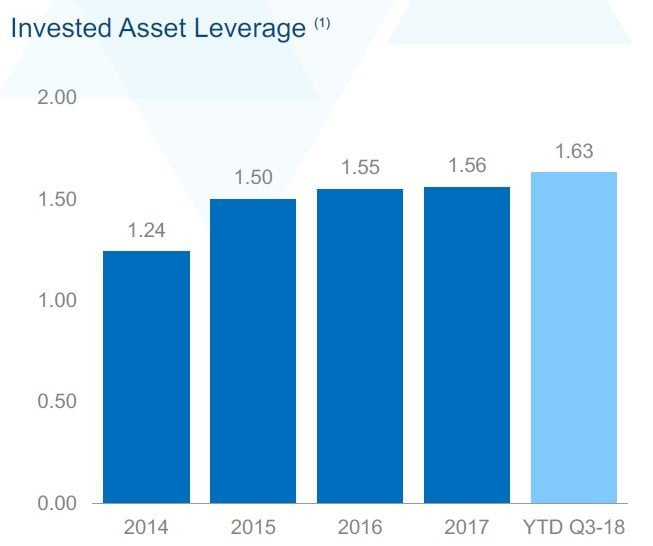 If the underlying reinsurance risk is attractive, generating float allows a reinsurer to access investment "leverage" at low or no cost
Certain lines of business provide reinsurers with float for several years
We are currently operating at what we believe is our optimal level of investment leverage
STRONG GROWTH IN DILUTED BOOK VALUE PER SHARE SINCE INCEPTION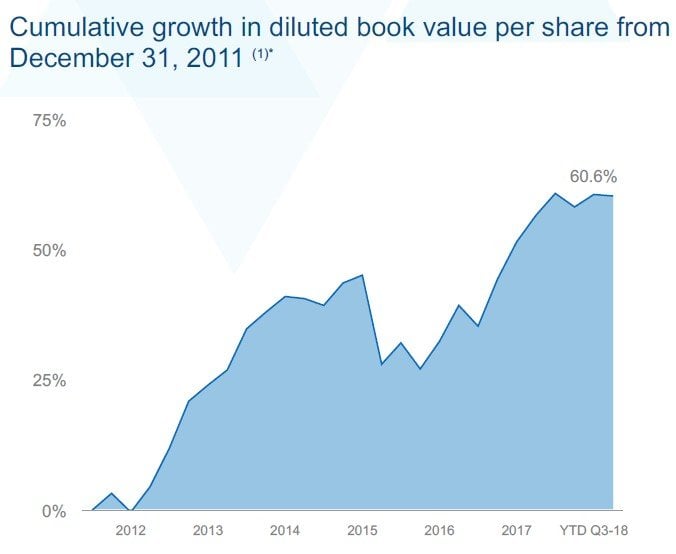 Market leading 20.1% ROE in 2017, a challenging year for the reinsurance market
Active capital management - Share repurchases of $181.6 million since Q2-2016
TOTAL RETURN BUSINESS MODEL DESIGNED TO DELIVER SUPERIOR RETURNS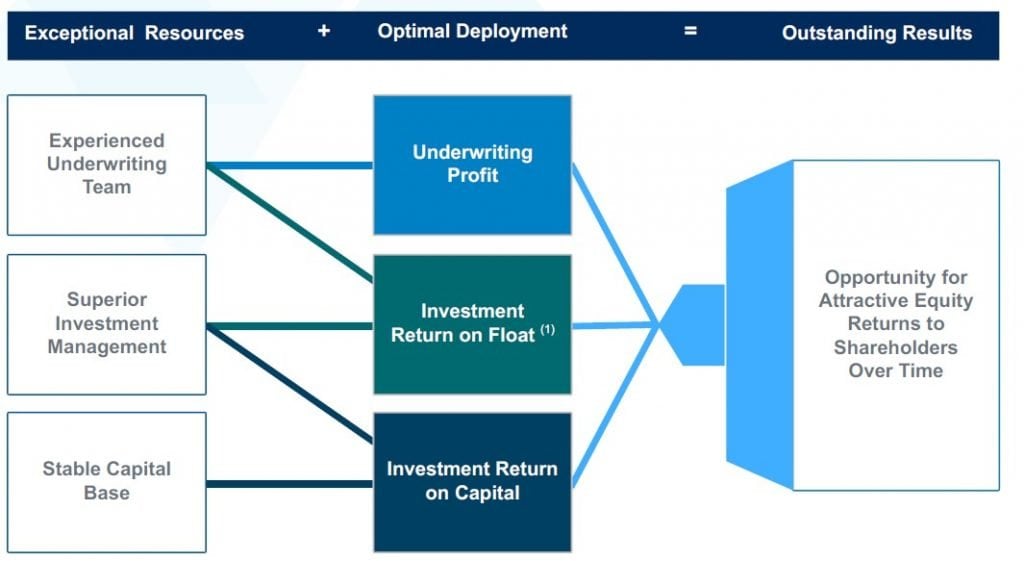 Appendix
KEY FINANCIAL HIGHLIGHTS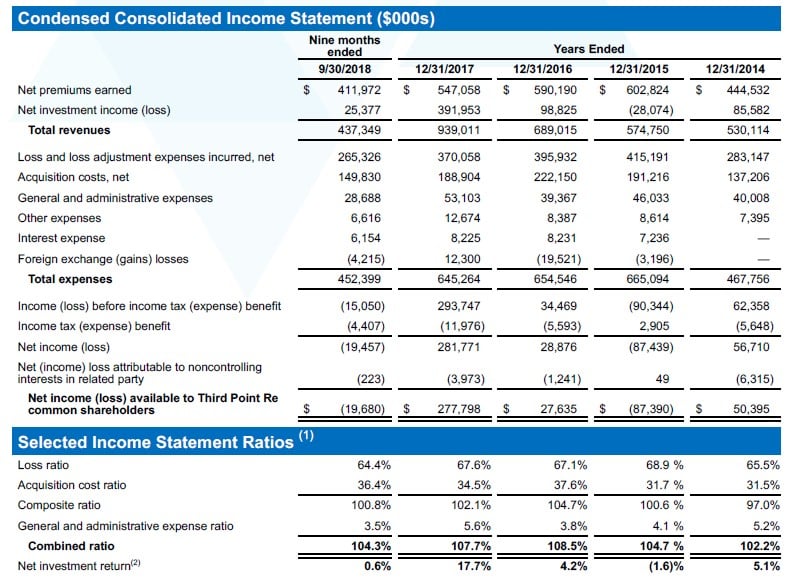 Highlights
Generated $3.6 billion of gross premiums written from inception to date.
Interest expense relates to 2015 debt issuance.
Income tax (expense) benefit relates to U.S. operations and withholding taxes on investment portfolio.
FX primarily due to the revaluation of GBP loss reserves.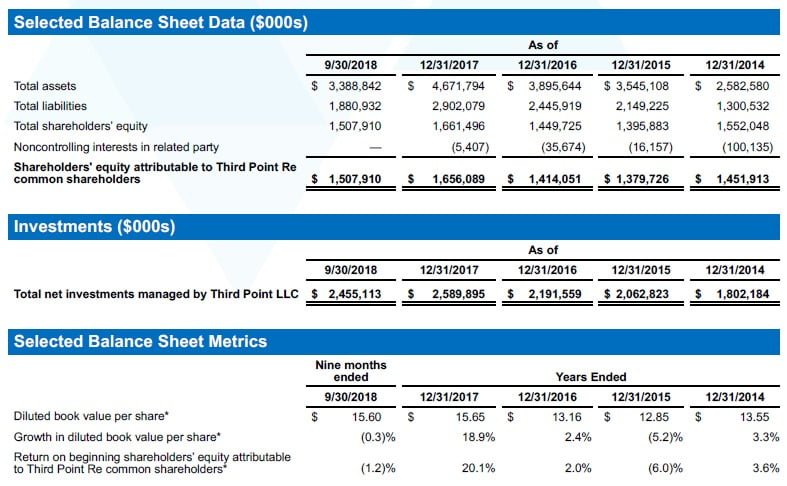 Highlights
$286.0 million of capital raised with 2013 IPO.
$115.0 million of debt issued in 2015.
85.8% cumulative net investment return through September 30, 2018 (1).
NON-GAAP MEASURES & OTHER FINANCIAL METRICS
Basic Book Value per Share and Diluted Book Value per Share
Basic book value per share and diluted book value per share are non-GAAP financial measures and there are no comparable GAAP measures. Basic book value per share, as presented, is a non-GAAP financial measure and is calculated by dividing shareholders' equity attributable to Third Point Re common shareholders by the number of common shares outstanding, excluding the total number of unvested restricted shares, at period end. Diluted book value per share, as presented, is a non-GAAP financial measure and represents basic book value per share combined with the impact from dilution of all in-the-money share options issued, warrants and unvested restricted shares outstanding as of any period end. For unvested restricted shares with a performance condition, we include the unvested restricted shares for which we consider vesting to be probable. Change in basic book value per share is calculated by taking the change in basic book value per share divided by the beginning of period book value per share. Change in diluted book value per share is calculated by taking the change in diluted book value per share divided by the beginning of period diluted book value per share. We believe that long-term growth in diluted book value per share is the most important measure of our financial performance because it allows our management and investors to track over time the value created by the retention of earnings. In addition, we believe this metric is used by investors because it provides a basis for comparison with other companies in our industry that also report a similar measure. The following table sets forth the computation of basic and diluted book value per share as of September 30, 2018, December 31, 2017, 2016, 2015 and 2014:

Return on Beginning Shareholders' Equity Attributable to Third Point Re Common Shareholders
Return on beginning shareholders' equity attributable to Third Point Re common shareholders, as presented, is a non-GAAP financial measure. Return on beginning shareholders' equity attributable to Third Point Re common shareholders is calculated by dividing net income (loss) available to Third Point Re common shareholders by the beginning shareholders' equity attributable to Third Point Re common shareholders. We believe that return on beginning shareholders' equity attributable to Third Point Re common shareholders is an important measure because it assists our management and investors in evaluating the Company's profitability. For the 2018, 2017 and 2016 periods, we have also adjusted the beginning shareholders' equity for the impact of the shares repurchased on a weighted average basis. This adjustment increased the stated returns on beginning shareholders' equity.

Net Investment Return on Investments Managed by Third Point LLC
Net investment return represents the return on our net investments managed by Third Point LLC, net of fees. The net investment return on net investments managed by Third Point LLC is the percentage change in value of a dollar invested over the reporting period on our net investment assets managed by Third Point LLC. Effective August 31, 2018, we transitioned from our separately managed account structure to investing in the TP Fund, managed by Third Point LLC. In addition, certain collateral assets supporting reinsurance contracts held by Third Point Re BDA and Third Point Re USA (the "Collateral Assets") are managed by Third Point LLC from the effective date. See Note 4 to our condensed consolidated financial statements included in our Quarterly Report on Form 10-Q for the period ended September 30, 2018 for additional information. The net investment return reflects the combined results of investments managed on behalf of Third Point Re BDA and Third Point Re USA prior to the transition date of August 31, 2018 and the investment in the TP Fund and Collateral Assets from the date of transition. Prior to the transition date of August 31, 2018, the stated return was net of noncontrolling interests and net of withholding taxes, which were presented as a component of income tax expense in our condensed consolidated statements of income. Net investment return is the key indicator by which we measure the performance of Third Point LLC, our investment manager.