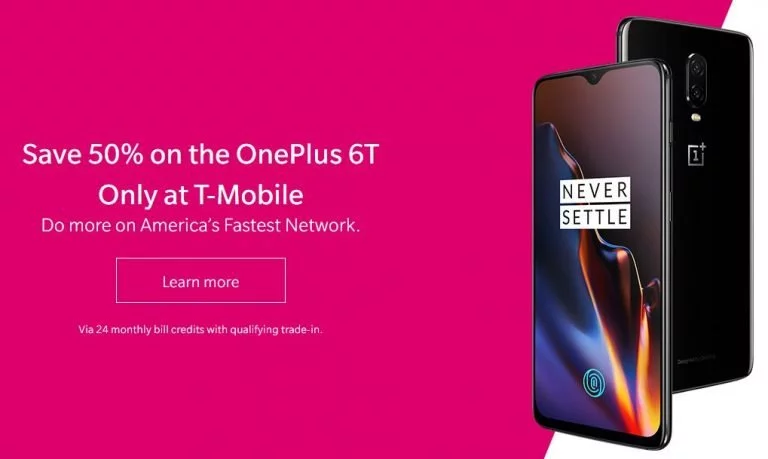 OnePlus 6T is the first OnePlus handset to be sold by U.S. carriers, and T-Mobile is the first to offer it. Since the handset is sold via carriers, the OnePlus 6T does come with no carrier unlocking condition for 40 days. However, reports are that T-Mobile has been allowing OnePlus 6T owners to unlock their devices right away.
Carrier unlock possible
Smartphones that are sold through carriers, usually come with some restrictions, like no dual-SIM functionality, and no carrier unlocking (bootloader) until the device has been fully paid for and used for more than 40 days. However, a report from tech site Piunikaweb has found some users saying that T-Mobile is allowing OnePlus 6T users to get their devices unlocked even before 40 days.
Several T-Mobile OnePlus 6T users claim that they were able to carrier unlock their handset shortly after buying it. According to the users, they requested T-Mobile for the bootloader, to which the customer care representatives easily agreed.
Alluvial Fund May 2021 Performance Update
Alluvial Fund performance update for the month ended May 2021. Q1 2021 hedge fund letters, conferences and more Dear Partners and Colleagues, Alluvial Fund, LP returned 5.4% in May, compared to 0.2% for the Russell 2000 and 1.0% for the MSCI World Small+MicroCap . . . SORRY! This content is exclusively for paying members. SIGN UP Read More
"I called Customer service and told them I bought the phone cash from T-Mobile store and it doesn't make sense to put me on a 40 day hold to unlock, I own the phone outright. I asked was there any way to override the 40 day policy because I travel and sure enough she bypassed the policy," one user said.
However, not all users were able to get their handset unlocked. As per the reports, some customer care representatives are also declining the unlocking request. So, it is advised that you keep trying if one customer care representative refuses to honor your request.
T-Mobile OnePlus 6T vs. OnePlus 6T
T-Mobile is only selling the Mirror Black variant with 8GB RAM and 128GB of storage for $579 or $24.17 per month. So, if you need any other specifications, you will have to buy from OnePlus' official web store.
A OnePlus 6T with 6GB RAM and 128GB storage is priced at $549 on OnePlus' official store, while the 8GB RAM variant costs the same as T-Mobile ($579), but you have one more color option in the form of midnight black. The OnePlus 6T with 8GB RAM and 256GB storage costs $629.
T-Mobile is also offering a pretty decent deal via its exchange program. The carrier is giving up to $300 off on eligible OnePlus smartphones. The trade-in offer is even applicable to the first-generation phones, but they should be in good working condition.
On the negative side, T-Mobile OnePlus 6T devices won't be allowed to use the OxygenOS Open Beta program. Also, users won't be allowed to uninstall T-Mobile's pre-loaded software. T-Mobile has preloaded two apps on the OnePlus 6T, called the T-Mobile and Unlock. The first one allows you to access your T-Mobile account information, while the other one probably has some code and must not be touched.
The T-Mobile version of the OnePlus 6T does not sport a carrier logo on the back. However, once you start the phone, you will see a familiar T-Mobile logo, with its trademark magenta background. Also, the T-Mobile OnePlus 6T variant gives users an option to sign up for data collection.
Missing on key features
A big disadvantage of the T-Mobile OnePlus 6T is the delay in software updates. The OnePlus 6T on T-Mobile runs on version 9.0 of OxygenOS, while the unlocked variant is on version 9.0.4 after a recent update.
"Due to the additional level of certification required by T-Mobile on all software releases, there may be a slight offset but we are working diligently to minimize this period in all instances," OnePlus says.
Though a delay on the part of carriers is not a rare thing, in this case, however, it is noticeable because version 9.0 is missing some key features. Moreover, neither T-Mobile nor OnePlus have a confirmed date of when the update will be rolled out to the T-Mobile handsets.
Features that are currently missing on the T-Mobile OnePlus 6T devices are: Nightscape upgrades, Quick app switching gesture, latest Android security patch, Studio Lighting feature in the Camera app, Screen unlock upgrades and some bug fixes and improvements.
The Studio Lighting feature is an improved Portrait Mode, which now comes with a new algorithmic lighting technique. Another missing feature, the Quick app switching gesture, allows a user to jump between two apps easily. Until T-Mobile OnePlus 6T users get this gesture feature, they will have to switch between two apps manually.