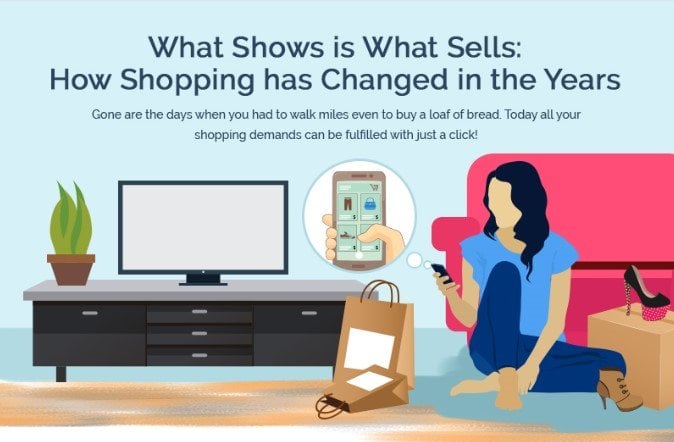 The ever-evolving digital world has shown to have a huge impact on the ways in which we shop as a nation. With the increase in popularity of online shopping, as well as its huge convenience most of your shopping demands can now be met with just a click! Whether you need a weekly grocery shop delivering to your doorstep, or want to set up a recurring subscription to a health or beauty box; the opportunities are endless. With all of these developments and changes to the traditional retail world, what does this mean for retailers both currently and in the future?
This infographic created by Rombus Packaging takes a closer look at consumerism and how shopping has drastically changed over the years. It focuses on the importance of online shopping as well as effective product packaging and many other aspects to consider to ensure your product is successful on a market which is constantly evolving and has increased competition.
David Einhorn At The 2021 Sohn Investment Conference: Buy These Copper Plays
There's a gold rush coming as electric vehicle manufacturers fight for market share, proclaimed David Einhorn at this year's 2021 Sohn Investment Conference. Check out our coverage of the 2021 Sohn Investment Conference here. Q1 2021 hedge fund letters, conferences and more SORRY! This content is exclusively for paying members. SIGN UP HERE If you Read More
It starts with a clear visualisation of data reflecting the increase in the number of digital buyers worldwide. It then features the rise in retail E-Commerce sales in the UK through different devices. Did you know that online sales are predicted to reach a total of £42.51 billion on digital devices by 2020?
Conscious consumerism
The infographic also introduces the concept of the 'conscious consumer' and how they consider the social, ecological, environmental and political impact a product has leading them to make positive decisions regarding the purchase. Conscious consumerism is definitely more relevant now in comparison to 10 years ago, making it even more important to factor in conscious consumer's needs when creating a product or designing product packaging.
One third of UK consumers are concerned about the issues regarding the origin of products leading them to consider more factors before purchasing a product. As a result, this gives retailers even more factors to consider in terms of their product, in order to make it appeal to conscious consumers.
The rise in conscious consumerism along with the increase in competition such as online retailers and subscription boxes is evidently making things more difficult for traditional retailers.  However, there are certain steps retailers can take to keep up with these ever-changing consumer trends such as checking their competitors, assessing their product packaging and embracing new technology.
What catches most consumer attention?
Along with catering to conscious consumer's needs, product packaging in general is one of the most important factors when it comes to successfully marketing your product. Not only does it create brand awareness and differentiate your product from other brands, but it also helps customer retention. The infographic outlines the importance of high quality, effective product packaging, and how visual appearance is the biggest influence on catching consumer's attention.
With just 1% of consumers stating that texture was the most influential aspect of product packaging, and 93% stating that visual appearance influences their decision to purchase a product most, it is clear to see the impact product packaging has on sales.
85% of consumers state that they are directly influenced by the colour of a product and colour has been proven to increase brand recognition by 80%. The infographic includes a breakdown of different colours, along with the connotations of each one.
Research also shows that impulsive buyers are more attracted to warm colours such as red, orange and yellow, with cool colours such as light blue, green, white and pink appealing more to conscious consumers.
Eco-friendly packaging is also featured in this infographic, with its main benefits being listed such as sustainability and how it utilises renewable energy. Many retail companies both online and in store are implementing eco-friendly packaging due to its popularity and positive impact on the environment.
Eco-friendly packaging doesn't just have a positive impact on the customer but it is also beneficial to your business. It reduces the waste of natural resources and also acts as 'marketing fuel' . If you actively show that your business cares about more than just making money, and makes responsible choices such as switching to eco-friendly packaging, then this will give consumers something to make a powerful and emotional connection with.
In effect, this will make them more likely to purchase and pass the recommendation on to their friends and families. With a recent report showing that 92% of consumers trust recommendations from friends and family above all other forms of advertising, this should have a hugely positive impact on your business and sales.
The rise of the Subscription Box Business
Another current consumer trend is subscription boxes. The subscription box business is something that has quickly evolved and continues to grow. Subscription boxes have fast become one of the leading ways to shop online with various categories available such as food, beauty and health.
Subscription boxes combine the top successful marketing principles such as customised and attractive packaging, convenience due to their regular delivery through a one-time online set up, and most are also reusable making them eco-friendly. Glossy box are a great example of a subscription box brand nailing their product packaging and as a result causing customers to collect and reuse their boxes, further leading to customer retention.
For further information on how consumer behaviour has changed over the years as well as interesting shopping statistics, and how retailers can take into consideration all of these consumer trends; check out the below infographic.

Sources:
https://www.businessleader.co.uk/the-conscious-consumer-the-next-generation-of-customer/45380/
http://is4profit.com/business-benefits-of-environmentally-friendly-packaging/