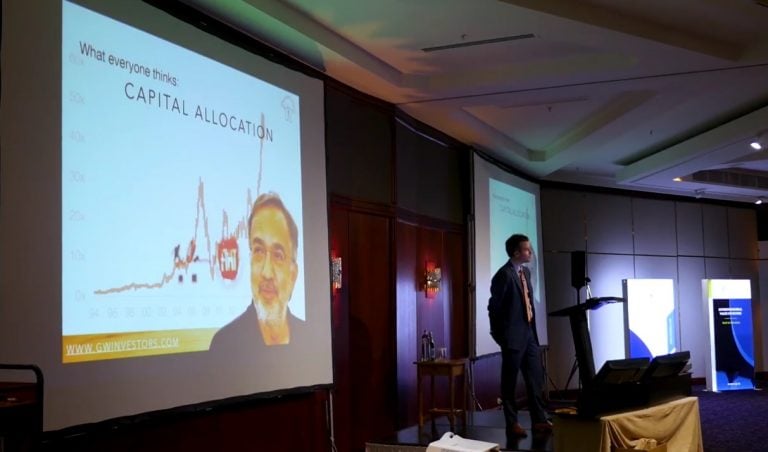 The video is an excerpt of Steven Wood's presentation, which was held at the International Value Investing Conference 2018 in Luxembourg on 23 October 2018. Steven Wood presented two long ideas: Exor and Bolloré, which aren't part of the video.
A few weeks ago I had the pleasure of offering a preview to a white paper we're working on with my friend Ehren Stanhope at factorinvestor.com. A portion of that presentation was filmed by my friend Tilman Versche at Value DACH.
The preliminary conclusions reached about The Builders (value creators) of our world may be somewhat controversial, and so I invite all viewers of the following video to please give critical feedback ahead of publication.
Alluvial Fund May 2021 Performance Update
Alluvial Fund performance update for the month ended May 2021. Q1 2021 hedge fund letters, conferences and more Dear Partners and Colleagues, Alluvial Fund, LP returned 5.4% in May, compared to 0.2% for the Russell 2000 and 1.0% for the MSCI World Small+MicroCap . . . SORRY! This content is exclusively for paying members. SIGN UP Read More
Steven Wood (GreenWood Investors) On Business Builders And Value Creation
Q3 hedge fund letters, conference, scoops etc
Transcript
This is a message that's not going to be going away. But I am actually if you have critical feedback I love critical feedback over anything in agreement really. So it's I've been talking about this my core letters. But it's you know people like to talk about a private equity approach to public markets or a venture capital approach and I call it. And it's not even a family approach it's really what I call it sort of a builder's approach to public markets. And what do I mean by this is that. There's common attributes between families founders. And even some good venture capital and private equity. And as are theU.S. election has demonstrated and Brecht's it has demonstrated. And every election has demonstrated we cannot assume or automatic recurrence of the past. It is always built and one of my personal heroes that was his quote Of course. If you want a career and performance even being cut short in your youth of 60 acts you have to do things a little bit differently. Everyone thinks that Sergio was an incredible capital allocator and yes he was. But what actually drove that 60 X was an incredibly passionate leader. He spent three months of his year talking to three to 4000 employees within the organizations building their careers. He was being criticized as a deal maker he actually didn't really do any deals at the end of the day and he still and he still did the 60 acts. He believed in people and he did things completely differently from anything else.
But in this room it is quite appropriate that we talk about how publication cover allocation drives our alpha that drives our short term performance. My friend will Thorndyke wrote The Outsiders. And. It was an incredible service because so many people as we've seen in this room and we've heard with some of the activists not too many people actually think about capital allocation. Not enough but actually let's let's not let's not kid ourselves. So it is the rise on dastard for off of capital cushion does not create any value at the end of the day. We are moving piles of money from one end to the other. And if you're a long term investor you should actually really focus of all value creation. So if you think about creation for a little bit it is elegant. It's really messy. It requires patience. It compounds it then transforms. And I believe creation is almost the same as building creation is our purpose. Here's my my love of my life. And it's you know our urge to procreate is probably even stronger than that of eating or going to sleep which is probably really important as well. Speaking of early humans. The Stanford marshmallow experiment is actually the number one predictor of success in early kids and high. So basically the ability to wait for that second marshmallow correlates to being smarter healthier prettier and happier. It's almost everything you need. And so what I'd like to pose to you is actually the deferred gratification almost directly coincides also with the builders they're the waiters and unfortunately and I don't think I'm actually I think I'm preaching to the choir in the room but I don't think the many of you guys are here.
But unfortunately most of our peers are bingers and the average holding period of course has has dropped to about a half a year. I admit a lot of three on one presentations or management interviews. And I I can't stand when I hear this and it's almost embarrassing on behalf of our trade. But this is a common question that I hear all the time can you please take me through the news flow over the next four weeks. And the CEO of that has to think about his four year plan has to deal with this unbelievable game. It is actually become an epidemic. So 78 percent of managers will admit to smoothing earnings 55 to 60 percent with delay or cancel projects if it were going to hit quarterly earnings. And we are seeing actually right now what decades of beating the quarter does the paint the unwind is in question.