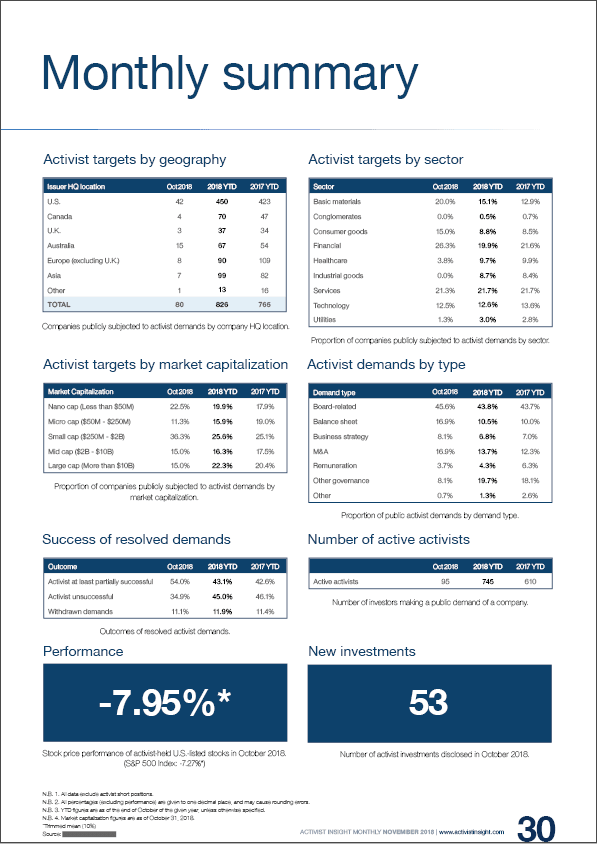 Activist Insight's shareholder activism summary for the month of October 2018.
Please click here to see a fact-sheet containing statistics on activist investments from January to October 2018 (click on the image itself for a clearer view).
The below data points are global in nature unless otherwise specified.
George Soros And The Human Uncertainty Principle
The division between academic economics and the way traders look at the market is deep. The efficient market hypothesis assumes that markets and valuations are always pushing towards an equilibrium, and evidence to the contrary gets pushed aside as fluctuations or statistical deviations. But the dot com bubble, the
Australia's proxy season kicked off with 15 companies publicly subjected to activist demands in October.
Asia is just one company shy of 100 being publicly subjected to activist demands so far this year, making it the second-most targeted region after the U.S.
Activist-held stocks were unable to beat the S&P 500 Index's slump last month with a performance of negative 7.95 percent* compared to the S&P 500's negative 7.27 percent.
Q3 hedge fund letters, conference, scoops etc
For any questions about the data, or if you have a follow-up request, please contact Josh Black at [email protected] Please note that bespoke data requests may take 24-48 hours depending on the amount of manual work required.
We look forward to assisting you with your articles.
Kind regards,
Josh Black