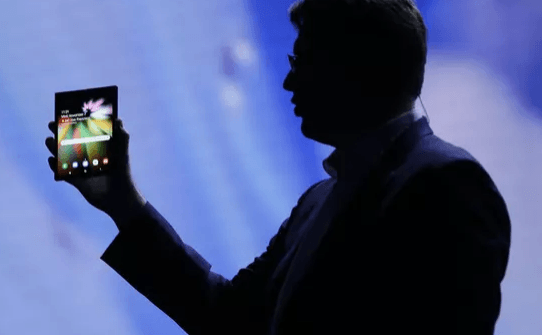 For the first time, Samsung finally gave a glimpse of its foldable phone on Wednesday. The Korean firm said the handset will enter mass production "in the coming months."
Here's what Samsung revealed
On Wednesday during its fifth annual developer conference in San Francisco, Samsung briefly showcased a foldable device. The lights were dimmed at the time, probably to protect elements of the design. As was expected, the device is a tablet when opened and works as a phone when closed.
"There's a device inside here," Mobile Product Marketing SVP Justin Denison said. "And it is stunning."
Hayden Capital 2Q22 Performance Update
Hayden Capital's performance update for the second quarter ended June 30, 2022. Q2 2021 hedge fund letters, conferences and more Dear Partners and Friends, The markets continued to sell-off in the second quarter, especially for internet-based businesses.  This year continues to be the toughest stretch for us, since the Hayden's inception.  Inflation concerns and the Read More
Samsung's foldable phone has an Infinity Flex Display, a new display technology which allows you to open and close the handset without any wear and tear.
"The Infinity Flex Display represents an entirely new mobile platform," Denison said.
Samsung's foldable phone has a screen which measures 18.5 centimeters (7.3 inches) diagonally and offers resolution of 1,536 x 2,152. When closed, the front display will measure 4.58 inches with a resolution of 840 x 1,960.
And here are the @Samsung foldable phone display specs #SDC18 pic.twitter.com/tkGvmqJcdb

— Shara Tibken (@sharatibken) November 7, 2018
Denison said a limitation of current smartphones is that the screen size is limited to the size of the device. With the Infinity Flex Display, Samsung is introducing a "new dimension to help you browse, watch and multitask like never before." Samsung's foldable phone can run three apps a time, a feature the Korean firm refers to as "Multi-Active Window."
Will Samsung's foldable phone be a hit?
When folded, the handset looked like a thick phone. Samsung did not allow media or developers to look at the device. Many believe the foldable phone the company showcased is not the final device, which could be even sleeker and with even smaller bezels. Denison also revealed at the conference that Samsung is working on rollable and stretchable displays.
Developers who attended the event believe Samsung will also have to work with competitors to boost adoption of its foldable technology. Analysts believe a foldable phone is an attractive idea, but the thickness and higher price tag could drive consumers away.
"They'll have to prove that it's more than just a gimmick," Technalysis Research analyst Bob O'Donnell told Reuters. "But it's smart to open it up to developers early to do different types of experiences."
CCS Insights analyst Ben Wood believes the success of Samsung's foldable phone will mostly depend on the company's ability to "button up the device."
"If it's a slick, attractively designed device it will be a magnet for gadget lovers. If it is bulky and hard to use it will be a tougher sell," the analyst said, according to CNET.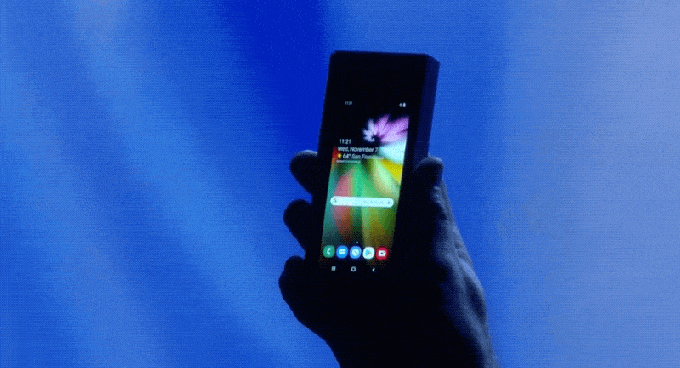 Google now supports "foldables" category
After Denison was done showing off Samsung's foldable phone, Google's Android UX head Glen Murphy took the stage. He announced that Android will add support for the foldable display technology. Further, Murphy said Google will work with developers to add more features to foldable phones.
Meanwhile Google has announced support for the "foldables" category. The search giant is already providing developers guidance on existing Android features that can be used for foldable displays.
Dave Burke, Android's VP of engineering, believes "pervasive, multi-screen computing" will be the next big thing. He said devices with this new form factor will have two screens. One will be on the outside like a traditional phone, and then users can open the device to reveal a larger display. The second is a continuous screen on the outside of the device.
We just announced support for foldables at #AndroidDevSummit, a new form factor coming next year from Android partners.

Android apps run seamlessly as the device folds, achieving this form factor's chief feature: screen continuity. pic.twitter.com/NAfOmCOY26

— Android Developers (@AndroidDev) November 7, 2018
Google believes the most important feature of this new tech is "screen continuity." For example, a user could start a video on the folded screen while on the go, but later when they are relaxed or have more time for an immersive experience, they can easily unfold the device to get a bigger screen. The video should seamlessly transfer to the bigger screen without the user missing anything.
Google aims to give developers a similar smartphone-like experience when working on foldable tech, requiring "as little work as possible" to support. Burke also announced resizable flags to ensure that apps effectively respond to the folding and unfolding of the device. Samsung will also offer an emulator APK to developers to help them develop apps for the new technology.
https://www.youtube.com/watch?v=v-PMgrQ6BcY
Updated on