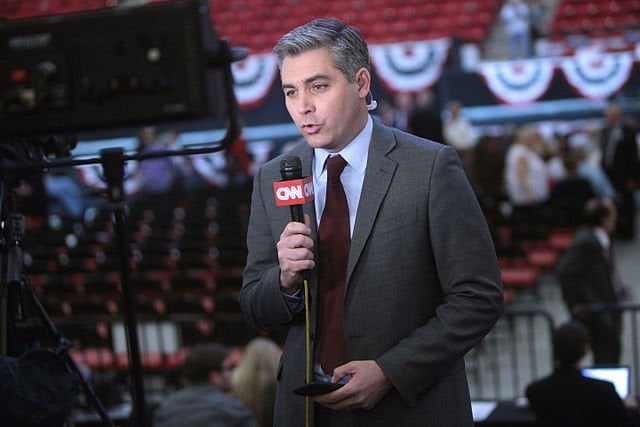 Due Process Applies to Many Non-Constitutional Rights and Deprivations including possibly the Jim Acosta saga

WASHINGTON, D.C. (November 14, 2018) – In opposing a request for a court order to restore the press pass to Jim Acosta, a reporter for CNN News, lawyers for the White House have raised a red herring issue – a legal straw man – in arguing that access to the White House is not guaranteed by the First Amendment, says public interest law professor John Banzhaf, who has won several First Amendment cases, including the one which banned cigarette commercials on radio and television.
The President's lawyers argue that "no journalist has a First Amendment right to enter the White House"; "plaintiffs attempt to claim harm from an alleged First Amendment violation";  "for if Mr. Acosta were simply a member of the public, it would be clear that he has no First Amendment right of access to the White House complex"; etc.  But the Due Process clause, which requires that no person may be deprived of an interest in the nature of either liberty or property without some kind of hearing. applies to many interests which clearly enjoy no constitution protection at all.
Canyon Distressed Opportunity Fund likes the backdrop for credit
The Canyon Distressed Opportunity Fund III held its final closing on Jan. 1 with total commitments of $1.46 billion, calling half of its capital commitments so far. Canyon has about $26 billion in assets under management now. Q4 2020 hedge fund letters, conferences and more Positive backdrop for credit funds In their fourth-quarter letter to Read More
Q3 hedge fund letters, conference, scoops etc
As the court held in 1977 in very similar case in which a reporter was likewise deprived of his press pass, Robert Sherrill had a liberty interest of which he "may not be deprived without due process of law." Since courts have expanded the definition of a liberty interest very dramatically since then, it is clear that Jim Acosta has at the very least a liberty interest - and perhaps, under recent cases, also a property interest - in retaining his press pass, and he cannot be deprived of that interest with the procedural protections required by Due Process.
A simple example explains this concept.  Students enrolled at a state college clearly do not have a constitutional right to a diploma.  But if they expelled because of a mere rumor or claim that they engaged in some alleged wrongdoing, and without any opportunity to defend themselves in a appropriate Due Process proceeding, their constitutional rights have been violated, and they can - and have - successfully sued the college and even its administrators for depriving them of their liberty interest, not for violation of any supposed constitutional right to attend or graduate.
So, says Banzhaf, the issue is not whether Jim Acosta or any other reporter has a First Amendment or other constitutional right to a press press, or even whether his alleged actions were inappropriate enough to warrant revoking his pass, but rather whether he is entitled to some kind of Due Process proceeding before he can be deprived of his pass, even on a temporary basis.
The claim that Acosta is not entitled to any remedy because he has no First Amendment right to a press pass is a red herring, a legal straw man, concludes Banzhaf.
(202) 994-7229 // (703) 527-8418
http://banzhaf.net/ jbanzhaf3ATgmail.com  @profbanzhaf