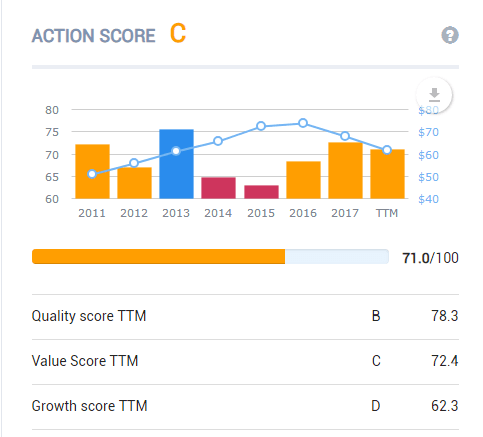 In addition to the reading links below, I follow a couple of funds for my stock research and ideas.
One is Prescience Point Capital.
The other is Kerrisdale Capital.
Alluvial Fund May 2021 Performance Update
Alluvial Fund performance update for the month ended May 2021. Q1 2021 hedge fund letters, conferences and more Dear Partners and Colleagues, Alluvial Fund, LP returned 5.4% in May, compared to 0.2% for the Russell 2000 and 1.0% for the MSCI World Small+MicroCap . . . SORRY! This content is exclusively for paying members. SIGN UP Read More
To learn how pros think about and analyze stocks, these two are some of the best examples.
Today, I got an update from Prescience on their short position for Kellog's (K).
Considering it's a C in the Action Score to begin with, it's not a company that has crossed my screen one time this year. But at the same time, who even thinks about shorting cereal?
Q3 hedge fund letters, conference, scoops etc
Without duplicating the content of Prescience, the thesis digs into the fundamental flaws of the company.
They summarize it as:
Revenue growth is a facade, reversal of years of extended DSOs will wreak havoc on growth expectations and cash flow in FY'2019
CAO resignation immediately before guidance cut & working capital "unwind" is highly suspicious
FY'2018 adjusted EBIT & earnings growth guidance slashed; K's explanation for the miss doesn't make sense
Multiple executive departures immediately preceding poor results is highly suspicious
North America re-org/supply chain buildout leads to more obfuscation and a likely scapegoat for poor FY'2019 performance
K remains more levered than meets eye; dividend cut/credit downgrade risk remains high
Shares are still dramatically overvalued
What I like about short sellers is how they never take an answer from management at face value.
My weakness and one of the reasons why I do not listen to conference calls is I can easily get suckered into charsimatic leaders. I've had a couple of occasions where I made big bad bets by trusting in management talk.
Investors who practice the long and short side of investing are able to dissect questions and information which shows how much of an expert they have become on the company.
In this Kellogg investment, the team at Prescience looks at signals from fundamentals analysis, signals about management, financial shenanigans played, correlation between management and the numbers and so on.
Do read it for yourself. It's the first link.
Quick Thoughts on Some Stocks
With the Nasdaq falling, here are some quick thoughts:
Alibaba (BABA): I wrote about buying BABA. I still hold the same thoughts. I haven't been too worried about the current situation with the US and the trade impact. I think that's the overarching fear holding back most of the Chinese companies. But Chinese tech I still find to be much cheaper than US counterparts. If the market continues lower, companies like Tencent and Baidu will be tempting. I also think that US investors focus on the wrong things with China. Obviously the media has a lot to do with it as it will give the western view of China.
Amazon (AMZN): I still believe Amazon is on the slightly expensive side. They can grow into their valuation for sure, but for the price right now, there are better alternatives unless it drops to $1300 range at which point, I may consider picking up shares.
Note that with any stock, proper position sizing is needed. As much as I love Buffett, I don't have his acumen and have found through experience that sometimes my best ideas were the worst. As my margin of error is much wider than Buffett, I limit my positions so that it doesn't come back to haunt me.
Barnes & Noble (BKS): Like Sears, this one was obvious from a mile away if you stepped into any of their stores. Every BKS I visited, employees either had nothing to do or the younger ones were too busy fooling around. Prices are 20-30% higher than what you'd find on Amazon for literally anything. Their front displays for the Nook had zero interest. Nothing differentiated them from any other failing bookstore.
Walmart (WMT): The company continues to chug along like a champ. Being the low cost provider with easy access and working to increase their online offerings and omnipresent shopping continues to draw shoppers. I find myself looking up Walmart regularly for things I need in a pinch or what I think I'll need coming up. The recent market fluctuations hasn't bothered them much.
What We're Reading in the Media
What is Old School Value?
Old School Value is a suite of value investing tools designed to fatten your portfolio by identifying what stocks to buy and sell.
It is a stock grader, value screener, and valuation tools for the busy investor designed to help you pick stocks 4x faster.
Check out the live preview of AMZN, MSFT, BAC, AAPL and FB.