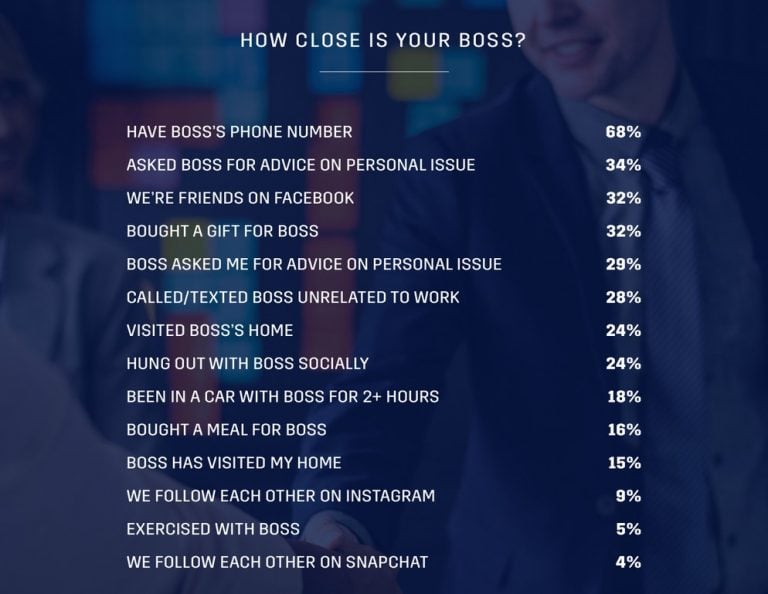 How close is too close when it comes to our relationships with our employers?

Olivet Nazarene University surveyed 3,000 people regarding 14 different factors of familiarity in order to better understand the personal-professional boundaries in the modern workforce. The study looks at what constitutes closeness to how men and women relate differently with their managers.
London Value Investor Conference: Joel Greenblatt On Value Investing In 2022
The first London Value Investor Conference was held in April 2012 and it has since grown to become the largest gathering of Value Investors in Europe, bringing together some of the best investors every year. At this year's conference, held on May 19th, Simon Brewer, the former CIO of Morgan Stanley and Senior Adviser to Read More
Q3 hedge fund letters, conference, scoops etc
According to the study, the most common point of connection is quite conversational. Some 68-percent of men and women employees have their boss's personal phone number, making it the number one indicator of familiarity. Following swapping digits, one in three respondents say they feel comfortable enough to ask their boss for advice on personal issues (29%). And a similar percentage (29%) say their boss has come to them seeking advice on personal issues.
Social media isn't just popular with friends. Nearly one in three people (32-percent) are friends with their boss on Facebook. The statistic isn't all that surprising with the number of people on the social media platform. The more seemingly intimate the social media platform, the number drops. Only 9-percent say they follow their boss on Instagram, and 4-percent of respondents say they and their boss follow each other on Snapchat.
Also high on the list included texting one's boss on matters unrelated to work, hanging out with one's boss socially, and visiting a boss's home.
Gender may influence how individuals relate with their manager.
Women responded in higher percentages when it came to having their boss's phone number, being Facebook friends with their manager and purchasing their boss a gift. Men, on the other hand, were more likely to have traveled in a car with their boss for longer than two hours, purchased a meal for their employer, and to have exercised with their boss.
Many modern offices are shifting away from formality and blurring the lines of socialization between manager and employee. Of people who describe themselves as "very happy" at work, 74-percent say they've met their boss's significant other.
Worlds collide more often than we may think: More than half (60-percent) of people say they've met their boss's significant other, and 55-percent say their boss has met theirs. Just over half of people have met their employer's children, and the same percentage (52-percent) has met their children.
Olivet Nazarene University also looked at patterns of familiarity based on industry. The industries with the most family interaction between employer and employee include those working in the legal profession, nonprofit and social services, and in real estate. When it comes to just general rankings of familiarity, those in real estate say they bond with their boss more than any other industry. Those in food service follow in second place, followed by marketing/advertising/public relations, those in skilled labor, nonprofit workers, and those in the insurance industry.
With the holidays rapidly approaching the question becomes whether to purchase your boss a gift. While present giving certainly isn't a prerequisite, of Olivet Nazarene University's 3,000 respondents, roughly one in three say they have purchased a gift for their current boss.

Updated on