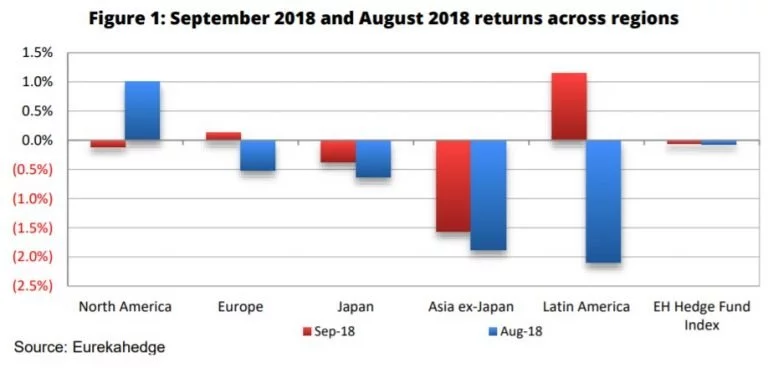 North American hedge funds snapped their winning streak in September, shifting into the red after a strong first eight months of the year. Interestingly, the funds' performance ran counter to the S&P 500, which ended the third quarter with its highest return since late 2013, according to data from Eurekahedge.
Latin American funds beat North American hedge funds
The Eurekahedge North American Hedge Fund Index was down 0.11% last month as fund managers worried about trade tensions and weak currencies in Asian markets. Brazilian equities carried Latin American funds to victory in September as they rebounded following a pullback in August.
Q3 hedge fund letters, conference, scoops etc
One Of The Original Quants Has Still Not Lost His Touch With A 121% Return In 2020: In-Depth Profile Of Robert Zuccaro
Robert Zuccaro has been using quantitative investing strategies since before quant funds existed. In fact, he started one of the earliest quant funds at Axe-Houghton in 1978, 10 years before Morgan Stanley introduced its first quant fund. Q4 2020 hedge fund letters, conferences and more Zuccaro has been researching the correlation between earnings growth and Read More
Year to date, North American funds are up 3.22% through the end of September. Latin American funds trailed close behind, followed by European fund managers.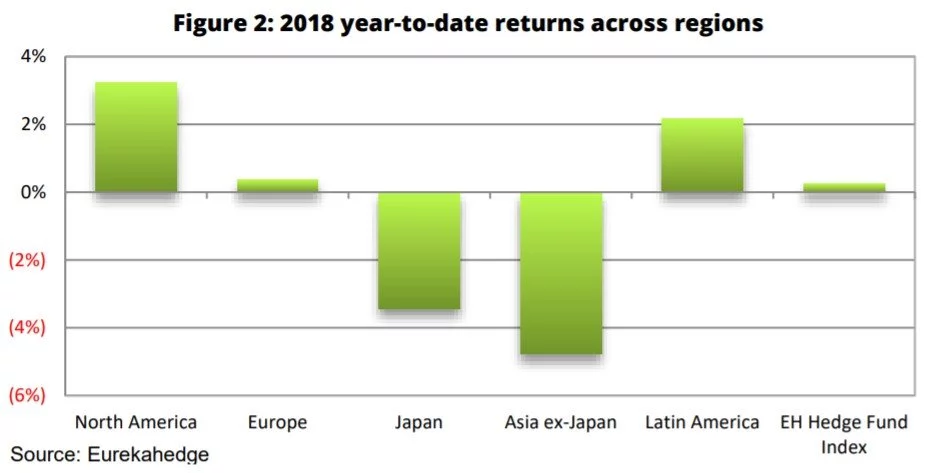 This year North American hedge funds have benefited from the Trump administration's tax cuts and the strong U.S. economy, which is triggering interest rate increases from the Federal Reserve. The Fed is trying to keep low unemployment in check while stabilizing inflation and keeping the economy from overheating.
U.S. equities took a huge hit in February as investors turned to the bond market thanks to the higher yields. However, U.S. stocks recovered quickly on the back of the strong second-quarter earnings season, in which over 80% of large-cap S&P 500 firms their consensus numbers.
North American hedge fund count not increasing much
Eurekahedge estimates the total assets under management by North American hedge funds at $1.65 trillion, which accounts for more than two-thirds of the global industry. These assets are managed by 5,667 funds. Eurekahedge pointed out that even though the industry has been growing steadily, the number of hedge funds in North America has stagnated in recent years. In fact, it has hardly changed since the end of 2015.
The North American hedge fund industry has seen strong inflows from investors, but Eurekahedge counted only 375 new fund launches last year and just 181 in the first eight months of this year. The slide continues a trend that's been occurring since 2014 as the number of new funds launching in the region continues to shrink. According to Eurekahedge, the number of hedge fund launches peaked before the global financial crisis and then plunged in the aftermath in late 2009.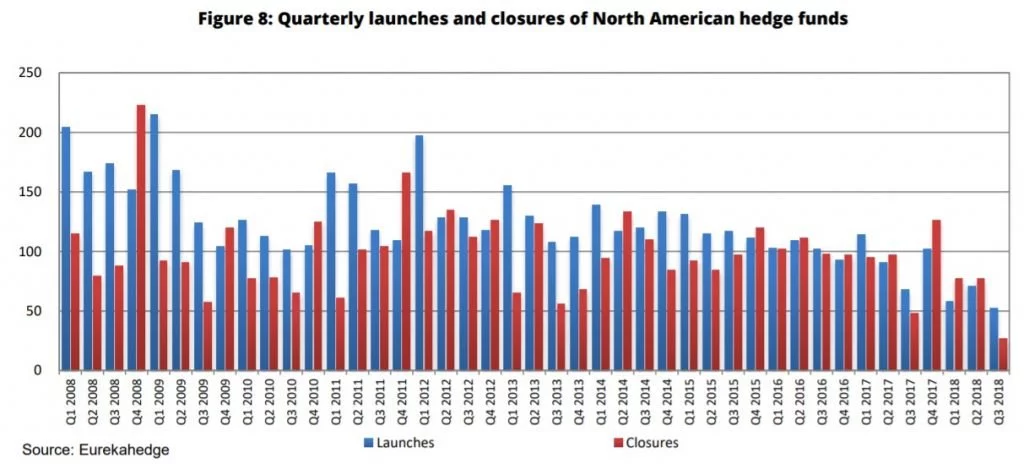 Why is the hedge fund count stagnating in North America?
Eurekahedge suggested that the MiFID II implementation in January may have pressured fund launches in the region even more due to higher compliance costs and stricter reporting requirements, which may keep smaller funds from launching. Another factor affecting the industry is increasing competition, not only from other hedge funds but also from the wide array of other investment products.
One other thing that could be causing the hedge fund growth in the region to stagnate is the relative underperformance of funds overall in the years since the global financial crisis. The traditional hedge fund fee structure has come under pressure as a result of that relative underperformance, Eurekahedge noted.
The publication also spoke to another trend which has been affecting the North American hedge fund industry for several years. In 2011 and 2012, hedge fund launches picked up due to institutional investors' increased appetite for risk and a growing number of "proprietary traders" who left their investment banks to set up their own hedge funds following regulatory reforms.
However, many of these "proprietary traders," as Eurekahedge calls them, didn't do as well as they thought they would after starting their own funds due to increased volatility and financial reforms which transformed the financial landscape. As a result, many of these traders exited the industry entirely, the publication added.
This article originally appeared on ValueWalk Premium