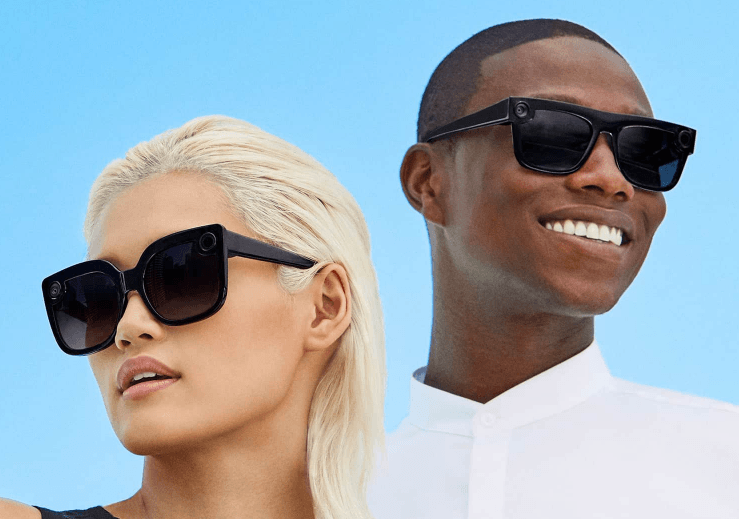 Snap is reportedly planning to release new Spectacles which will be much more advanced than the current model. Cheddar claims the new Snap Spectacles, which are expected to debut in the next few months, will feature a new design and two cameras.
What to expect from the new Snap Spectacles
Snap's new Spectacles will likely have an aluminum body rather than the plastic one the current model has. The device is also expected to have two cameras, allowing users to add augmented reality effects to their videos. The new Snap Spectacles, internally code-named "Newport," could cost about $350. That's more than double the price of the first-gen glasses, which debuted in 2016 and were priced at $130.
Snap reportedly overestimated demand for the first version of the glasses and ordered about 800,000 pairs. As a result, it had to take a $40 million write-down on the excess inventory. The company was more conservative with the second version, which was released earlier this year. Snap reportedly ordered 35,000 pairs initially and then later in the year, it reportedly ordered 52,000 pairs of the more stylish variants, which were launched in September. Cheddar claims that this time, it will be extra careful and has ordered just 24,000 pairs.
Alluvial Fund May 2021 Performance Update
Alluvial Fund performance update for the month ended May 2021. Q1 2021 hedge fund letters, conferences and more Dear Partners and Colleagues, Alluvial Fund, LP returned 5.4% in May, compared to 0.2% for the Russell 2000 and 1.0% for the MSCI World Small+MicroCap . . . SORRY! This content is exclusively for paying members. SIGN UP Read More
Steve Horowitz, who was in charge of Snap's hardware efforts initially, was shown the door amid a round of layoffs. Mark Randall, who replaced Horowitz, also left the position as vice president of hardware this summer. In October, the company reportedly hired Steen Strand, former president and COO of ICON Aircraft, as director of product design.
Snap has been working hard to make its camera and glasses a success. For the second version of the glasses, the company was reportedly in talks with eyewear companies like Luxottica to license its camera for third-party frames, but the talks ended abruptly. Last year, the company was also said to be in acquisition talks with Zero Zero Robotics, a Chinese drone maker, but that deal failed too.
Why Snap's CEO loves hardware
Snap is in dire need of a big product. The company's stock price has dropped 50% this year amid reports about CEO Evan Spiegel's rude behavior toward board members and claims that he spends his time during meetings using Snapchat on his phone. The social media company is also facing investigations into allegations that it presented incorrect metrics to investors.
Analysts are also questioning Snap's future, as to how long the company can survive without raising more money. The company's cash flow in the last quarter was -$158 million. Meanwhile, its expenses continue to rise. Snap's R&D expenses in the third quarter were about 70% of its revenue.
Despite such grim numbers, the company has not given up on its hardware efforts, which Spiegel has said is an essential part of his long-term strategy. The new Snap Spectacles are another effort to make a mark in the segment. He believes that eventually, computing won't just be confined to a phone's screen.
"Five years from now, I think people are going to be using the camera in ways that they can't even imagine today ー in a way that makes as essential a tool as your phone is," Spiegel said recently at The New York Times' DealBook conference.
Moreover, Spiegel hopes the new Snap Spectacles will enable the company to extend its lead over companies which could one day launch similar products. Facebook has long been saying that it is working on augmented reality-equipped eyewear. Apple is also rumored to be secretly working on AR glasses.
Nothing going right
Snap started this year on a high after it reported strong fourth-quarter numbers. Revenue was up 72%, beating consensus estimates. The loss of 13 cents per share was better than what Wall Street had been expecting. Moreover, the company was able to increase its daily active user count 18% year over year.
However, since then, nothing has gone right for the company, and its shares have been dropping. The stock plunged 13% in August after the company reported its second-quarter results. Although its sales jumped 44% year over year, its net loss came in at 27 cents per share. Investors especially disliked the first-ever decline in daily active users, which dropped 2%.
Thereafter, Snap's shares were caught up in the broader sell-off of social media stocks after Facebook and Twitter faced scrutiny over the potential use of their platforms by foreign countries to influence elections.  Then in the third quarter, Snap again reported a drop in daily active users.