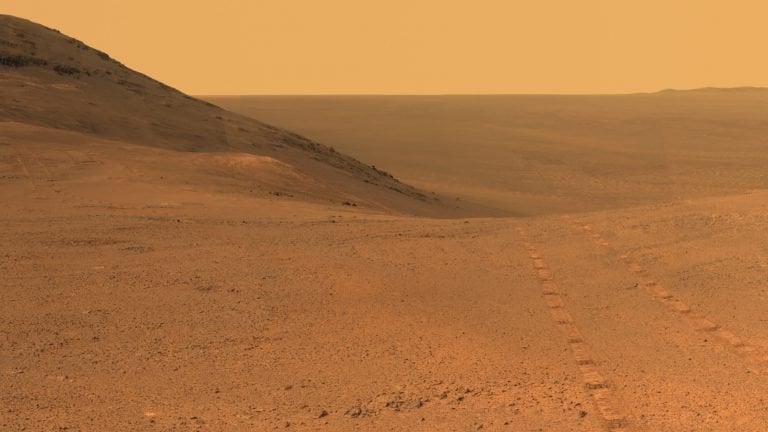 NASA continually stays in contact with the Mars Opportunity rover, which entered hibernation mode earlier this year due to a global storm which lasted for months, preventing the nearly 15-year-old rover from recharging its solar panels and communicating with Earth. Now a recent signal from DSS-54, one of NASA's Deep Space Network antennas, suggested the Mars Opportunity rover was sending signals to Earth.
Since the rover stopped sending signals on June 10, NASA has attempted to communicate with it several times. The Opportunity team has been hoping the rover would start sending signals to Earth soon, especially since the beginning of the windy season, which could clean the rover's solar panels. Sometimes NASA would contact the rover daily, hoping it would respond. However, the Opportunity team hasn't lost hope after multiple failed attempts to connect with it.
The bot Twitter account @dns_status provides information for JPL's Deep Space Network, and its most recent update suggests the Mars Opportunity rover woke up and tried to phone home. According to the tweet, DSS-54 received information from Opportunity at around 1 p.m. Pacific. The data was transmitted at a rate of 11 bytes per second.
Hedge fund managers present their best ideas at Robinhood [In-Depth]
The latest Robinhood Investors Conference is in the books, and some hedge funds made an appearance at the conference. In a panel on hedge funds moderated by Maverick Capital's Lee Ainslie, Ricky Sandler of Eminence Capital, Gaurav Kapadia of XN and Glen Kacher of Light Street discussed their own hedge funds and various aspects of Read More
DSS 54 receiving data from Opportunity at 11b/s.
IN LOCK OFF 1 MCD2

— Deep Space Network (@dsn_status) November 15, 2018
This update surprised many, including Chris Gebhardt, managing editor for NASA's Spaceflight. He posted several tweets suggesting caution was warranted and that the signal could just be a set of "ghost data" from one of the orbiters circling the planet and sending data created at an earlier point of time.
So to be clear. This could be from Oppy. It could also be a ghost — a hold over or carrier from Mars Reconnaissance Orbit or Mars Odyssey. Hopefully, from Oppy. But caution. Putting all this out there, because it's a complicated search.

— Chris G – NSF (@ChrisG_NSF) November 15, 2018
Not long after the signal was detected, NASA's Jet Propulsion Laboratory tweeted a confirmation that it didn't come from NASA's Mars Opportunity rover.
Test data or false positives can make it look like a given spacecraft is active on https://t.co/V3WGqQrrvJ. We miss @MarsRovers Opportunity, and would be overjoyed to share a verified signal with you. Our work to reestablish comms continues.

— NASA JPL (@NASAJPL) November 15, 2018
"As has happened previously, it could have been a Doppler shifted signal emanating from the Mars Reconnaissance Orbiter which has a frequency that is very close to Opportunity's signal," NASA Operations Support Officer Glen Nagle said, according to CNET.
Nagle is with the Canberra Deep Space Communication Complex in Australia, which is part of NASA's Deep Space Network. The network also includes the Goldstone Observatory in California.
DSS-54, which was the first to report the false-positive signal from the rover, is a large radio telescope equipped with a parabolic antenna. It's located at the Madrid Deep Space Communications Complex in Spain. The three sites in Spain, Australia and the U.S. are all used to capture signals from robot explorers searching other worlds in our solar system.
"NASA, JPL and the Deep Space Network, including our tracking station here in Canberra, which is managed on NASA's behalf by the CSIRO, continue to try and make contact with Opportunity, waiting and listening for any signs of life from this intrepid Martian explorer," Nagle said.
The Opportunity rover is older than its sibling Curiosity and uses solar panels to recharge its batteries. Following the global dust storm this past summer, the atmosphere became dense with dust covering the sun, preventing Opportunity from charging. The storm has now weakened, but the rover still hasn't contacted home. As a result, NASA has warned that the rover may be lost for good and never send signals to Earth again.