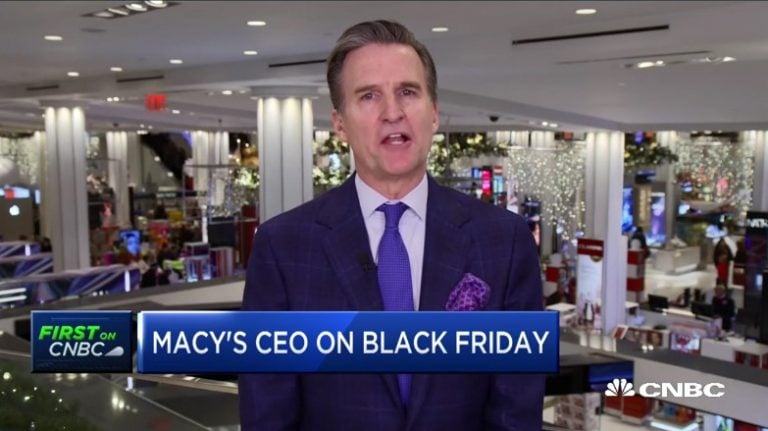 First On CNBC: CNBC Transcript: Macy's CEO Jeff Gennette Speaks with CNBC's "Squawk on the Street" Today
WHEN: Today, Friday, November 23, 2018
WHERE: CNBC's "Squawk on the Street"
Canyon Distressed Opportunity Fund likes the backdrop for credit
The Canyon Distressed Opportunity Fund III held its final closing on Jan. 1 with total commitments of $1.46 billion, calling half of its capital commitments so far. Canyon has about $26 billion in assets under management now. Q4 2020 hedge fund letters, conferences and more Positive backdrop for credit funds In their fourth-quarter letter to Read More
The following is the unofficial transcript of a FIRST ON CNBC interview with Macy's CEO Jeff Gennette and CNBC's "Squawk on the Street" (9AM – 11AM) today, Friday, November 23rd. The following is a link to video of the interview on CNBC.com:
Watch CNBC's full interview with Macy's CEO Jeff Gennette
Q3 hedge fund letters, conference, scoops etc
All references must be sourced to CNBC.
CARL QUINTANILLA: Busy day. Let's get this underway. For a read on Black Friday and the holiday season, let's turn to the Flagship Herald Square location of Macy's. First on CNBC is CEO Jeff Gennette. Jeff, it is always good to have you on Black Friday. Good morning to you.
JEFF GENNETTE: Good morning, Carl.
QUINTANILLA: The parade looked great, for one thing, so congratulations on that. Give us some color on the weekend so far, and I'd love to get your comments about some of your contemporaries, who argue it's the best consumer environment they've seen in their 30-plus year career. Is that how you feel?
GENNETTE: So, Carl, really strong start to the holiday shopping season. Customers showed up early online. And when we opened up our stores at 5:00, they were there. So they were responding to all the great values. And I also saw it in our competitors in walking around last night. It looks to be a strong start for the holiday season.
QUINTANILLA: And then characterize the overall environment that we've got. I mean, weather have been working in your favor. Fashion cycle is pretty good. Obviously a low employment. Gas prices have come down. Where is the worry spot?
GENNETTE: So when you look at it, I think of it as a very favorable consumer spending environment. You know, record low unemployment, I think consumer confidence remains quite high. Clearly the customer is out there are shopping. And I think that, you know, we are going up against a positive comp in the fourth quarter of last year, as many of my competitors are as well, and I think everybody is ready for that. So when you look at the values that we have, you look at the great gift assortments. You know at Macy's we've been focused on this all year around and working with our brands to get the best possible values. They responded very well last night and all the way through the night. And this morning has started out well.
SARA EISEN: I mentioned the stock sell-off, Jeff. What do you think the market is telling us about the retail sector? I mean, you guys reported results, it looked like a strong quarter, you raised guidance, the stock sold off 7%. What are you hearing?
GENNETTE: I think there is a question about 'can retailers comp the positive comp of last quarter?' and i think that when you look at the fourth quarter this year, I like Macy's chances. We already had a strong digital business and it is a higher penetration in the fourth quarter. We take that momentum with us. The real news for the Macy's brand is our brick and mortar business, our stores business, is much stronger. And over the last four quarters, those comps continue to improve. And as mentioned, the gift assortments we feel are very strong. When you look at our colleague population, we are ready. We were able to hire great folks. We have amazingly engaged colleagues that are in our stores right now, all are participating in incentive programs with growth. So we are well positioned to take continual market share during the fourth quarter.
DAVID FABER: Jeff, it's David Faber. Another thing investors could have conceivably reacted positively to is your gross margin. I think it was flat year over year but generally quite positive. You also indicated this quarter would be better than the third quarter's. Do you still feel that's going to be the case?
GENNETTE: So David, we have been working all year of getting the right gift assortment. And so with that you have seen us continue to expand our merchandise margin, which is offsetting, for the most cases, all of the increased shipping that we've been doing for that omnichannel customer. So we want to make sure that the omnichannel customer is served, no matter how and when she wants to shop. So in a lot of cases she wants free shipping, but in a lot of cases she wants to come to a Macy's store and pick it up there. So we've made those fulfillment options as efficient in every single one of our stores as possible. And when she does come into our buildings, she's buying other things. So as an omnichannel retailer, making sure that we are covering our customer's journey is how we're going to set up to increase what we need to in sales and hold the margins that we've been holding the last four quarters.
FABER: Can you measure effectively the impact of your loyalty program? I see stuff coming into my home particularly for Bloomingdale's which can actually be a call to action to go down to 59 and Lexington and do some buying. But are you seeing it broadly in terms of what it means for actual dollar and cents purchases?
GANNETTE: So Bloomingdale's and the Macy's brand have really revitalized our loyalty programs. And we've been at this for over a year. And so on the Macy's side, we have these gold platinum levels of customers, which we offer free shipping to, we offer extra values, we offer increased experiences that we can offer uniquely as a department store. And that's getting great traction. When you look at the spends of both our gold and platinum customers, the customers that are our core, they're spending at a more profitable levels than ever before. In addition to that, we've added what we call the bronze program, which is offering – it's a tender neutral program -- to a customer who's not on the Macy's loyalty program giving them additional incentive to come into the brand. The good news there, we are seeing those customers start to migrate and using Macy's proprietary cards. So it definitely works.
QUINTANILLA: Jeff, viewers are really curious to know how the trade tensions and potential tariffs have altered the regular seasonal flow of inventories. Is there any truth to the thesis that marketers brought in goods ahead of time, tried to avoid a tariff down the road, and as a result we are going in the season more bloated than in years past?
GENNETTE: I think what you are seeing is the opposite. I think most great retailers right now are very controlled on inventories. They're buying closer to need and they're buying closer to customer demands. So we've enjoyed over the past four quarters, inventories that are below the rate at which we're selling it, which gives us tremendous flexibility. To the first part of your question, the first two tranches of the tariffs have had very limited effects so far to the products that we are offering, the values that we are offering, and how consumers are responding to us. We'll see the next tranche of tariffs going through in January but we will be prepared and we're ready for that.
EISEN: What does that mean exactly, Jeff? What would happen for pricing? How disruptive for apparel and accessories everything else that you sell?
GENNETTE: So Sara, what we've been working with is when you think about our private brands which is about 20% of business, we have been hard at work. We have a team that is internationally in many countries over there and they have been there for years and actually decades. And so they've got lots of suppliers that they're very aggressively working with -- where they can shift supply, where they can work on value that connotes a higher retail. And you look at our average unit of retail overall at Macy's and Bloomingdale's, it is up for the year. So when we have the right value put into these products, the customer will pay higher prices for it. We are also working aggressively with our wholesale partners and they're working with our supply chain. At the end of the day, we want to make sure whatever changes that are coming that the consumer is not affected by this, and we're responding in the right ways –
FABER: Jeff, when you say -- sorry, I didn't mean to interrupt -- I thought you were done. When you say there has been very limited effect so far from the tariffs, are you surprised? And can you extrapolate from what you've seen to assume that will still be the case in goods are another 15% more that come from china, starting from January 1st?
GENNETTE: You know, very few of our categories, of the tariffs that have gone through thus far, are included. So when you look at the next tranche, which is going to be a lot of cotton-based products, it would have more of an effect. But we will be ready.
QUINTANILLA: Are you taking any solace in this decline in energy crisis? I mean, 20 bucks in a month or two is amazing to watch. Do you think we are passed the peak fear of freight cost disruption and what about wages?
GENNETTE: So – you know – it's the right question. So when you look at all of the tradeoffs in Our SG&A, sometimes higher wages, sometimes lower energy costs. You know, we have done this for many years. We know how to basically work on our entire SG&A portfolio, to make the appropriate adjustments and then at the top of the end making sure that we got the right products at the right values, to do this at the right profitability rate while taking care of customers. So when i look at wages right now, we are competitive. And as a department stores, when you look at a third of our colleagues that are on commission for what they sell, that's an advantage. We have this path to grow incentive where every non-commission colleague takes advantage of the results of that store or that warehouse or that call center, how they perform in a quarter. 94% of our colleagues, over the course of the last nine months, has gotten an incentive bonus. That adds into whole picture of what we pay and how we incent our colleagues. Our turnover levels are down, our hiring levels are up. So far we have seen good success at having -- getting engaged colleagues ready for the customer.
EISEN: On the demand side, Jeff, trying to figure out how long this better consumer environment is going to last. And we do have lower gas and higher wages, and that's a good thing. How much do you think was the tax cut that was announced, adding more money into consumer's wallet, and how sustainable is this surge?
GENNETTE: So you know we really work on the flexibility of our organization. We have less layers, we have – we are bringing inventory much closer into need, so we are ready to respond if there is a drop off in the overall market. What we are focused on at Macy's is taking market share. And we've got businesses today in which we are taking market share from our competitors. And we have businesses that we are not. But in every business, we are narrowing the gap. And so I am not going to be satisfied in leading this company until we're taking overall market share again. In a healthy or a more challenged economy, that's how we're focused. And we've got the infrastructure, we've got the team and we've got the strategy by which we can react whatever come our way.
FABER: Jeff, it may not as be quite as strong a theme as it has been in the past but it is sure to be discussed, which is the death – the slow death of the mall. You certainly have your share of mall-based stores. What can you tell us in terms of your expectations in traffic there? And what do you say when you hear the theme yet again that it's going to be a number that's going to be significantly lower than it was the year before in terms of people actually going into these malls?
GENNETTE: You know, I am actually very encouraged by the traffic that we are getting in stores right now. And what I said earlier was all of our store's performance is improving from where it was a year ago. And that's in stores that are in very challenged malls, to those stores that are in malls that are just very vibrant. So you know we are working closer than ever with all of our mall developers and what they are creating in their mall and making sure that we are augmenting that with goods and services that we are providing in our stores. And in those stores where – those are in malls where we are the main attraction, we're really focused on our four walls and making sure that we have added experience with great values. And as mentioned all the trends are improving. You know, when you look at 2016 in august, we made the decision to rationalize our overall brick and mortar portfolio, we closed 100 doors. We've got about the right amount of fleet to operate as an omnichannel retailer in the United States. So I am happy with the role of each of our stores and we've got plan for each of them.
QUINTANILLA: Finally, Jeff, before we let you go, busy day for you. I mean, top category, what's selling the most?
GENNETTE: Yeah. So you mentioned at the top Carl, it's cold. When you look at the -- people if they need to bundle up, we are in a place where you can buy that. So if you look at our coats, boots, sweaters, fleece, all those categories are really great. At the beginning of every year, we sit down with all of our manufacturing partners, all our great brands and we pick what are the gift categories, what are the gift trends. We get exclusive product that's packed with value. So when you look at fine jewelry and what we're doing with diamond studs, all price points. If you look at boots, all price points, you look at apple products, all strong. You mentioned earlier – earlier when you were reporting about toys, toys have been strong for us. So in every single category – if you look at the housewares area, it's about the fryer or the slow cooker. So there's great stories in each of our business. And as a department store, we can offer all of them in one website or in one roof, and that has been a strength of ours, starting at least this holiday season.
QUINTANILLA: Jeff, you set us up for last holiday season talking with us on Black Friday. Thank you for coming back. We'll see you soon, I hope, Jeff Gennette joining us from Macy's on this Black Friday.
GENNETTE: Okay. Look forward it. Thank you.