October has been downright scary for investors, so much so that institutional investors and hedge funds have been driving a widespread selloff in stocks. The S&P 500 plunged on Wednesday, but it's staging a dramatic comeback on Thursday. Clearly the volatility many hedge fund managers have been waiting patiently for is finally here.
Is it too late to buy the dip?
Last week the S&P 500 was basically flat as private investors gobbled up equities while institutional investors and hedge funds continued to sell, according to data from Bank of America Merrill Lynch. It suggests individual investors think the bull market has room left to run. This isn't surprising given the number of high-profile traders and investors who are advising them to buy the dip, like Tom Lee of Fundstrat Global Advisors and Coutts Chief Investment Officer Alan Higgins.
Q3 hedge fund letters, conference, scoops etc
Robinhood 2021 Conference: Cathie Wood discusses her investment process with Lee Ainslie [Exclusive]
ARK Invest is known for targeting high-growth technology companies, with one of its most recent additions being DraftKings. In an interview with Maverick's Lee Ainslie at the Robinhood Investors Conference this week, Cathie Wood of ARK Invest discussed the firm's process and updated its views on some positions, including Tesla. Q1 2021 hedge fund letters, Read More
Wednesday's panic-style selloff may suggest even individual investors are thinking about abandoning ship, but we'll just have to wait to see what this week's numbers look like. For now, we've got BAML's latest "Equity Client Flow Trends" report, which covers last week.
Biggest week of buying in months
BAML strategists Jill Carey Hall and Savita Subramanian noticed some interesting trends from last week. Overall, their firm's clients were net buyers of U.S. equities for the second week running. It was the biggest week of buying since late May.
Last week was the third week since the beginning of the selloff that private BAML clients bought stocks while institutional investors and hedge funds sold. Hill and Subramanian believe this indicates retail investors are convinced the bull market still has room to run.
Since their firm's clients were net buyers overall, it means that private client buying and corporate buybacks were higher than the selling by institutional investors and hedge funds. In fact, BAML said corporate buybacks reached their highest level in two months as the third-quarter earnings reporting season began, and the firm expects the trend to continue.
They add that inflows from their firm's private clients were at their highest level since the last major selloff in February. Private client inflows were also the sixth-highest level recorded since the firm started keeping data in 2008.
A run on Financials and Energy stocks
BAML clients bought stocks in nine of the S&P 500's 11 sectors, and Financials and Energy were the big winners last week. Inflows to both sectors were close to record highs. Inflows to Financials stocks were at the third-highest level in the firm's data-keeping history, while Energy inflows were at the fifth-highest level. Last week was also the third consecutive week that BAML clients bought Energy stocks, which they view as remarkable because this hasn't happened since early 2017.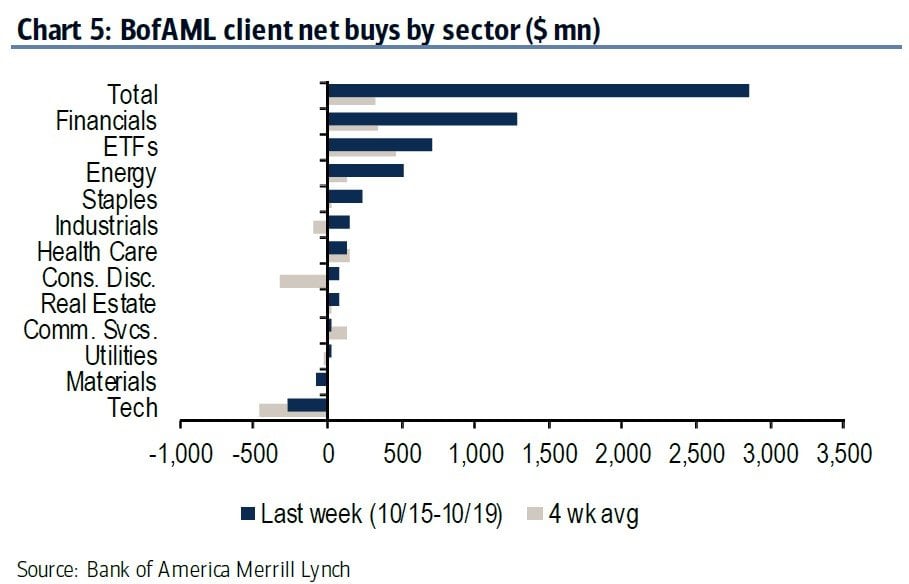 Interestingly, Financials was the only sector to see net buying from private clients, institutional investors and hedge funds, which is one reason the buying was so high. The only investor group that didn't buy Energy stocks was hedge funds. Corporate buybacks in the sector have soared over the last three weeks as well, reaching their highest level since 2015, the BAML team added.
Investors continue to dump Tech stocks
They found that Tech stocks remain out of favor, a trend which has been picking up gradually in recent weeks. The BAML team said Tech saw the highest net sales among their firm's clients last week. The sector also continues to hold the longest selling streak at eight consecutive weeks.
However, they also said institutional investors drove sales of Tech stocks last week because private clients and hedge funds flip-flopped. Last week was the first time in nine weeks that private clients bought Tech stocks, while it was the first time in six weeks that hedge funds bought the sector.
This article originally appeared on ValueWalk Premium