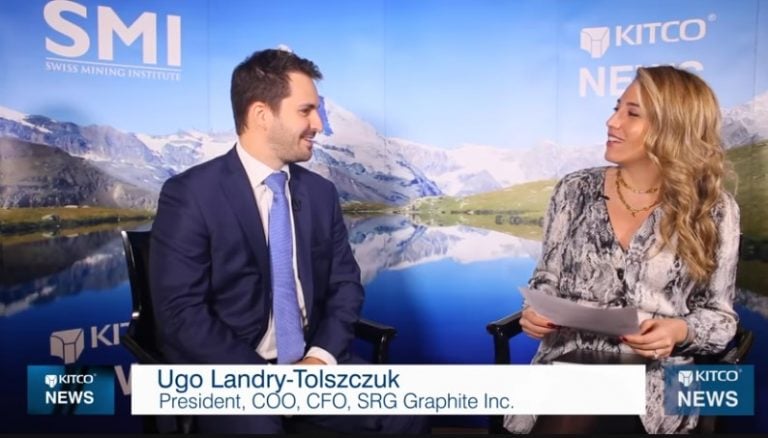 Graphite is less talked about but is just as important as lithium and cobalt as a component to the electric vehicles, this according to Ugo Landry-Tolszczuk, president of SRG Graphite Inc.
"Graphite, a little bit, has been the forgotten metal. I think what we've seen in the lithium space, the cobalt space, I think we have yet to see in the graphite space, and I think we're going to see it," Landry-Tolszczuk told Kitco News on the sidelines of the Swiss Mining Institute Conference in Zurich.
Landry-Tolszczuk added that in a lithium ion battery, the number one component by weight is graphite.
Warren Buffett's Annual Letter: Mistakes, Buybacks and Apple
Warren Buffett published his annual letter to shareholders over the weekend. The annual update, which has become one of the largest events in the calendar for value investors, provided Buffett's views on one of the most turbulent and extraordinary years for the financial markets in recent memory. Q4 2020 hedge fund letters, conferences and more Read More
Q3 hedge fund letters, conference, scoops etc
Graphite: This "Forgotten Metal" Is About To See An Awakening
Transcript
Well when we think Energy Metals cobalt, lithium, obviously come to mind. But what about graphite I'm about to get my education today. Thank you to my next guest Hugo Longy Tolstoi. Thank you so much for joining us today. Thanks for having me. You are about to educate me on graphite because I've been covering coal Bob. I've been covering lithium but we don't really talk about graphite when it comes to the energy space here.
Yeah you're right. And I think graphite and a little bit has been the forgotten metal. And I think we're what we've seen in the lithium space in the Cobalt space. I think we have yet to see in the graphite space and I think we're going to see what people don't know is that in the lithium ion battery the number one component by weight is graphite. The entire anode doesn't matter the cathode chemistry the entire anode is made of graphite is used to hold the charge of lithium ion. So lithium ions intercalated into the graphite and that's what's hold your charge. So if you want a longer lasting battery innovation in the graphite space and in the end Woodside is what's most important to know how much wood is needed in electrical current. So if we take if we take on a kilowatt hour basis for example you need about one point one point one to one kilogram per kilowatt hour of graphite per kilowatt hour. So in a car that's 60 kilowatt hours for example you need between 60 and 66 kilograms of graphite and how can one invest in graphics and sold by the time right.
But it's not like gold that I could buy the actual physical graphite that's a very good question.
So the graphite market is actually quite large. The entire graphite market is two point one million tonnes so about the size of the nickel market. Of that about a million two million one point one million tonnes is the synthetic graphite made from Neidl Kokand pitch and that goes mostly into the electric arc furnace market and then the remainder is Natural graphite and of that that's sold on contracts on offtake contracts similar to lithium or how met coal used to be with specific users because each user wants a specific type of graphite for their specific use. So graphite is sold on offtake agreements by the tonne on offtake agreements that lost between 1 and five years.
Now you're operating in West Africa you're not in production yet. Yurek KARROUM I know you're chairman and then WA SA has a lot of experience in the region I'm sure that's a benefit because obviously when you think West Africa safety comes to mind and that's another good question.
So we as a group I work for semaphores since 2010 obviously Benowa founded some biffo. We took a few guys from that and decided to do a new venture into energy metals. So this will be our second mine. We build in Gidday the first one was with semaphores back in 06 and today is a very large mining country. It has 25 percent of the world's reserves and bauxite and so for example the American embassy is larger in Guinea than it is in Canada. It is a very very strategic country has very large iron ore project Kursaal is there Rio Tinto Chinalco and so Gunay today over 15 percent of their GDP comes from mining. So high high mining jurisdiction it's a country that really wants really wants mining.
I want to get your perspective now on the mining industry as a whole you know if I look across the board honestly miners have really been hit hard here regardless of what space you're mining in. So do you think that the market is fairly valuing the stocks here.
I think today there has been a significant under-investment into my mind space as a whole. If we go back to 2008 or 2009 about 130 billion dollars a year were spent in the mining space until 2013 that dropped to about 80 billion and today we're about at 40 billion dollars. So not just in graphite but in nickel and base metals and copper in projects that take a very long time to develop. There has been a significant under-investment and we're seeing today stockpiles go down and.