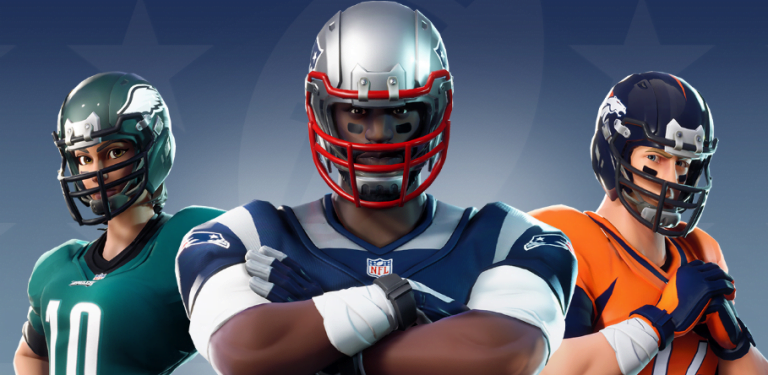 Epic Games introduced NFL skins in Fortnite just last week, but it has already removed them from the game's store. It's unlikely that the game's NFL license has ended already, so the developer probably removed them because of controversial usage by some players.
Controversies surrounding NFL skins in Fortnite skins
Epic and the NFL announced last week that they were bringing team skins to Fortnite. The partnership allowed players to buy the jerseys for all 32 NFL teams. Players were allowed to customize them using any number from 0-99 on the back. Players could select from styles like Strong Guard, End Zone, Gridiron, and Spike. The jerseys were priced at 1,500 V-Bucks, or about $15.
In addition to adding the NFL skins in Fortnite, Epic also introduced other football-related items, such as the Whistle Warrior outfit (800 V-Bucks), the First Downer axe (500 V-Bucks), the Golden Pigskin axe (500 V-Bucks), the Touchdown glider (500 V-Bucks), the Upright axe (800 V-Bucks), and the Striped Soldier outfit (800 V-Bucks).
David Abrams Explains How To Value Stocks
Continued from part one... Q1 hedge fund letters, conference, scoops etc Abrams and his team want to understand the fundamental economics of every opportunity because, "It is easy to tell what has been, and it is easy to tell what is today, but the biggest deal for the investor is to . . . SORRY! Read More
@StoolGametime OJ Simpson skin so I can murder these opponents and try to get away with the W! pic.twitter.com/QrR8T6v2mW

— Thankful Matt Speck (@The_Speck24) November 10, 2018
The NFL skins in Fortnite became very popular among players. However, some players started using them in ways no one expected, resulting in controversies. One can find many such examples posted on social media. Players created representations of controversial NFL figures like Aaron Hernandez pointing a gun and Michael Vick with a dog on his back. Hernandez, a former New England Patriots tight end, was convicted of murder and committed suicide in prison. Vick, a former quarterback for the Atlantic Falcons, was indicted and later pleaded guilty to animal abuse in connection with a dog fighting ring several years ago.
Fortnite didn't think this one all the way through. pic.twitter.com/VQiYgaOsvg

— Jay G. Wallace (@JayGWallace) November 10, 2018
Some also created a Jason Pierre-Paul character carrying a bag of fireworks. The Tampa Bay Buccaneers defensive end blew off some of his fingers in a July 4, 2015 fireworks incident. Players even created an avatar of Colin Kaepernick and took a picture of it taking a knee in the game. Kaepernick, a former San Francisco 49ers quarterback, sparked controversy in 2016 after he knelt during the national anthem to protest racial and social injustice in the U.S.
Just protesting in peace #Fortnite #Kaepernick pic.twitter.com/GnBlUb3euF

— Michael Sitko (@0ktis) November 10, 2018
One Twitter user also created an avatar of former footballer OJ Simpson, who was tried but acquitted in the death of his ex-wife and her friend in 1994.
The player described it as an "OJ Simpson skin so I can murder these opponents and try to get away with the W!"
Why did Epic remove the NFL skins in Fortnite?
Epic may have decided to remove the skins from the game due to such controversies. If this is the case, it will be a big disappointment for fans, Epic and the NFL. All were very excited about the NFL skins in Fortnite.
Have you scored the new NFL Outfits? Now is your opportunity before they rotate out of the store tonight! ? pic.twitter.com/SJe6eq8FZv

— Fortnite (@FortniteGame) November 13, 2018
"This partnership represents a great opportunity for millions of NFL fans who are Fortnite players to express their fandom inside the game while at the same time exposing our brand to countless others," NFL Chief Media and Business Officer Brian Rolapp said when announcing the Fortnite skins.
As of now, it is not known if the NFL skins will return to the game. If you have already bought one, you can continue using it, but those who were planning to buy one are out of luck, as Epic is no longer selling them.
Official Fortnite toys coming
The NFL skins in Fortnite appear to be leaving the game, but official Fortnite toys will debut in time for the holidays. These toys will hit stores starting next month, but it is not clear which stores will be selling them. It is also unclear which figures will get a toy avatar, but considering the number of characters Fortnite has, buyers should have plenty to choose from.
Epic did tease an image of a Drift skin, which became available as part of the Season 5 Battle Pass. The Drift skin's toy will come with his trademark Rift Edge pickaxe. The image of the toy includes the phrase "Solo Mode" on it, suggesting the toy could be able to interact in some way.
Drop and Drift into the holidays!

Coming 12/1… #FortniteIRL pic.twitter.com/bzECEDdR9A

— Fortnite (@FortniteGame) November 13, 2018
These are not the first items Epic has introduced in stores and online. There are already Funko Pop collectibles available for purchase. Skins available to buy include Brite Bomber, Black Knight, Raptor, Tower Recon Specialist, Codename Elf, Skull Trooper, Moonwalker, Crackshot, Red-Nosed Raider, Merry Marauder and Love Ranger.
Moreover, there are already Fortnite llama plushes, clothing, costumes and even Monopoly: Fortnite Edition. Nerf and Epic also plan to come up with Fortnite-branded Nerf guns.