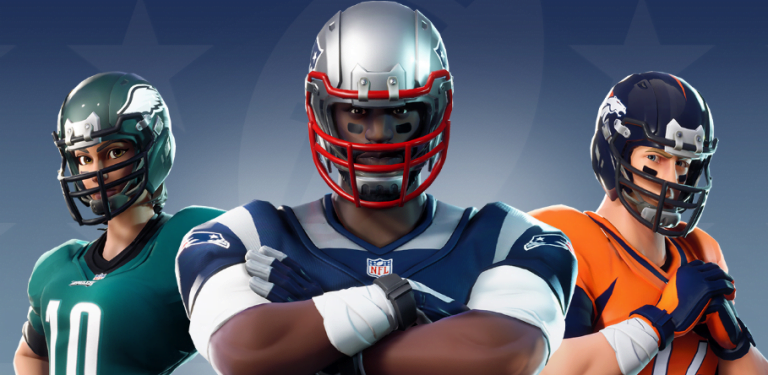 Fortnite and the National Football League are coming together to add NFL-themed skins for players. NFL-themed Fortnite skins for all 32 teams will be available for purchase starting on Nov. 9 at 7 p.m. Eastern.
NFL-themed Fortnite skins
Many Fortnite dances have made their way onto the sports field, including at NFL games during the 2017-18 season. It was only logical that the world's most popular video game and the most popular professional sport in the U.S. come together.
"We see the popularity of Fortnite every day at the NFL as many of our players are passionate about this game," NFL Chief Media and Business Officer Brian Rolapp said in a statement. "This partnership represents a great opportunity for millions of NFL fans who are Fortnite players to express their fandom inside the game while at the same time exposing our brand to countless others."
Ray Dalio At Robin Hood 2021: The Market Is Not In A Bubble
At this year's annual Robin Hood conference, which was held virtually, the founder of the world's largest hedge fund, Ray Dalio, talked about asset bubbles and how investors could detect as well as deal with bubbles in the marketplace. Q1 2021 hedge fund letters, conferences and more Dalio believes that by studying past market cycles Read More
Starting on Friday, the NFL-themed Fortnite skins will be available for purchase in the Battle Royale Item Shop. There are skins for both male and female avatars. There will be three male and three female variants of each costume to choose from. Players will also see several customization options.
Players can select the team they want to represent and change their jersey numbers before every match. The NFL-themed Fortnite skins will also include helmets and a full set of pads. Pricing details for the new costumes are not yet available, but in-game skins typically cost 1,200 to 1,500 V-Bucks, or $12 to $15.
The NFL-themed Fortnite skins aren't the only new items coming to the game.
"In addition to NFL team outfits, there will be football-themed emotes, harvesting tools, gliders, and even a referee outfit, so players can bring their passion for football into Fortnite," the NFL said in a press release.
Similar partnerships
Although this is the first time Epic Games is bringing branded skins to the game, it is not the first time the developer has partnered with other companies for the game. Epic collaborated with Marvel earlier this year to offer a limited-time mode in which players could choose to play as Thanos. Earlier this year, Epic also introduced soccer-themed jerseys to mark the World Cup. However, the soccer-themed jerseys were not in partnership with FIFA.
The Fortnite game is also adding a new event this week. This world-changing, one-time event started on Nov. 4. After the Halloween-themed Fortnitemares event ended, the purple cube, which has been a mystery since it first appeared at the end of Season 5, exploded. The explosion sends players to a new world.
In other Fortnite news, Epic has released update 6.22 for the game. Major additions with the update include "Heavy AR" and two new Limited-Time Modes (LTM). The first mode is called Team Terror, which lets "two teams battle it out while Cube Monsters add to the fun." It is similar to the PvP and environment gameplay added with Halloween Fortnitemares. However, the new mode involves more players.
The second LTM is called "Blitz," and it is referred to as a "faster-paced version of Battle Royale." It starts with a storm heading toward the island. The delay between each circle is also smaller, resulting in matches lasting about 15 minutes. Players also get extra loot and resources.
Beware of scams
Such updates and in-game items continue to add to the popularity of Fortnite. The game is free to play, but players can buy digital currency, or V-Bucks, to unlock in-game items like cosmetic items. Players can also earn V-Bucks as they progress in the game, but it usually takes a long time to earn enough V-Bucks to buy desirable cosmetic items.
Although purchases made via V-Bucks don't affect the game in any way, they do change players' appearances. Due to the popularity of the game, such cosmetic items are also immensely popular among players. Some players even search for free V-Bucks offers online to avoid investing their own time and money, and hackers are capitalizing on this habit.
Most of the online offers for free V-Bucks are scams. Such fraudulent offers are shared through social media platforms. Clicking them takes the user to a separate website, where they are asked to enter their Fortnite account information and other personal information. Hackers then use this information to seize control of the player's account.