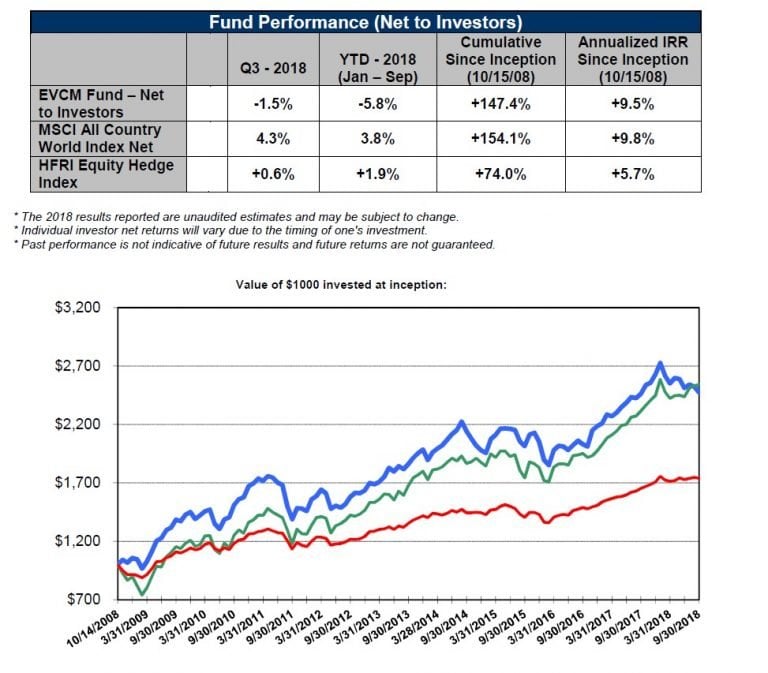 EVCM Fund letter to investors for the third quarter ended September 30, 2018.
Dear Partners and Shareholders,
EVCM Fund net returns to investors are shown in the following table.
Alkeon expects data growth to surpass 5G's capabilities by 2028 [Q4 Letter]
Alkeon Growth Partners wrote at length on tech stocks and why they are defensive in their recent letter to investors, which was reviewed by ValueWalk. The fund also highlighted 5G and other advanced technologies and the investment opportunities they offer. Q4 2020 hedge fund letters, conferences and more Artificial intelligence and machine learning The Alkeon Read More
"Look at market fluctuations as your friend rather than your enemy; profit from folly rather than participate in it" – Warren Buffett.
Q3 hedge fund letters, conference, scoops etc
Q3- 2018 Overview:
Stock price volatility continued in Q3 as investors worried about trade wars, multiple rounds of tariff impositions, an economic slowdown in China, increasing energy prices, rising interest rates, currency crises in several emerging markets and geopolitical problems around the world. While our portfolio is not immune to these issues, we do think it will weather these storm(s) well.
We continued taking advantage of this increased stock price volatility to upgrade our portfolio. Specifically in 2018:
We made Interactive Brokers one of our largest positions as the stock price declined.
We added to our investments in Teekay Offshore, Yatra Online, Syncora, Facebook, Yum China and JD.com at what we view as exceptionally cheap prices.
We sold Israel Discount Bank for about 80% more than we paid for it in mid 2014.
We sold Bank Leumi for about 60% more than we paid for it in 2016.
We sold our investment in Blackstone at a 30% profit.
We trimmed our investments in General Motors and Fiat Chrysler at prices well above their current market prices.
We sold our investment in Aimia at a small profit.
We exited our short position in Tesla at a profit.
We reduced our short positions in USO and UNG ETF's at a loss.
We completely eliminated our South Korea ETF hedge as the risk of war in the Korean peninsula significantly declined.
The main theme underlying most of these moves is replacing appreciated positions, containing only a moderate amount of remaining upside, with new or increased positions containing large upside potential.
Throughout our years of investing, we have consistently delivered strong positive returns following stock price declines. For example, 2009 was our best year following the declines of 2008. In 2012 and 2013 we delivered good returns following the declines of 2011. This happens for 3 main reasons. First, stock markets are mean reverting. Second, during declines we buy more of the companies we know and like for even cheaper prices. Thirds, economic stress invigorates the strong businesses and talented management teams that we usually invest with.
We will devote the rest of this letter to a review of our portfolio and many of our investment positions. We regularly conduct such reviews of all our portfolio investments. We hope that by delving into the details of what we own and why we own it, we can demonstrate why we remain optimistic about our expected future returns.
Portfolio Overview:

As of quarter-end, we were 93% long and 8% short. Our overall net exposure level of 85% reflects the compelling investments we are finding in global stock markets offset by our shorts and hedges.

Brief discussion of some of our investment positions:
Interactive Brokers
Interactive Brokers offers the world's lowest cost and most technologically advanced securities brokerage services. It is consistently ranked as the best broker by various investing publications. By relentlessly focusing on automation of back office tasks and expanding into ever more markets, the company has created a significant cost and coverage advantage over competing brokerages. Over the next decade, IBKR can disrupt the traditional brokerage industry and capture a large market share. We think CEO Thomas Peterffy is an exceptionally good manager and his incentives are aligned with long term shareholders.
Advantages for customers switching to Interactive Brokers include a lower cost of trading, access to many foreign stock markets, a low cost of borrowing funds, receiving interest on cash balances, an order book that does not get sold to high frequency traders and receiving payment for lending out shares. We think these advantages are compelling and were particularly excited to hear IBKR will soon be the only non-institutional US broker to support trading in Israel.
IBKR's stock declined in the last few months from $80 to $49. We are unable to find a justifiable reason for such a large decline so we have purchased more shares. Currently trading for 18 times 2019 earnings with the potential to continue disrupting the brokerage industry and grow 15% - 20% annually for the foreseeable future, we think IBKR is a bargain.
YUM China
YUMC owns 8300 quick service (QSR) restaurants across 1200 cities in China mostly under the KFC and Pizza Hut brands. KFC is the most popular QSR brand in China thanks to its three decade presence there. Investment in new KFC restaurants have an attractive 2-year cash payback period. YUMC is also the leader in digital integration in China with over 145 million members in its digital loyalty program.
Pizza Hut, representing about 20% of company revenues, is also popular in China but has been struggling due to increased competition and changes in consumer preferences. YUMC is responding with a revitalization program which is focused on 4 pillars: fixing the fundamentals, enhancing digital, optimizing delivery and introducing new store formats. We are already starting to see positive results from this program.
Restaurant penetration and consumer spending in China continue to grow with the Chinese economy. Management believes they can reach over 20,000 restaurants, a 150% growth, in the intermediate future. Investor concerns about Pizza Hut, a trade war and a slowdown in the Chinese economy have kept the company cheap at just 9 times EBITDA, well below the multiple that peers trade for.
Company management recently rejected a buyout offer of $46 per share from private equity firms Hillhouse Capital and KKR since the price was too low. Yet the shares currently trade for about $36. A few days ago the company increased its dividend by 20% and significantly expanded its stock buyback program – both signs that management is optimistic about the future.
Yatra Online
Yatra is India's second largest online travel agency (OTA). Through its website and smart-phone app, personal and commercial travelers can book flights, hotels and travel packages. It has assembled the largest hotel network in India and can book travel on most domestic and international airlines. Online travel booking in India is rapidly growing, driven by rising disposable incomes and increasing smart-phone penetration. Yet India's per capita spending on online travel is well below that of the US and even China, leaving room for tremendous growth.
Yatra began trading last year in the US when it was acquired by Terrapin 3, a special purpose acquisition company (SPAC). It declined significantly in 2018 due to forced and indiscriminate selling by some of its venture capital owners followed by a capital raise at an unreasonably low price. We took advantage of this price volatility to purchase Yatra for under 1.5 times revenues, while peers trade for as high as 8 times revenues. We think Yatra can grow its revenues at 30% annually for the foreseeable future and become profitable by 2021. Assuming it then trades for 2 times revenues, the stock price would almost triple. There is also a possibility that global OTA's Expedia or Booking Holdings could acquire Yatra as a vehicle for entering the rapidly growing Indian market.
Hilan
Hilan is Israel's leading payroll processing and HR service provider. US investors might think of it as the "ADP of Israel". The company provides an array of solutions for organizations: payroll, human resources, time & attendance and pension administration. Hilan possesses the most advanced and comprehensive system of its kind in Israel, rendering services to about half of the mid-size and large businesses in Israel.
Payroll processing and HR services is a predictable, slow growth business which generates a lot of recurring free cash flow, requires minimal capital investments, is recession resistant, and provides a high return on capital invested. Customers are very "sticky" since it would require a lot of time, effort, and expense to switch service providers.
Leveraging its existing customer relationships, Hilan continued its expansion into software services and IT infrastructure services. These segments are more competitive and lower margin than payroll & HR, but do provide opportunities for more rapid growth. Hilan is a cheap, high quality business trading for about 10 times our estimate of 2019 operating profits with a .% dividend yield.
Fiat Chrysler
Tragically, Fiat Chrysler's CEO, Sergio Marchionne, passed away this year due to a grave illness. His achievements at FCAU are already legendary and we think history will remember him as one of the most talented CEO's of his time. Marchionne was planning to retire at the end of the year which gives us confidence that succession planning and future strategy were already in place.
The company recently sold one of its parts business, Magneti Marelli, for $7.1B – an excellent price. FCAU, with a market cap of 24B Euro recently projected it could earn operating profits of 13B - 16B Euro by 2022. Assuming the stock then trades at 5 times operating profits of 13B Euro (the low end of their projection) would result in a price target of $46 per share, significantly above the current price of $16 per share.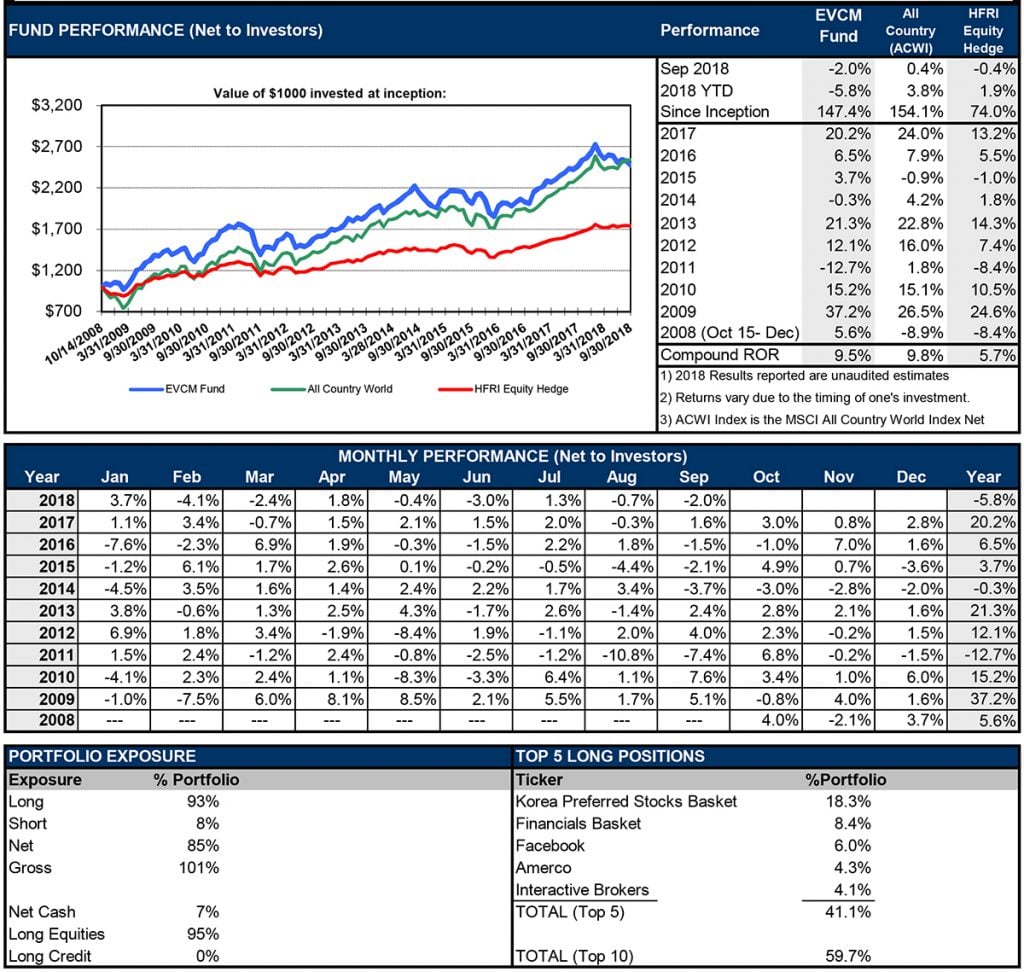 Special Opportunity for New and Existing Investors:
Emerging Value Fund is close to fully invested, yet we continue finding highly attractive investment opportunities around the world. Plainly put, we have more compelling investment ideas than capital. As you know, in 2017 I added over $100K to my personal EVCM Fund investment account. I recently added an additional $66K to my personal EVCM Fund account. When I invest in EVCM Fund, I pay the same fees and invest under the same terms as everyone else. Actions speak louder than words, so I hope these personal actions demonstrate my positive expectations for our future returns.
I wish to invite both existing and new investors to join me. For the next 3 months, any new capital into the fund (from both new and existing investors) will enjoy a permanently reduced 1 and 10 fee structure (1% management and 10% incentive fee).
Concluding Remarks:
We have taken advantage of the recent market volatility to upgrade our portfolio in terms of quality, growth and expected upside. As contrarian value investors, we buy cheap stocks only to watch them temporarily become even cheaper. Therefore we are bound to experience occasional periods of underperformance.
The majority of our businesses continue to increase their value by growing their competitive moats, generating earnings and cash flows, investing in profitable growth opportunities and/or returning capital to shareholders via dividends and stock buybacks. We therefore remain optimistic about our expected future returns.
Thank you, our investors and shareholders, for your continued trust and support of EVCM fund. I continue to work tirelessly to protect and grow our capital and look forward to reporting strong positive returns in the future. Please don't hesitate to call with any questions, thoughts or comments.
Sincerely Yours,
Ori Eyal,
Managing Partner
EVCM Fund
This article originally appeared on ValueWalk Premium