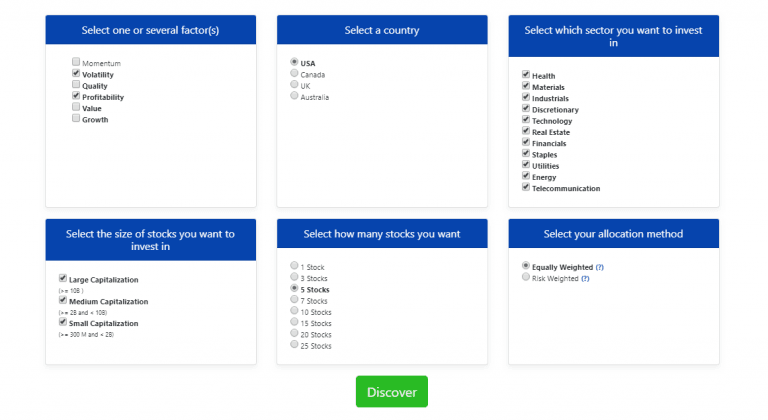 How to Discover Stocks to Trade Based on your Favorite Strategies and Legendary Investors Using ShareAlpa's Stock Discovery Tool

One of the many challenges of investing in the stock market is the difficulty of discovering new investment ideas. Particularly for do-it yourself investors, there is often a problem of information overload as well as untrustworthy sources. Many tend to find themselves initially reading content on open sources like Reddit, Twitter, Facebook Groups, and even friends' advice. Typically, a lot of new traders end up in the stock market because they are told by a friend or family that they should trade a particular stock. Even for seasoned self-managers, it's always a challenge to "know what you don't know", to discover the stocks you are currently not watching or have never heard of. There's opportunities everywhere, and it's best to at least know about them. This can be a game changer for many investors.
Q3 hedge fund letters, conference, scoops etc
Is First Gen An Overlooked Power Play That Deserves A Re-Rating?
The post was originally published here. Highlights: Resolving gas supply issues ensures longevity A pioneer in renewable energy should be future proof Undemanding valuation could lead to re-rating Q1 2022 hedge fund letters, conferences and more
ShareAlpha has recently created a new tool that empowers do-it yourself stock investors to discover a plethora of amazing stocks that fit their investment criteria or even helps them develop a trading strategy they like. Users are able to discover stocks based on well documented investment strategies, on factor investing or the investing style of legendary investors like Warren Buffet.
Below there are some examples of how easy you can find great stocks using different strategies.
Discover Stocks Using Factors:
Discovering stocks through different factor strategies allows investors to craft and select inputs to find stocks that match their own preferences or to discover new styles. The factors that ShareAlpha currently has includes Momentum, Volatility, Quality, Profitability, Value, and Growth. The best part is that you can select multiple factors to truly find stocks that match your investing style. This means that you can actually view stocks that are highly rated as Momentum, and also Value, or Momentum that are also Growth.
As an example let's take a look at how the strategy of Low Volatility and High Profitability factors would perform in the US market. The parameters selected are shown in the image below.
By clicking the Discover button, we'll be shown a graph that shows the 5-year performance of the above selected strategy compared to the index along with all of the recommended stocks for this month. Here are the results.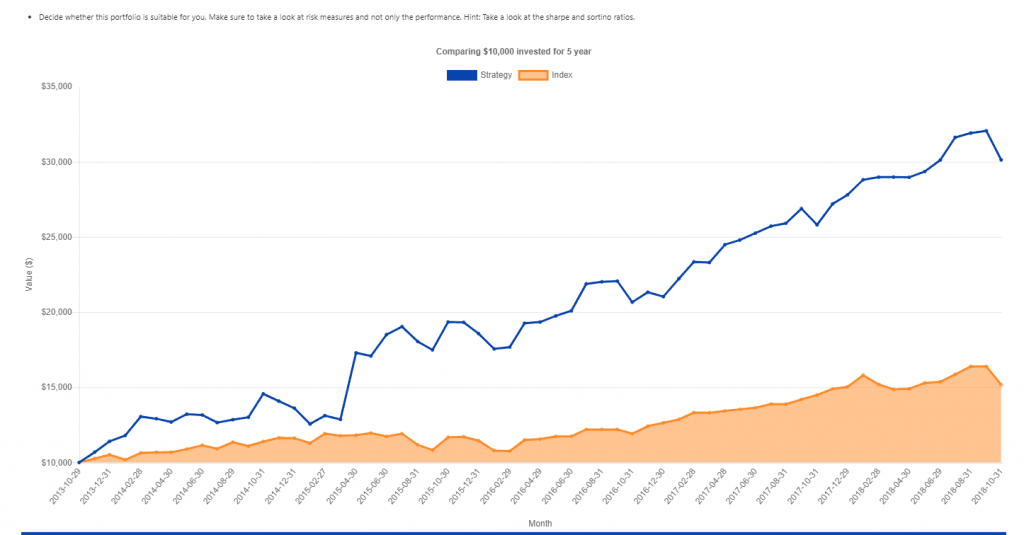 As we can see, if we had used this strategy for 5 years and initially started with $10,000, today it would be over $30,000 than had we invested the same amount in the index. Taking this a step further, we will be show further metrics that show the performance of this strategy vs. the index. Here they are below:

This table provides us some nice data in terms to how this particular strategy matches up again the index. We can compare annualized returns based on different time periods, risk levels, and of course cumulative returns. In other words, we can clearly see whether a strategy would meet our own expectations in a very quick way. Once we view the comparable health of a strategy, the next step would be to see which stocks are to be looked at for this particular month. Here are the results for October 2018.

As we can see here, it lists stocks with scores from 1 to 100 comparing each stock to one another to find the ones that best match the factors selected. The stock listed at the top is therefore the highest matching stock. If we want to add these stocks to our own custom watchlist, we can easily do that by clicking on the checkbox, and then by clicking "Add to Watchlist".
Discover Stocks Based off of Legendary Investors Strategies
Similar to the Factor strategy, we can also discover stocks based on the strategies of legendy and guru stock investors. Currently, you can discover stocks based off strategies of the likes of Warren Buffett, Peter Lynch, James O'Shaugnessy, Benjamin Graham, Kenneth Fisher, and Joel Greenblatt. Some of these legendary investors have been able to achieve long-term annualized returns as high as 30% and more. As an example, let's check out the Warren Buffett strategy and see what stocks we can find. We'll select a 5 stock rebalancing strategy.

Here are the results of this strategy had we followed it since 2013.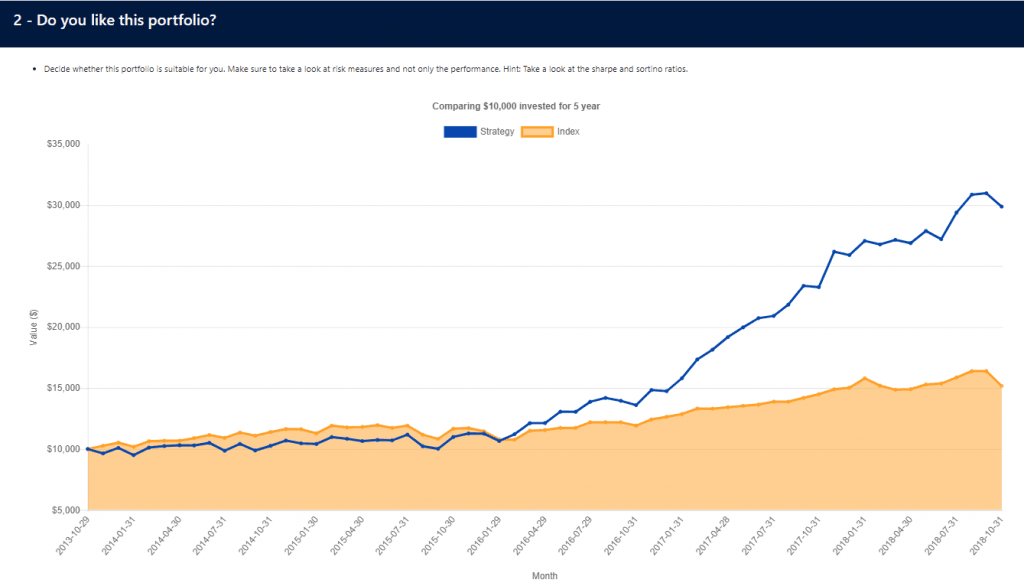 From these results, with a $10,000 initial investment into this strategy, we would currently have close to $30,000. If we had invested the same amount into the index, we would only have $15,000.
Let's take a look at some of the stocks that were recommended for November 2018 for this strategy. Notice that you can also see the ShareAlpha factor scores to help you see whether there are stocks that could rank higher in a particular factor.

Discover Stocks Using Intelligent Dashboard
Another great way to discover stocks, especially for seasoned investors, is to find stocks similar to an existing trading portfolio. If you have fine-tuned your personal strategy and have seen good results, you wouldn't want to deviate too much. This is where the Dashboard comes into play. Using artificial intelligence (AI), it evaluates the current stocks in your dashboard and recommends similar stocks that you would likely be interested in. Here's how it looks.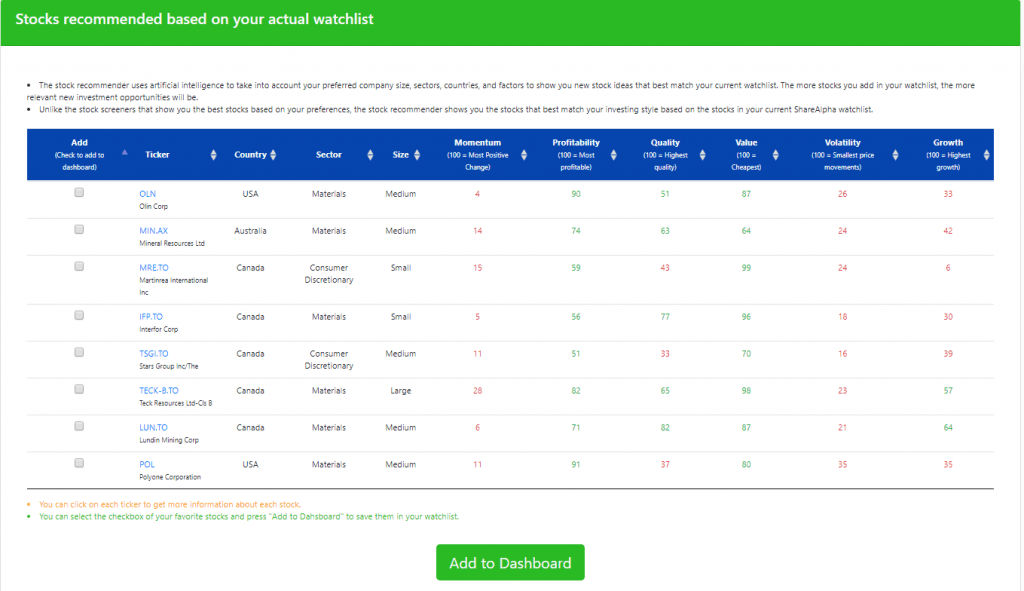 Supercharge Your Portfolio
ShareAlpha also hosts other methods to discover stocks like preset quantitative strategies such as Momentum, Short-term Reversal, Residual Momentum, and Short-Term Momentum, You can also discover dividend yielding stocks as well as stocks and ETFs based on portfolio models called Blueprint strategies based on your risk level.
ShareAlpha has a little bit for everyone. Value investors, short-term traders, growth investors will all find value in discovering stocks they don't already know about. When it comes to investing to win, knowledge is of the utmost importance in making smart decisions.
To try the ShareAlpha tool, you can get access through ValueWalk Premium at https://valuewalkpremium.com/discovery-tool-promo-page/
Updated on