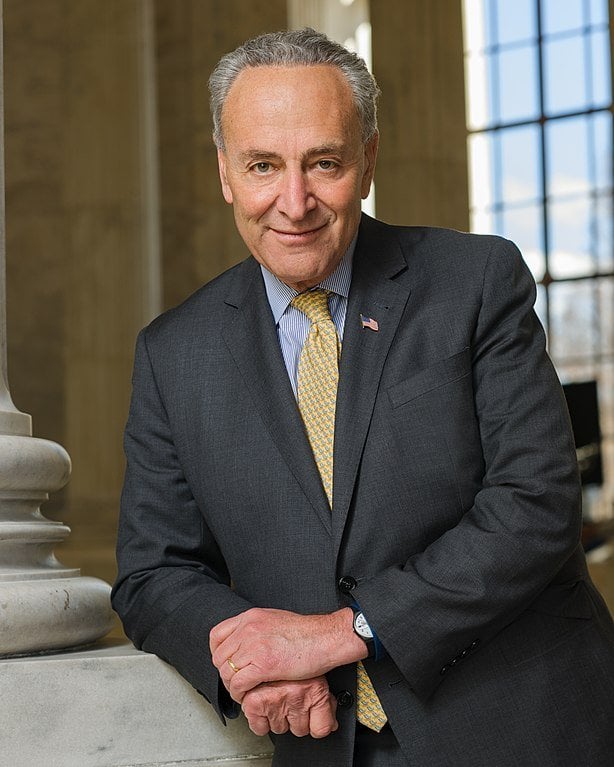 Charles Schumer and Other Democrats Let Independent Counsel Law Die Needlessly 
WASHINGTON, D.C. (November 13, 2017) – Senate Minority Leader Charles Schumer is reportedly hoping to preserve the independence of the investigation of possible wrongdoing by the President, members of his family, and many of his close associates by tying Democratic support for the next spending bill to legislation which would provide some limited protection to Special Counsel Robert Mueller.
But Charles Schumer is almost 20 years too late since he and other Democrats let the statute which provided for the appointment of a truly Independent Counsel – a law which would have provided far more protection to the current investigation than Charles Schumer could possible hope to achieve now – to die, argues public interest law professor John Banzhaf, who played a major role in getting a Watergate special prosecutor appointed, and went to court and obtained a court order for the appointment of a second one.
Alkeon expects data growth to surpass 5G's capabilities by 2028 [Q4 Letter]
Alkeon Growth Partners wrote at length on tech stocks and why they are defensive in their recent letter to investors, which was reviewed by ValueWalk. The fund also highlighted 5G and other advanced technologies and the investment opportunities they offer. Q4 2020 hedge fund letters, conferences and more Artificial intelligence and machine learning The Alkeon Read More
Q3 hedge fund letters, conference, scoops etc
Under the Ethics in Government Act, the Attorney General had a legal duty to have three federal judges appoint a truly independent attorney to investigate if there was any specific and credible evidence of a crime by the president and/or his close White House associates.
The statute, passed by Congress, protected the independent counsel against firing except for good cause, allowed him to operate largely without Justice Department oversight, and guaranteed that his reports would be made public.
What we have now, however, because that powerful and groundbreaking law was allowed to expire, is someone appointed and operating under a mere Justice Department regulation (not a statute) which was created out of whole cloth without congressional approval, or even the usual notice and comment procedure so that experts and other outsiders could have had some input.
Mueller himself was appointed not by independent judges but rather by an executive branch official who was personally involved in aspects of the matters under investigation, and his current supervisor is about to be replaced by still another bureaucrat which has never been investigated - much less confirmed - by the U.S. Senate.
Unlike very limited oversight by a special court of three independent judges, Mueller is closely supervised by - and subject to termination by - executive branch officials, and probably by the President himself, since there is no statute purporting to limit President Donald Trump's power to fire subordinates at will.
The procedures and protections of the original Ethics in Government Act have been upheld as constitutional by the U.S. Supreme Court, so it would be harder, even for a high court allegedly more favorable to Trump, to rule against an independent investigator regardless of his title.
In stark contrast, the procedures under which Mueller was appointed, operates, and might even be terminated have never been upheld by the Supreme Court, have never even been approved by Congress, and were never even subject to the notice and comment procedure used before adopting many federal rules - and thus are far more vulnerable.
These dramatic differences are quite telling, and will make it much easier for Mueller to be marginalized or even fired, and harder for him to remain independent.
The odds that a Republican-dominated Senate would approve Charles Schumer type legislation adopting the same kind of protections for Mueller, and possibly other special counsels, as was provided by the original Ethics in Government Act are slim.
The odds that the current president, who has steadfastly criticized the investigation, and has repeatedly tried to stymie it, would sign any such legislation, is even smaller.
In short, the Charles Schumer led Democrats should have fought to renew the Ethics in Government Act when that was possible, rather than crying and trying stunts 20 years too late, charges Prof. Banzhaf.
http://banzhaf.net/ jbanzhaf3ATgmail.com  @profbanzhaf