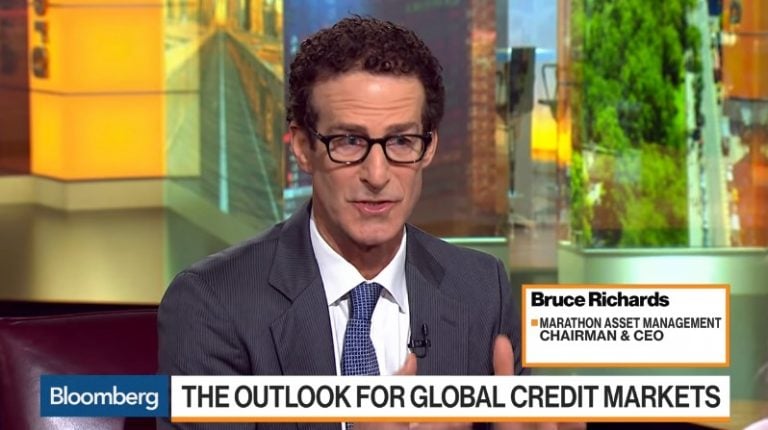 Bruce Richards, chairman and chief executive officer at Marathon Asset Management, discusses policy and market fallout from the midterm elections, the high yield bond market, and the factors that will lead to the next U.S. recession in 2020. He speaks with Bloomberg's Vonnie Quinn on "Bloomberg Markets."

Marathon's Bruce Richards Has A Recession Warning For Overleveraged Companies
Q3 hedge fund letters, conference, scoops etc
13F Roundup: Top Hedge Fund Positions In Q1 2022
Here is our quarterly 13F roundup for high-profile hedge funds. The data is based on filings covering the quarter to the end of March 2022. These statements only provide a snapshot of hedge fund holdings at the end of March. They do not contain any information about when the holdings were bought or sold or Read More
Transcript
First let's talk aftermath of the election. We have the flipping of the house. What does that mean for economic fundamentals which have been good for corporate earnings and for your landscape.
You know I try not to focus too much on policy more on the politics I should say more on the policy as it relates to policy. I don't think policy changes. I don't think tax changes. I don't think it gets rolled back. I think that's status quo as very very positive for corporate earnings going forward. And I think the other policy measures are going to be really gridlock from this point going forward. And so you won't see much get through the house. And in fact the think that you should get through the house is infrastructure because it's most bipartisan or nonpartisan issue that there is. And and you're not going to get that through most probably because because the Democrats won't want to give. The Trump administration that win. But the plan here in New York you take a train take a car you go over a bridge or a tunnel. The infrastructure is broken and Washington gridlock. They're doing nothing about it. And so I think that will define kind of these next two years and so I think Trump will be able to use his executive orders to be able roll back further regulatory constraints and strike trade deals. But I don't think much gets done in Congress unfortunately. And yet this president is quite a transactional president it would seem to be in his best interests to do something.
On infrastructure and do something on pharmaceutical prices even if it were to mean bipartisan work with the Democrats I think he is very much willing to work with the Democrats to get done.
The agenda he wants to get done. I'm not sure that Democrats want to give them that win. I think that's the friction. It's become so toxic. The think it's on a tenable at this point going forward and so the next couple of years I wouldn't say it's a lame duck president puts a president does a lot for executive order and less true legislative change.
What does that mean for U.S. efforts broadly maybe from a foreign buying perspective and from a U.S. dollar perspective you had been looking for a drop of 10 percent in the U.S. dollar do you still see that.
Well I think the U.S. dollar is fine. I think we were the strongest house in the world in terms of you know the stability of the system so our economy grew at four point two percent last quarter three point five percent this quarter. We're expecting two and a half percent growth going forward next year. And. With that. And with interest rates going up I think there's going to be a relatively strong dollar bid around the globe. The repatriation of a trillion or maybe a trillion plus coming back in two years from companies that are repatriating currency I think that's important. So I think that the key though. For. Kind of projections is going to be interest rates. So it's both the fiscal deficits which are somewhat out of control to point the U.S. Treasury is going to go from issuing somewhere around 600 billion a year flush for five years to issue one point three trillion in treasuries. In the calendar year 2019 one point three trillion with no Fed buying because in years past the Fed had been buying for the balance sheet to 400 billion a year. So instead of issuing 600 billion that is 600 billion 200 to 300 would go to the Fed. Surely Fornes billion would clear the market. Now that number is one point three trillion. That is to clear the market. And so it's a big number to fund the trillion dollar deficit that we have going forward. OK.
So what does that mean for higher rates of higher rates. You're saying it means a stronger dollar.
I think. I think the dollar is fine at this current level. It can weaken it can strengthen. I think it's all noise from here.
We've seen you know ballooning issuance we've seen massive deals you know massive leverage and increasing leverage still. So what does all this mean for you. They say the Jacoby's base which has ballooned by 50 percent.
Updated on