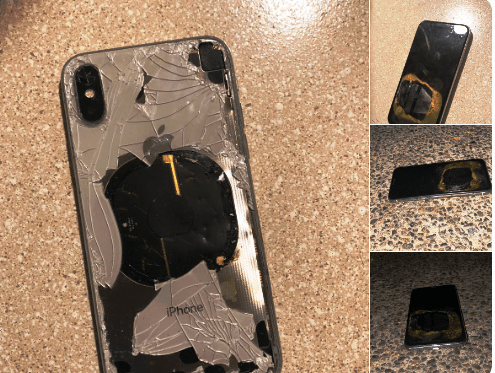 Exploding phones are no new thing, but in a rare instance, one iPhone X user in the U.S. reported that his iPhone X exploded after updating to the new version of OS.
iPhone X exploded: who is to blame?
On Wednesday, Rahel Mohamad from the city of Federal Way, Wash. reported that his iPhone X exploded after updating to iOS 12.1. According to Mohamad, he bought the iPhone X earlier this year and had been using it normally.
"Dark grey smoke started coming from the phone. The update was completed and as soon as the phone turned on it started to smoke and caught fire," Mohamad told Gadgets 360.
Odey's Special Situations Fund highlights Formula One and Shaw
The Odey Special Situations Fund was down 0.27% for April, compared to its benchmark, the MSCI World USD Index, which was up 4.65%. For the first four months of the year, the fund is up 8.4%, while its benchmark returned 9.8%. Q1 2021 hedge fund letters, conferences and more The Odey Special Situations Fund is Read More
That's definitely not expected behavior. DM us, so we can look into this with you: https://t.co/GDrqU22YpT

— Apple Support (@AppleSupport) November 14, 2018
Mohamad claims he was using Apple's official bundled Lightning cable and wall adapter to charge the phone. However, he added that the iPhone X exploded after he removed it from the charger.
"When I held the phone it was very hot and I drop the phone immediately. Then it started to smoke," Mohamad said.
He has already contacted Apple Support, which plans to investigate the issue. Apple apparently sees the incident as "definitely not expected behavior," and a Support representative has asked Mohamad to ship the iPhone X to them.
Although this appears to be a serious issue, it is a rare incident. There haven't been many reported cases about an iPhone X exploding since the handset launched last year. Hopefully it will remain a rare instance, considering the strict quality procedures Apple follows.
Other instances of iPhones exploding
In an incident in January, police in Zurich, Switzerland had to evacuate about 50 customers and staff from an Apple store after an iPhone 6s battery overheated and caught fire. The battery started to smoke after an employee tried to repair the device.
In March, Australian Simon Owen shared CCTV footage of smoke coming out of an iPhone 6 Plus. Owen, who runs a repair shop in Queensland, claimed the "battery failed and exploded." In the footage, a customer is seen pressing his thumbs on the iPhone, which already had a cracked screen. After that, smoke is seen coming out of the iPhone.
In another incident in China in April, an iPhone exploded in the hand of a customer who came to get it repaired. According to the CCTV footage of the incident, the iPhone suddenly burst into flames as the woman sat at the repair desk. The woman, who went to the repair shop to complain about the bulge in the battery, suffered hand injuries. It must be noted that the repair shop was not a licensed Apple service provider.
In an incident in May, an iPhone is seen exploding and going up in flames suddenly. The footage is comes from an unidentified repair store. From the video, it is difficult to ascertain which iPhone model it was, but ABC affiliate KTNV claimed it was an iPhone 6s.
Why phones explode and how to prevent it
An explosion in any phone, including an iPhone, can be due to three reasons. The first is hardware failure. This happens very rarely due to a manufacturing defect in the handset, especially related to the battery.
The second is overheating. Phones exposed to high temperatures are more likely to encounter issues. According to Apple, an iPhone should not get hotter than 113 degrees F (45 degrees C). If the phone breaches this level and remains there for some time, some internal components might get damaged, eventually leading to the device catching fire. Thus, you should select phone cases carefully to ensure proper air flow.
The third reason is use of low-quality accessories. In many of the cases in which a phone exploded, the problem was found to be with cheap third-party accessories. One must always use accessories either from Apple or with Apple's MFi (Made for iPhone) certification.
Since prevention is always better than a cure, it is advisable that you replace your iPhone's battery before it starts to give you problems or explode. Usually there are early warning signs that can help you determine if your iPhone's battery needs to be replaced. The first sign is a bulge on the back of the phone. Such a bulge occurs after a battery swells. The second sign is a hissing noise coming from near the battery, and the third sign is the phone often getting hot. If your iPhone is exhibiting any of these signs, try not to charge it and immediately have Apple replace the battery.