Whitney Tilson's email to investors discussing his Value Investing Bootcamp webinars which start Monday; FBI & Tesla; Netflix culture; Dirty $ & Ethics at Work and Callidus.
1) Glenn and I are looking forward to teaching our three programs – Lessons from the Trenches: Value Investing Bootcamp, How to Launch and Build an Investment Fund, and an Advanced Seminar on Short Selling – via 15 (9+3+3) webinar sessions starting on Monday and continuing every weekday for three weeks. They can be taken individually or in any combination. Further information is on our website here.
Use "VW10" for a discount!
Alluvial Fund May 2021 Performance Update
Alluvial Fund performance update for the month ended May 2021. Q1 2021 hedge fund letters, conferences and more Dear Partners and Colleagues, Alluvial Fund, LP returned 5.4% in May, compared to 0.2% for the Russell 2000 and 1.0% for the MSCI World Small+MicroCap . . . SORRY! This content is exclusively for paying members. SIGN UP Read More
All sessions are live, so there's plenty of time for Q&A and discussion, and are scheduled for our global audience from 7:00-9:30am ET: before work hours for those in the U.S., Canada & Latin America, in the middle of the day in Europe, the Middle East and Africa, and after work hours in Asia.
Use discount code VW10
Q3 hedge fund letters, conference, scoops etc
The most common question I get is from folks who can't make one or more of the sessions and worry about missing the content. Fear not! All are recorded and by the end of each day we send every participant the link to that day's video (which is available for a full year) and the associated pdfs from which we taught (plus additional background material). Thus, the only thing you miss is the ability to ask questions (which you can email to us anytime).
Best of all, we had such a great response to our recent Flash Sale that I wanted to give my readers one last chance to take advantage of the huge savings for each seminar or if you use discount codes  VW10, when you register here.
I hope to see you soon!
2) Wow… I have a strong suspicion that once investigators get inside Tesla and start talking to current and former employees, they're going to find a lot of actionable stuff. In other words, this is likely the tip of the iceberg... Tesla Faces Deepening Criminal Probe Over Whether It Misstated Production Figures. Excerpt:
Tesla Inc., with a fresh civil fraud settlement now behind it, faces a new legal problem: a deepening criminal investigation.
Federal Bureau of Investigation agents are examining whether Tesla misstated information about production of its Model 3 sedans and misled investors about the company's business going back to early 2017, people familiar with the matter say.
Action in the criminal investigation, headed by the U.S. attorney's office in San Francisco, has intensified in recent weeks after the Securities and Exchange Commission settled separate civil charges with Tesla and Chief Executive Officer Elon Musk, the people said.
Tesla had disclosed on Sept. 18 that it had received a "voluntary request" for documents from the Justice Department, 10 days before the company and Mr. Musk struck a settlement with the SEC of civil charges on in a separate case involving controversial tweets from Mr. Musk. But it hasn't been previously reported that the Justice Department is focusing on Tesla's Model 3 production issues dating to early last year and that the criminal securities-fraud probe is intensifying.
3) A fascinating article in today's WSJ about Netflix's unusual culture. I've read many similar articles about Apple under Steve Jobs, Amazon under Bezos, Tesla under Musk, Microsoft under Gates, Salesforce under Benioff, and in the book I mentioned in a recent email, Disrupted, about HubSpot. Many elements of these companies' cultures sound like total insanity – but I respect how hard it is to attract, retain and motivate A players and weed out B and C players, especially as companies grow dramatically. At Netflix, Radical Transparency and Blunt Firings Unsettle the Ranks. Excerpt:
"I think some people felt it was a culture of fear," said Barbie Brewer, a former Netflix vice president of talent who left last year. "But nowhere in the keeper test does it say you have to be perfect. I think as long as you realize that, it's not quite as scary." Ms. Brewer said her parting with Netflix was mutual. She took a severance package and a six-figure pay cut to go to her next job. She said she had tired of Netflix's heavy workload and constant travel.
The firings can be insensitive, several former employees said. Ernie Tam, who had worked as a Netflix engineer for six years, was called into his manager's office on a Monday morning in 2015. "You're no longer a star performer," the manager said. An HR representative came in, discussed Mr. Tam's severance package and took his laptop. "I just left the office and never came back," Mr. Tam said. "For a period of six years, I was a star performer, then all of a sudden I was not." Mr. Tam said he was surprised, despite receiving negative feedback from his manager over the previous month, because earlier managers had given him time to improve after criticizing him.
Mr. Tam said that, despite the shock, he feels fortunate to have worked at Netflix, both because of how much he learned and the generous salary. "It's difficult to find so many smart people working for one company."
4) A big danger of high-pressure cultures is that it can lead people down a slippery slope – it usually happens gradually – into unethical and illegal behavior in an effort to make money and/or keep their jobs (often both). Both Netflix and PBS have six-part series on this – I've watched all 12 episodes and they're outstanding!
Here are the episodes (each around one hour) of Netflix's Dirty Money series, which you can watch here:
Volkswagen's "clean diesel" cover-up
Payday lender AMG Services
Valeant
HSBC laundering drug cartel money
Heist of maple syrup in Canada
The Confidence Man (about Trump)
And here are links to each 27-minute episode of PBS's Playing by the Rules: Ethics at Work series:
CitiMortgage
Enron
Don Blankenship at coal company Massey Energy
Volkswagen
Wells Fargo
Insurance companies defrauding the Medicare Advantage program
5) In most of the above cases, nobody went to jail, which reminds me of this page from the WSJ as it looked back on the 10-year anniversary of the collapse of Lehman Brothers: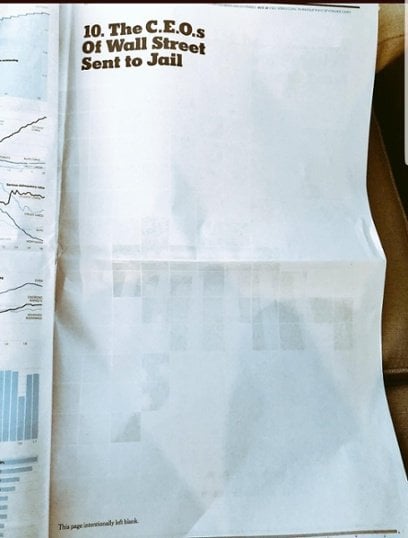 How pathetic and infuriating! And I'm not the only one to think so, as there's a direct line from the widespread anger about this to the election of Donald Trump…
6) I wish I'd sent around earlier this excellent piece of journalism (as always) by Roddy Boyd of the Southern Investigative Research Foundation, as the stock of Callidus Capital Corporation is down 63% since Roddy published it on April 11: Newton Glassman's Legacy of Ashes. Excerpt:
Why has Newton Glassman been spending so much time and money on these scorched-earth tactics?
In a December court filing, West Face left little to the imagination about its view of Glassman's motives: It claimed he was trying to "distract attention from the deteriorating financial performance, overvalued assets, material non-disclosures and misrepresentations to investors of Catalyst, Callidus and their principals" and attempting to "intimidate West Face, Boland, other capital market participants, regulators and members of the media, in an effort to dissuade or discourage them from scrutinizing, discussing or commenting publicly on the deteriorating financial performance" of Catalyst and Callidus.
How did the conflict start? Callidus is an asset-based lender, also run by Glassman, that specializes in making loans to companies that the banks won't touch. After Callidus' share price mounted steadily in the wake of its 2014 IPO, West Face's managers began examining Callidus' financial prospects. They found that roughly 20 percent of Callidus' loan portfolio might have to be written down because the commercial borrowers involved were in bankruptcy, restructuring or otherwise impaired. West Face elaborated in a court brief how in November 2014 its portfolio managers shorted Callidus stock when it was trading higher than CA$20.