It's no secret that healthcare costs in the U.S. have skyrocketed in recent years, and unfortunately this is one troubling trend that's likely to continue for a while. However, if something isn't done, Moody's expects healthcare costs to send some serious ripple effects across the nation's economy.
Although the firm didn't specifically advocate for public healthcare, its study reveals some eye-opening data which illustrates the key differences between healthcare in the U.S. and healthcare in its peer countries. In short, the U.S. spends a lot more on healthcare without any material benefit, and there's one key difference that could be to blame for much of that higher spending.
The burden of skyrocketing healthcare costs
Moody's Investors Service analyst Rebecca Karnovitz and team offered their analysis of U.S. healthcare costs in a recent report. They found that the U.S. spends almost twice as much on healthcare than other "high-income countries spend" in terms of a percentage of their economies.
Odey Special Situations Buys Distell Ahead Of Bidding War
Odey Asset Management's Odey Special Situations Fund returned -1.5% in May, compared with the fund's benchmark, the MSCI World USD Index, which returned +1.6%. Q1 2021 hedge fund letters, conferences and more Following this performance, the fund, which Odey AM's Adrian Courtenay manages, is up 7.9% year-to-date. The Odey Special Situations fund was founded . Read More
[REITs]
Q3 hedge fund letters, conference, scoops etc
According to Moody's, healthcare spending in the U.S. amounted to about 18% of the nation's GDP, or $3.3 trillion. The firm also emphasized that the higher spending can't be explained by having higher average income levels because the U.S. still spends more than other countries with similar or sometimes even higher per capita income.
Karnovitz and team do note that the U.S. does get some benefits from all this extra healthcare spending. For example, the healthcare sector employs 16 million Americans, amounting to 11% of the workforce. Healthcare jobs are less affected than others during economic downturns.
Additionally, the U.S. leads the way in healthcare innovation and technology, as almost half of the patents filed with the Organisation of Economic Cooperation and Development in the biotech sector came from U.S. companies. However, these benefits hardly make up for how much more the U.S. is spending on healthcare than other developed countries.
One would think that by spending so much more than its peers on healthcare, Americans would be in much better health, but Moody's found that isn't the case. The firm said the U.S. is spending a "disproportionate amount on healthcare without materially improving population health relative to countries that spend less." Material improvements in health are measured by average life expectancy, infant mortality rates and similar measures.
Private households feeling the squeeze already
Both government and private household budgets are already being squeezed as healthcare costs continue to climb. Businesses and households made up almost half of that spend, which is also more than U.S. peers.


Karnovitz and team attributes private households' higher share of healthcare costs to the complex make-up of the nation's healthcare system, which includes both public plans such as Medicare and Medicaid and private health insurance plans. Almost half of the U.S. population gets insurance through their employer. That is significantly different than the make-up of the healthcare system in other advanced economies, which support their citizens through public health coverage and yet pay much less than the U.S.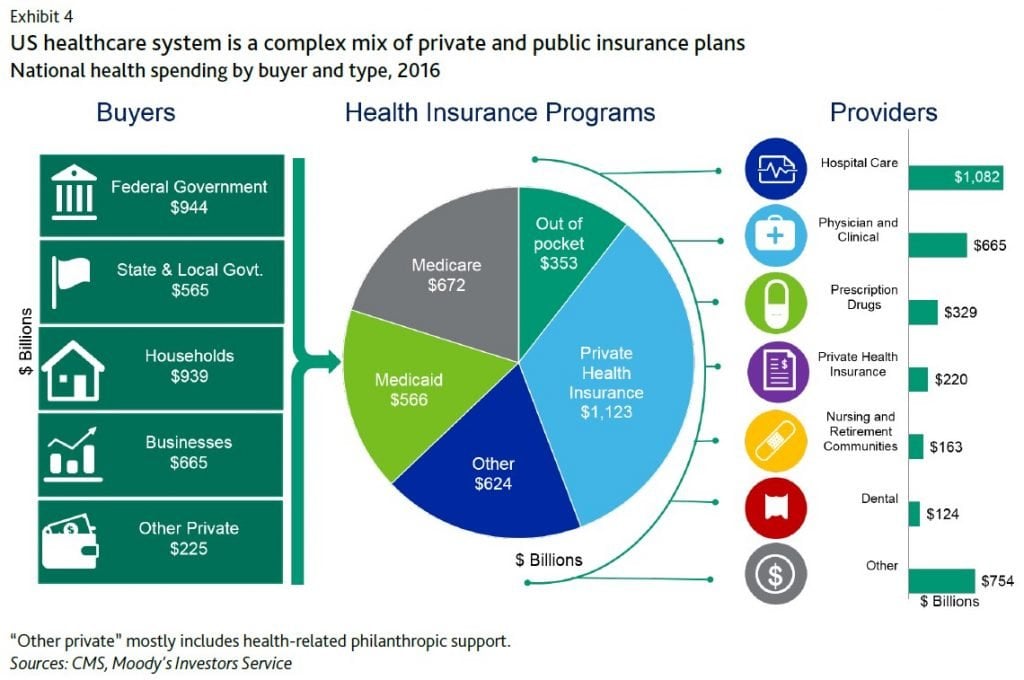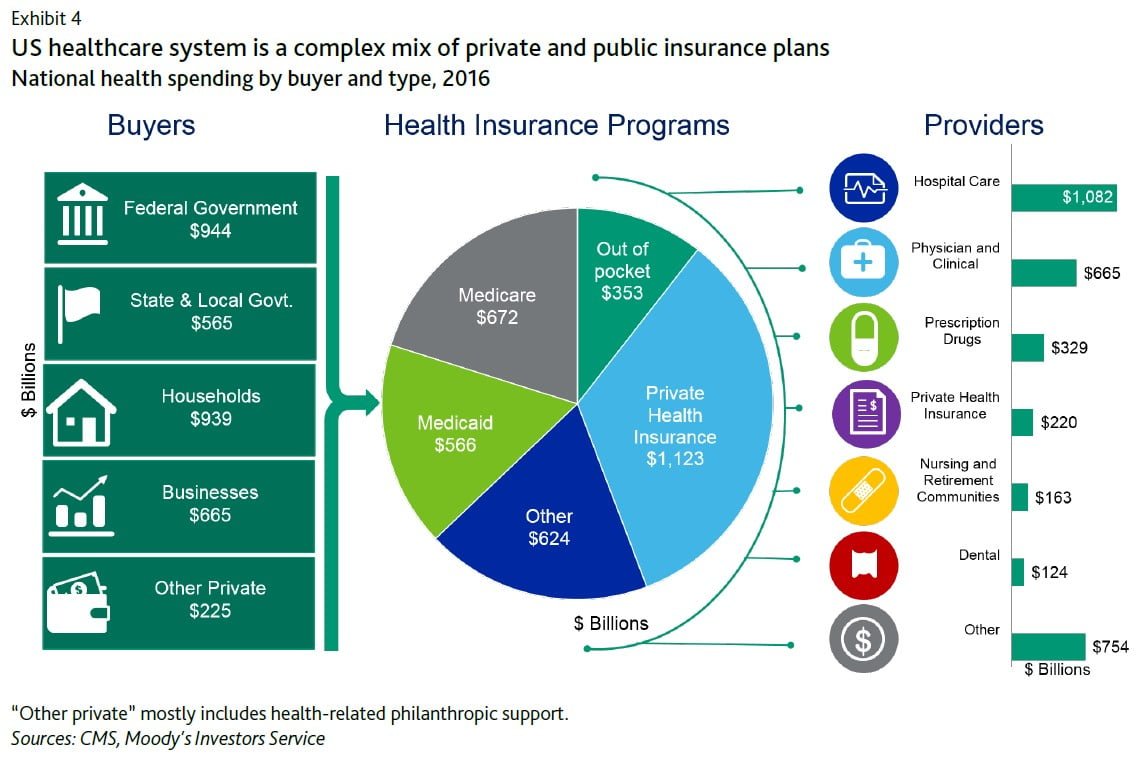 Moody's estimates that approximately 40% of the U.S. population is covered by Medicare, Medicaid, the Children's Health Insurance Plan and other government healthcare programs. Public healthcare spending also includes subsidies paid to low-income households toward their health plans. About 7% of Americans buy their own private insurance, while almost 10% of the population lacks health insurance entirely, so they pay everything out of pocket.
The firm also noted that healthcare costs are rising for most U.S. households—no matter how they receive their healthcare coverage. In other words, citizens on government plans are seeing their costs rise just as those purchasing private insurance are.
Here's what could happen if nothing is done about the rising healthcare costs
The Moody's team expects the increasing costs and aging population to raise healthcare spending even further, resulting in "credit negative implications" for both the public and private sectors. The Centers for Medicare and Medicaid Services estimates that healthcare costs will increase by an average of 5.5% each year in the next 10 years, hitting $5.7 trillion and 20% of the GDP by 2026. The agency expects that healthcare expenses will increase faster than inflation while the number of healthcare goods and services also increases.
Public sector budgets are being squeezed by their increasing share of funding for Medicare, Medicaid and other public healthcare programs, the firm added.
"A handful of states and local governments are facing rising credit pressures from employee health benefit costs," the Moody's team observed.
Moody's estimates that the higher healthcare costs, combined with increased Social Security and interest payments, will raise the federal deficit over 8% of the nation's GDP by fiscal 2028. The only other time the deficit rose that high was after the 2008 financial crisis. Additionally, the firm estimates the debt-to-GDP ratio will rise from 80% now to 100% on the back of the growing federal deficit.
The firm also points out that the way the U.S. pays for and subsidizes healthcare costs causes the federal government to forfeit significant amounts of tax revenue.
A domino effect across the economy
All that extra spending on healthcare is also putting the squeeze on other areas of investment, including infrastructure and education. As a result, as healthcare costs continue to rise, they will become a heavier and heavier weight on future economic growth. Moody's estimates that over 20 years the gap between spending on education and healthcare has widened. In 1992, healthcare and education each accounted or approximately 15% of the government budget. By 2016, healthcare spending was 8 percentage points ahead of education spending, and Moody's expects this trend to continue.
In the private sector, rising healthcare costs will negatively impact purchasing power and make some households even more financially vulnerable. In fact, Moody's has found that some households have already felt the burden of rising healthcare costs because they've been cutting back their spending on other areas, skipping care or taking on debt to pay for their healthcare.
Changing the healthcare system is easier said than done
The also pointed out that making changes to the healthcare system is much easier said than done. Businesses and public sector employers are looking into new strategies to pay for care without reducing the quality of the care received. Meanwhile, providers are beginning to prepare for changes in these strategies and exploring less expensive ways to deliver service.
At this point all the changes are in their very early stages, and Moody's warns that it could take a long time for consumers to see significant savings from all these efforts, if any savings ever ends up being recognized at all. The firm adds that the federal government "has powerful policy levers it can use to reduce its spending" on healthcare, but such changes will be difficult to make because they require legislative changes.
If or when they do occur, they will "have a material impact on healthcare consumers and providers," the Moody's team wrote, which certainly sounds like an understatement. There can be no easy path to normalizing the skyrocketing healthcare costs.
This article originally appeared on ValueWalk Premium