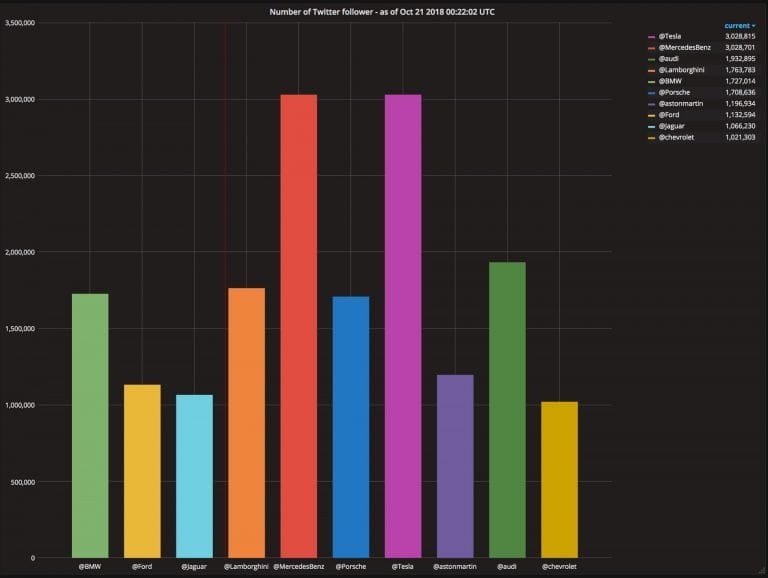 Twitter and Instagram follower counts have become a common way to measure celebrities' and brands' popularity. They also allow us to see how well-known each brand is compared to competing brands. Tesla surpassed Mercedes recently as the most popular and most-followed car brand on Twitter. Although the numbers are quite close to each other, they truly show that Tesla surpassed Mercedes-Benz.
Both automakers' Twitter pages reveal they are followed by 3.03 million people. However, to see the exact follower count, you need to hover over the number estimates. Even though Tesla's lead is quite slim, it has been the number one car on Twitter since 9:56 a.m. Eastern on Oct. 21. At the time, more than 3.03 million people were following Tesla on Twitter, while Mercedes-Benz was slightly behind at a little under 3.03 million followers on Twitter. YouTuber Pranay Pathole was one of the first to notice that Tesla surpassed Mercedes:
Northern Pipe Line Wasn't Graham's Only Activist Situation
We wrote about Ben Graham's activism at northern pipe line, but there are other interesting stories involving the father of value investing Value investing and activism go hand-in-hand. Benjamin Graham, the godfather of value investing, discovered how important it is to incorporate activism into a value strategy relatively early in his career, a strategy that Read More
@Tesla just passed Mercedes-Benz to become the most followed car brand on Twitter. @elonmusk pic.twitter.com/dnPh4Jy59t

— Pranay Pathole (@PPathole) October 21, 2018
At the time of writing this article, Tesla was still ahead of Mercedes. Tesla is currently followed by more than 3.033 million Twitter users, while Mercedes-Benz is followed by more than 3.031 users.
Earlier this month, Forbes reported that for the first time ever, Tesla sold more vehicles than Mercedes-Benz in a quarter in America. Between July and September, the Silicon Valley-based automaker sold 69,925 Model 3, Model S and Model X units, while the German car giant Mercedes-Benz fell behind with 66,542 vehicles. That excludes the company's commercial vans (Freightliner, Metris and Sprinter.) During the same time, BMW managed to sell 71,579 vehicles. Atherton Research expects Tesla will also outsell Mercedes-Benz in the last quarter of the year.
It's no secret that Tesla followers are driven by the company's celebrity CEO Elon Musk, who has more than 23.1 million followers. Do you think Tesla will continue to surpass Mercedes-Benz in the future? Let us know in the comments which brand you prefer.