Over the last couple decades billions of dollars have flowed into Silicon Beach, the startup hub of Los Angeles. This thriving beach-side community has spawned several industry giants, including Snap Inc. (creators of Snapchat), SpaceX and Dollar Shave Club. But how much value is really pumping through Silicon Beach?
Mediakix, an influencer marketing company, estimates the companies of Silicon Beach to be worth over $155 billion in valuation (read the full Silicon Beach study here).
What is the key to SoCal's success?
The numbers suggest that it many Silicon Beach companies align closely with the city's local strengths. For example, entertainment and media startups represent the largest Silicon Beach category — no surprise there. Companies like ZEFR, Hulu and AwesomenessTV have found interesting ways to bridge media and technology, while global brands like Google leverage the local talent through a massive YouTube production studio in Playa Vista.
Joel Greenblatt Owned Hedge Fund On Why Value Investing Isn't Working Now
Acacia Capital was up 12.27% for the second quarter, although it remains in the red for the year because of how difficult the first quarter was. The fund is down 14.25% for the first half of the year. Q2 2020 hedge fund letters, conferences and more Top five holdings Acacia's top five holdings accounted for Read More
Q3 hedge fund letters, conference, scoops etc
Software and technology startups represent 17% of Silicon Beach. These SaaS and on-demand technology solutions serve a wide array of local needs, including as education, government, telecommunications, B2B, real estate, and more.
LA's fixation on physical and mental health trends also leads to a greater focus on wellness, pharmaceuticals, and healthcare solutions, spearheaded by companies such as Headspace, Ritual, and The Honest Company.
Where are investors putting their money?
When you take a closer look at funding, a slightly different picture of Silicon Beach emerges. Social companies like Flipagram, Grindr and Whisper, appear to attract a huge percentage of Silicon Beach funding.
However, this percentage is largely skewed by Snap Inc., which represents over 90% of funding to the Social companies tracked in this study. After that, the ratios appear to hold steady, with media and entertainment remaining on top.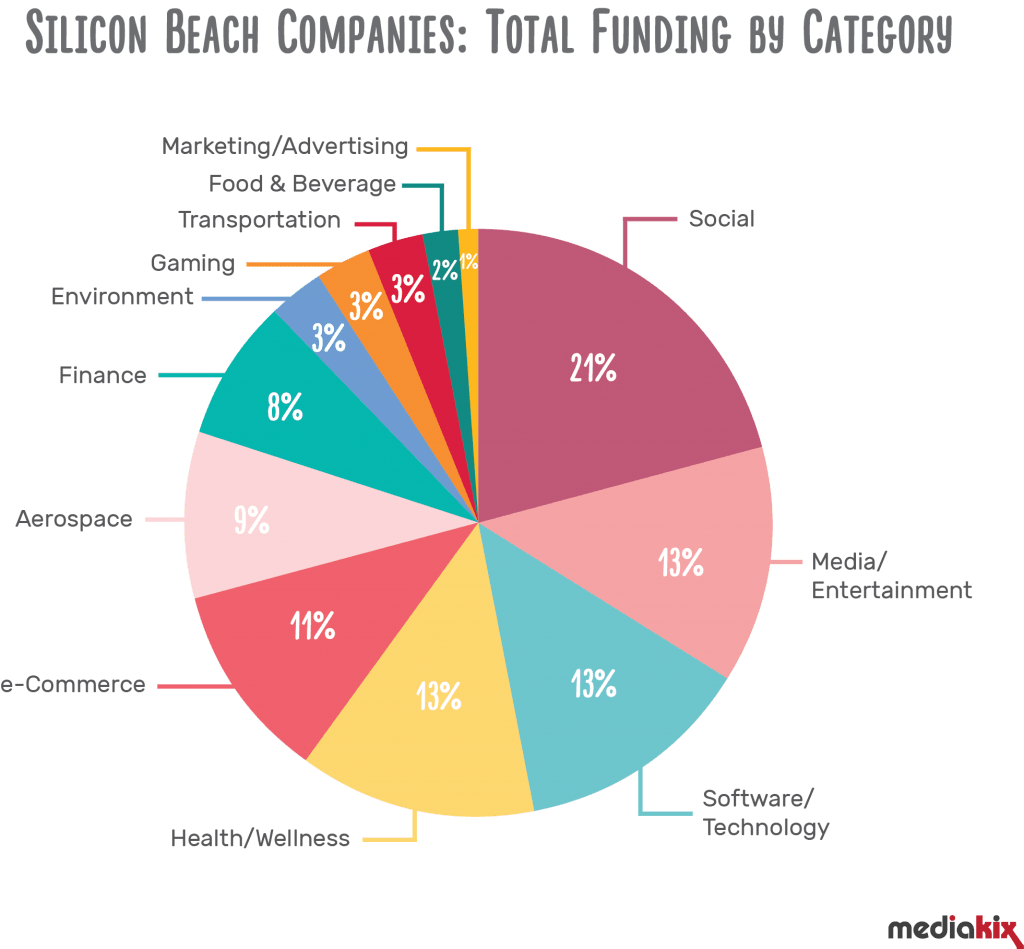 When breaking down the value of Silicon Beach by category, the presence of SpaceX pushes aerospace up to a whopping 25% of local valuation. Social maintains 15% of all Silicon Beach value, due to the presence of Snap Inc.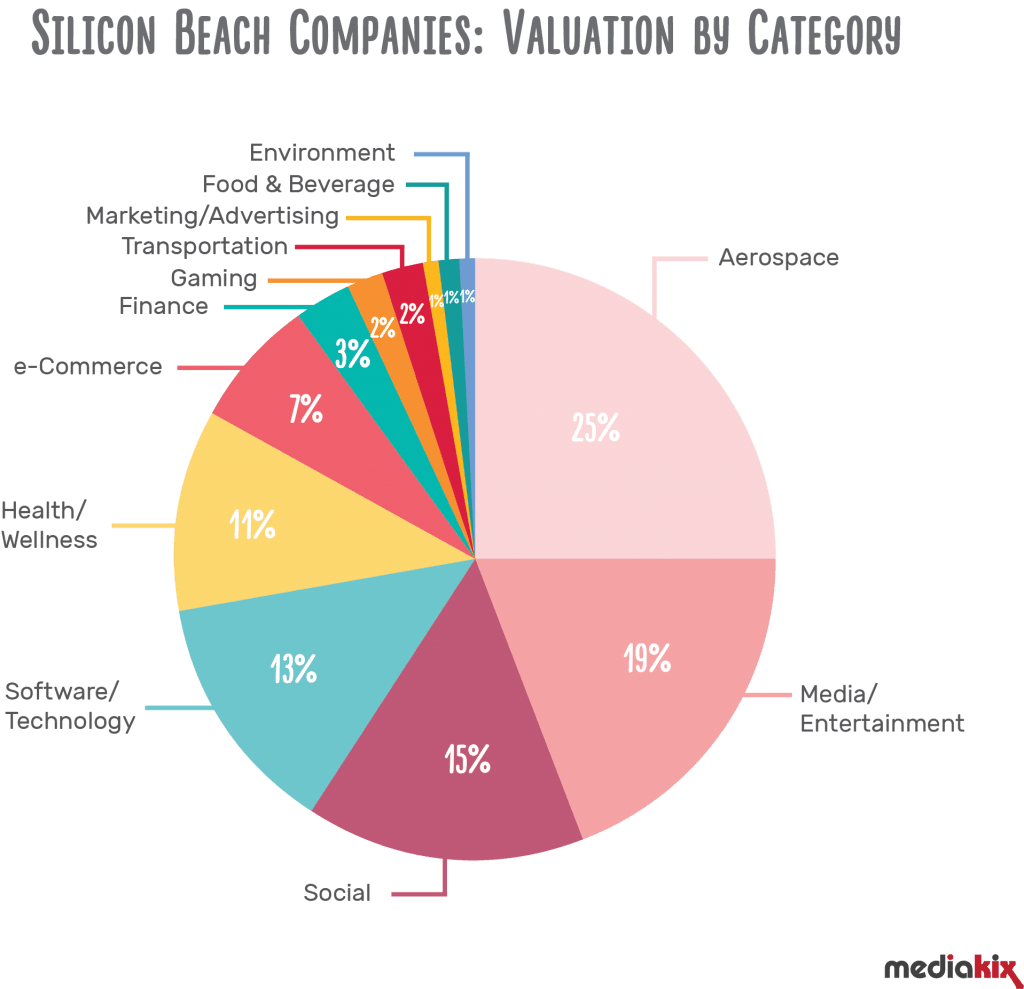 The take-away
There is no silver bullet for starting a successful company in Silicon Beach. However, many of the region's current startups (and funding) concentrate around industries that are core to Los Angeles culture and industry.
Hiring production teams, video editors and employees with experience in media is much easier in Los Angeles. Beta-testing wellness products, apps, and services will be easier with a large population of health-crazed Southern Californians.
Another approach is to piggyback on the halo effect of high-value industries, such as aerospace, which has continued to thrive in the wake of SpaceX.
And even if your startup fails, well hey — at least you're still by the beach!
Article By Rochelle Bailis, VP of Marketing