The Samsung Galaxy Watch is one of the best smartwatches launched this year. But just like many other smartwatches, this too appears to be causing dermatological problems such as skin reactions, burns, blisters, and rashes to some users. In the past, owners of wearable devices from Fitbit, Garmin, Jawbone, Apple, and other vendors have also complained about similar problems.
Many affected users have taken to Samsung's official Community forum to complain about the Samsung Galaxy Watch causing irritation, rashes and other skin problems. Both the 42mm and 46mm models of the device are causing skin issues. One user said on the forum that they remove their 46mm Galaxy Watch only for showering and charging. The user recently noticed "this rash developing and it slightly irritates me." The rash area appears as if "the skin is stretched or burnt."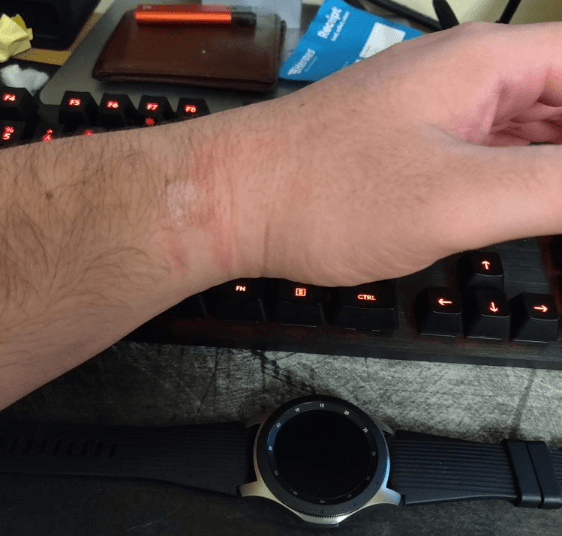 Another Samsung Galaxy Watch owner complained that they had barely used the device for a week when a "small rash" appeared on the wrist "in exactly the position of the watch." One user said that after two weeks of regular use, there was a rash "around my wrist like a copy of the watch outline." There are dozens of similar complaints on the forum.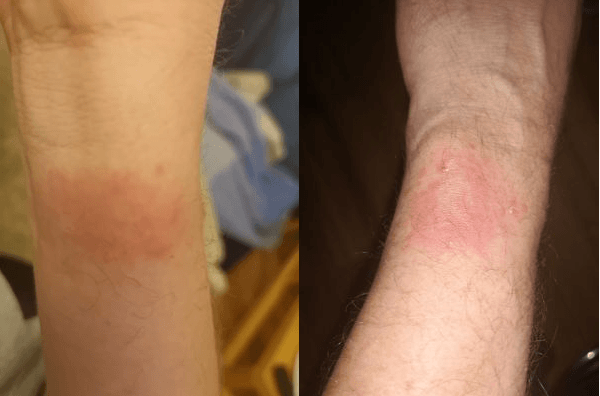 Of course, some people have sensitive skin and they could be vulnerable to allergic reactions. But PiunikaWeb noticed that many people who have used smartwatches from other vendors for a long time and never suffered any skin problems, but they too experienced skin problems with the Samsung Galaxy Watch.
The Samsung forum moderators are monitoring such complaints. One of the moderators told affected users to seek medical advice.
What to do to prevent skin problems
There could be a variety of reasons why you are getting rashes, burns, blisters, and other skin reactions from your smartwatch. It could be due to allergies, extended exposure to irritants, environmental factors, and sometimes the materials used in the smartwatch bands. Many bands contain elements like Methacrylates and Nickel.
Though the level of these chemicals in smartwatch bands, bodies, and magnets is kept below the European regulation levels, some people could still be susceptible to them. According to an estimate, about 20% people in the US are susceptible to Nickel.
If you wear your Samsung Galaxy Watch too tightly or loosely for a long time, it could also cause problems such as redness, itchiness, swelling, and irritation. Sometimes sweat, water, soap, and other irritants get trapped against your skin under the device, causing skin reactions. If the band is too tight, it could block the sweat ducts.
One of the Samsung forum moderators says that skin irritation could occur due to friction and pressure if you wear the Samsung Galaxy Watch for a long time or during high-intensity workouts. You should remove the device from your wrist from time to time. If you are experiencing rashes and burns due to allergy or other factors, you should stop using the smartwatch for a few days, and use it again only after the symptoms have eased. If the symptoms persist, consult your doctor.
You can also clean the smartwatch from time to time to remove sweat and other foreign materials. And make sure that your skin and the Watch both are dry before reusing. Also, don't wear it too tightly. Your skin needs some breathing room. So, wear it loosely enough to let it move back and forth on your wrist.
Samsung Galaxy Watch features and specs
Unveiled alongside Galaxy Note 9, the Galaxy Watch comes in 42mm and 46mm variants. The device runs Tizen OS with an Always On Display and a rotating bezel UI. The screen is protected by Corning's Gorilla Glass DX panel. The Galaxy Watch comes in both LTE and non-LTE variants. It is also water- and dust-resistant, and has a MIL-STD-810G certification for durability.
The smartwatch runs a dual-core Exynos 9110 chipset with 768MB RAM and 4GB of internal storage. It is packed with the ambient light sensor, gyroscope, HRM, and an accelerometer. The Galaxy Watch is compatible with both Android and iOS devices. It is capable of tracking 39 different workout profiles, including 21 new indoor exercises. It has a dedicated stress management tracker that can detect high-stress levels and recommend breathing exercises. It also boasts of sleep tracking capabilities.
Currently, Samsung is selling the Galaxy Watch at just $299 for the 42mm model. The 46mm variant is available for $320 on Amazon and Samsung's website. The deal is only available in the US for a limited time. Samsung hasn't revealed when the offer will end.
Updated on