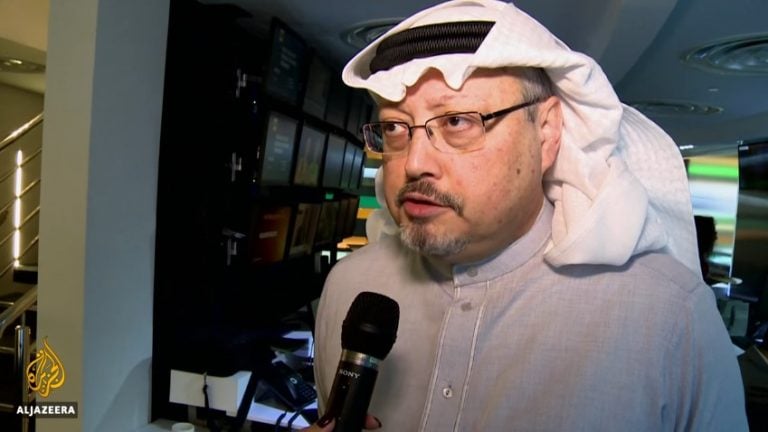 The Jamal Khashoggi disappearance remains a mystery which continues to grab headlines around the world. U.S. President Donald Trump spoke to Saudi King Salman about the Saudi journalist, and the king denied any knowledge of what happened to him. Trump then suggested an alternative scenario which has not been confirmed; he speculated that perhaps "rogue killers" had something to do with it.
Donald Trump discusses Jamal Khashoggi disappearance
Trump tweeted that King Salman "denies any knowledge" about the Jamal Khashoggi disappearance.
Just spoke to the King of Saudi Arabia who denies any knowledge of whatever may have happened "to our Saudi Arabian citizen." He said that they are working closely with Turkey to find answer. I am immediately sending our Secretary of State to meet with King!

Investing in the Next Generation of Emerging and Frontier Markets with Maurits Pot

ValueWalk's Raul Panganiban with Maurits Pot, Founder and CEO of Dawn Global. Before this he was Partner at Kingsway Capital, a frontier market specialist with over 2 billion AUM. In the interview, we discuss his approach to investing and why investors should look into frontier and emerging markets. Q2 2021 hedge fund letters, conferences and Read More

— Donald J. Trump (@realDonaldTrump) October 15, 2018
When asked later whether he believes the king's denial about what happened to the Saudi journalist, he wouldn't say one way or the other. However, he did speculate as to what might have happened.
"I don't want to get into his mind, but it sounded to me like maybe these could have been rogue killers," President Donald Trump told the press. "Who knows?"
The speculation suggests rogue Saudi operatives may have killed Khashoggi without being ordered to do so by the Saudi crown.
Pompeo departs for Saudi Arabia
President Donald Trump also said today that U.S. Secretary of State Mike Pompeo is boarding a plane to Saudi Arabia today to assist with the dispute with Turkey. The U.S. has been a close ally of the Saudi kingdom for quite some time, so Washington would prefer a swift diplomatic resolution to the dispute. However, U.S. officials are also pressured to ensure a "credible investigation" into the Jamal Khashoggi disappearance.
The Trump administration has threatened "severe punishment" if the Saudi journalist is found to have been killed at the consulate in Turkey. He has been a critic of the Saudi kingdom's current leadership for quite some time. According to The Washington Post, he voluntarily left the kingdom last year. He reportedly told Al Jazeera TV earlier this year that he was concerned about his safety because he felt his freedom of speech was being limited by Prince Mohammed.
Joint investigation looks into Saudi journalist and critic's disappearance
Whatever led to Khashoggi's disappearance, the U.S. and President Donald Trump are caught in the middle between Turkey and Saudi Arabia. He was last seen on Oct. 2 going into the Saudi Consulate in Istanbul, Turkey, where he reportedly went to pick up the documents he would need to marry his fiancee, Turkish citizen Hatice Cengiz. Turkish officials claim Saudi operatives killed and dismembered the Washington Post columnist, but Saudi officials have repeatedly denied that claim.
The Associated Press reported that Turkish investigators are now working with officials in Saudi Arabia to investigate the Jamal Khashoggi disappearance. The joint Saudi-Turkish investigative team entered the Saudi Consulate today.
At this point, concrete evidence has been elusive. Saudi Arabia hasn't shown any evidence which proves the Saudi journalist ever left the consulate, and Turkish officials haven't yet presented a body to prove he is dead, although they have reportedly offered other evidence.
Police said to have presented audio in Jamal Khashoggi disappearance
According to multiple media outlets, Turkish authorities have listed 15 men whose arrival in Istanbul lines up with the timing of the Jamal Khashoggi disappearance. Some of those men are reportedly from Saudi intelligence, and nine of them were said to have arrived in Istanbul on a private jet out of Riyadh.
Sources familiar with the investigation into the whereabouts of the Saudi journalist told CNN that Turkish officials have presented both visual and audio evidence that he was killed at the consulate. Turkish officials reportedly told Al Jazeera and Reuters that they have audio which proves the missing Saudi journalist was killed inside the consulate.
The New York Times reports that U.S. intelligence intercepted Saudi communications about abducting Khashoggi, although those communications may not have ties to his consulate visit.
Apple Watch unlikely to be linked to disappearance
Many media outlets have claimed that the audio being reported on came from Khashoggi's Apple Watch, but official sources reportedly told Al Jazeera that the audio they have did not come from his watch. The BBC also refuted the claims from the Turkish newspaper Sabah that his Apple Watch captured audio at the time he vanished.
Supposedly, he began recording audio on his watch just before entering the consulate, and then the watch captured his "interrogation, torture and killing" inside the consulate, sending the audio to his iPhone after the recording stopped. However, there are several reasons why this is unlikely and probably even impossible.
For one thing, his iPhone was said to be with his fiancee outside the consulate. The report also claimed that his attackers used his fingerprint to unlock his Apple Watch and delete the audio files from it, but the Apple Watch does not have a fingerprint sensor. Additionally, the Apple Watch would have had to be connected to his iPhone via Bluetooth for things to have happened the way it was claimed, but it was too far away from his iPhone for Bluetooth to have worked.