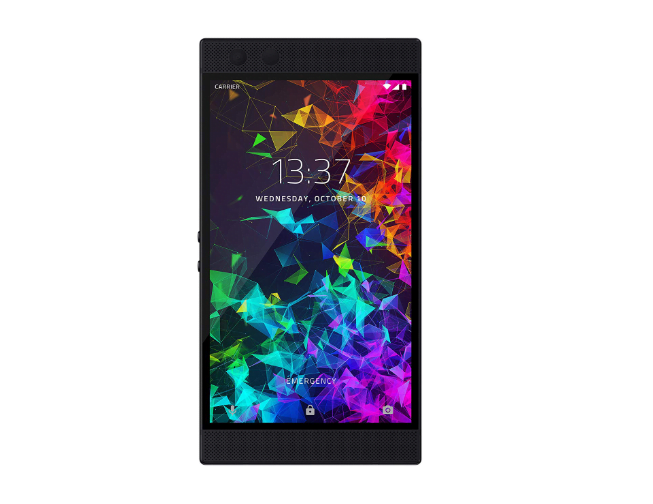 Razer seems to have listened carefully to user complaints. The original Razer Phone was a great gaming device with a powerful processor and an impressive display, but its camera wasn't that great. Now the company has announced the Razer Phone 2 that is not only good at gaming but also can be used as your daily driver phone. Though its design remains similar to its predecessor, the Razer Phone 2 brings tons of improvements that make it a worthy flagship phone for hardcore gamers as well as casual ones.

Razer Phone 2 design and display
The Razer Phone 2 looks similar to its predecessor with sharp corners and squared edges. However, it is much easier to hold as the edges have been rounded slightly. It gets a glass back to enable wireless charging. It supports fast Qi wireless charging at up to 15W. You can use your own charging mat or buy Razer's new Chroma charging mat for $99. Though the rear panel is made out of glass, its body is still the CNC-machined aluminum.
The Razer Phone 2 gets an RGB backlit logo on the back that supports Chroma. The company has removed the notification LED from the front because the Chroma logo acts as a notification blinker. Just like other Chroma-supported Razer products, it supports 16.8 million colors. The rear logo will automatically match the color of the LED lights to the lights on the phone. This isn't a feature you really need, but it looks cool on a gaming phone.
How Value Investors Can Win With Tech And "Fallen" Growth Stocks
Many value investors have given up on their strategy over the last 15 years amid concerns that value investing no longer worked. However, some made small adjustments to their strategy but remained value investors to the core. Now all of the value investors who held fast to their investment philosophy are being rewarded as value Read More
The new Razer Phone gets an impressive 5.7-inch IGZO LCD screen with Quad HD resolution of 2560 x 1440. It has a 16:9 aspect ratio, which Razer claims is the best for gaming and media consumption. Most other premium smartphones have moved to an 18:9 or 19:9 aspect ratio. The Razer Phone 2 has a 120Hz screen refresh rate. Thanks to its HDR support and DCI-P3 wide color gamut, the visuals appear crisper while playing games and watching videos. The company has also increased the screen brightness by around 50% to 580 nits.
Loud speakers, efficient cooling, and more
Powering the Razer Phone 2 is the Snapdragon 845 processor, which you'll find inside most of the flagship Android phones of 2018. It has a clock speed of 2.8Ghz and an Adreno 630 visual chip. The Snapdragon 845 is a powerful chip and Razer didn't want the processor to experience thermal throttling. So, the company used a miniaturized version of its vapor chamber cooling technology found in the Razer Blade 15 laptop for heat dissipation.
The device gets 8GB RAM and 64GB of UFS storage. There will also be a premium version with the rugged satin finish and 128GB internal storage. It also has a microSD card slot for external memory but it won't be as fast as UFS. The Razer Phone 2 packs a giant 4,000mAh battery with QuickCharge 4.0+ support and fast wireless charging. It also boasts an IP67 rating for water-resistance, meaning it can survive in water up to a depth of one meter for 30 minutes.
Razer has ditched the 3.5mm headphone jack but it has powerful front-firing stereo speakers at the top and bottom of the display. The speakers boast Dolby Atmos support and a 24-bit DAC over USB-C.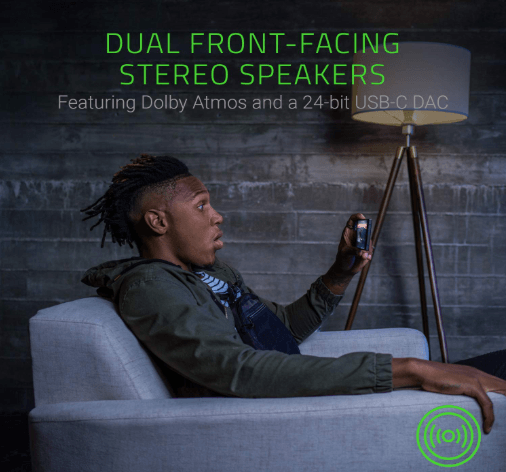 On the software front, it will run the 'near stock' version of Android 8.1 Oreo with Nova Launcher by default, but the company has promised to roll out the Android Pie update soon. It also has a new Cortex app that helps you organize games and recommends you games based on what you play and your performance. The Cortex app retains the game booster mode from last year's Razer Phone.
Camera gets a big upgrade
One of the main reasons the original Razer Phone couldn't attract mainstream buyers was the camera that lagged far behind other flagship phones. The company has overhauled the camera on Phone 2 from scratch. It features a 12MP wide-angle lens with OIS and an f/1.75 aperture, and a 12MP telephoto lens with an f/2.6 aperture on the back. To enhance the photography experience, Razer ditched Samsung for Sony sensors and improved the lenses.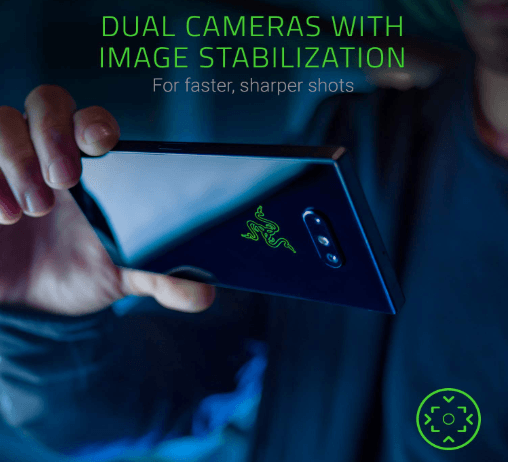 The new sensors allow for better depth information. Razer also redid its algorithms to improve low-light, HDR, and autofocus capabilities. It is capable of recording 4K videos at 60fps. On the front, there is an 8-megapixel selfie camera with f/2.0 aperture. The selfie camera can also record 1080p videos at 60fps.
Price and release date
The device has been priced at $800 in the United States for the 64GB model. If you want to buy the 128GB variant with 'rugged satin finish,' it is going to cost you $900. The 128GB model will be available later on. Razer has started accepting pre-orders for its new gaming phone but hasn't yet revealed when the device would become available. An Amazon listing suggests it will go on sale on October 26th.
The company will sell the unlocked version of Phone 2 in the US, though it will partner with a few carriers in select countries such as China. Razer has also launched a Wireless Charger for $100, and Leather and Kevlar cases for $40 and $50 respectively. You can also buy a tempered glass screen protector for $20.
There are a bunch of insanely powerful smartphones out there, but Razer's new phone focuses specifically on enhancing the gaming experience. The company has also partnered with mobile game studios to optimize games for its phones. Improvements to the display and camera suggest Razer wants it to be more than just a gaming phone. The company wants people to use it as their daily driver phone.
Updated on