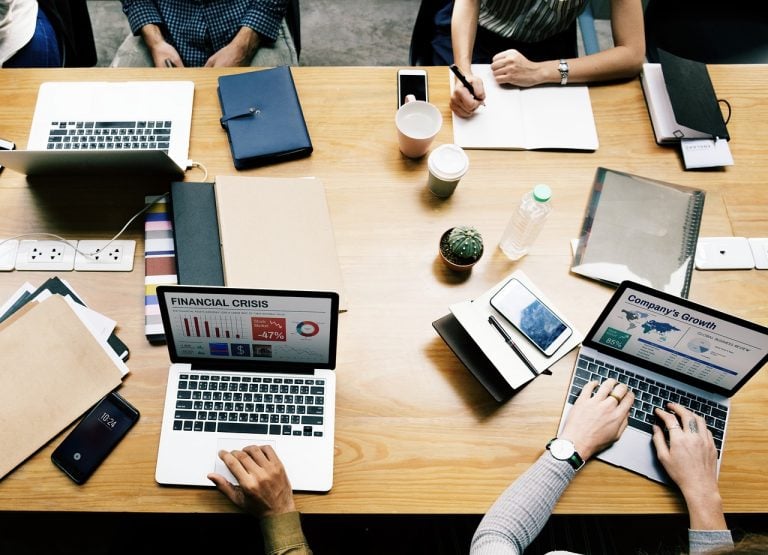 In the last decade, digitization has grown exponentially, to the point where most people around the world can't even imagine life without digital online banking services.

Just to put the growth in perspective, the RBI (Reserve Bank of India) reported that from 2011 to 2016, the mobile banking sector in India grew from Rs. 25 million to almost Rs. 400 million, while online banking went from Rs. 512 million to over Rs. 3 billion. By 2017, there were well over 2 lakh ATMs and just over 25 lakh POS devices operational. And this is increasing every day!
Q3 hedge fund letters, conference, scoops etc
How Value Investors Can Win With Tech And "Fallen" Growth Stocks
Many value investors have given up on their strategy over the last 15 years amid concerns that value investing no longer worked. However, some made small adjustments to their strategy but remained value investors to the core. Now all of the value investors who held fast to their investment philosophy are being rewarded as value Read More
This supercharged growth has been fueled by us. Once we saw the ease of doing things on our smartphones, we wanted everything to be easily accessible, instantaneous and hassle-free. There's no more standing in queues, running to the ATM to get some cash out and many of us don't even visit the bank any more, except in special circumstances like a change in currency notes.
And it's not just transactions that have changed, but also the fundamental way we think of and manage our finances, like borrowing, lending and making payments. Most financial services don't even require physical documentation anymore. There are even apps for loans that operate completely digitally, which are redefining the way we manage our credit.
Here are 6 ways that digitization and online banking are revolutionizing our world as we know it:
Perpetual Availability
Technology doesn't take days off, or even hours. Apart from a few incidents of downtime which are usually for planned maintenance, you can be sure that internet banking, apps, ATMs and swipe machines will be working 24/7.
You can make transactions any day of the year, at any time of the day. And since much of this is virtual, you can do it from anywhere as long as you're connected to the Internet. This has been a huge contributor to international trade, since digital transactions are in real-time, yet not limited by differences in time zones.
Quicker online Online Banking Transactions
A teller, the person at the bank who handles physical currency, would have to take your cheque, enter the details manually into a computer, verify the signature against the one on his screen, debit the amount from your account, count out the cash and then had it to you.
The next time you're withdrawing money from an ATM, spare a moment to think about how long the automated process took instead. An ATM can perform many transactions faster than a human can, with higher accuracy as well as 24/7 availability.
Improved Data Security
It's true that digitization made banks as well as customers prone to cyber attacks, scams and other online threats in the first place. However, technology is constantly evolving, and banks have invested heavily in developing and implementing multiple layers of security to prevent such incidents.
For instance, your online banking password typically has to include both numbers and characters now, making it that much tougher to crack. Most transactions require an OTP or One Time Password generated on the fly and sent to your registered mobile number.
Data is encrypted before it's transmitted, so even if someone can access it, it's useless without the decryption key. Even the PIN for using your debit card wouldn't have been possible without digitization!
Integrated Payment Services
Internet connection, DTH service, electricity, mobile phone… What do all these have in common? You need to pay the bill on a regular schedule, and you can pay it online. This is because other services can integrate with banks and process payments directly, only requiring customers to provide authorization in the form of a PIN, password or OTP.
Having access to integrated services allows you to do everything completely online, from paying for groceries to sending someone money. Plus, since digital payments are much cheaper for banks and operators, many services are able to pass on the savings in the form of discounts and cashback.
Instant & Hassle-Free Loans
Banks are yet to reinvent loans and credit management but online lending apps are leading the way here. These have a unique approach to disrupt traditional methods and put more control in the customers' hands. They are completely paperless, so you can complete your application, verify your identity with eKYC and check your eligibility in a matter of minutes.
Once approved, they offer you a loan or personal line of credit up to a certain amount. With a revolving credit line, interest can be significantly lower than on a credit card, and unlike a traditional loan, it is only calculated on the amount used rather than the entire limit.
A credit line can be used to make purchases and payments, or transfer money to a bank account, anytime and anywhere through the app. In many cases, you can choose your own EMIs and repayment tenure, and there are no foreclosure charges for paying more than the installment amount.
Increased Performance & Lower Costs
Digitization has evolved well beyond transactions and data exchange. Most banks now have Artificial Intelligence or AI-enabled bots, which are able to analyze what a customer wants, understand what needs to be done and do it too. Customers will soon have much faster resolutions for any complaint or query, along with other AI-enabled services like a personal digital financial planner.
Since computers are infinitely faster and less prone to errors than human beings, they help both banks and non-banking financial institutions reduce costs tremendously, while at the same time improving efficiency and performance. With the savings from digitization, many banks have been able to reduce interest rates on loans and offer higher returns on savings or investments.
Digitization has improved every aspect of our lives, and is itself improving constantly. Banks are adapting to keep pace, pushed by consumers who want greater convenience. 'Instant' and 'disruptive' are the new golden rules for success, and for the foreseeable future, digitized banking will continue to revolutionize the way we use money!
---
Author bio:

Shiv Nanda is a financial analyst who currently lives in Bangalore and works with MoneyTap, India's first app-based credit-line. Shiv eats, breathes and sleeps finance, to the dismay of friends who've endured unsolicited advice on their investment choices, budgeting skills, or lack thereof. Luckily for them, Shiv has diverted this energy toward writing about various financial topics online. He loves it when people actually ask him for advice on how they can use the flexibility of MoneyTap's personal loan for marriage, home improvement, medical emergencies, education and other reasons that require immediate funds.
Updated on