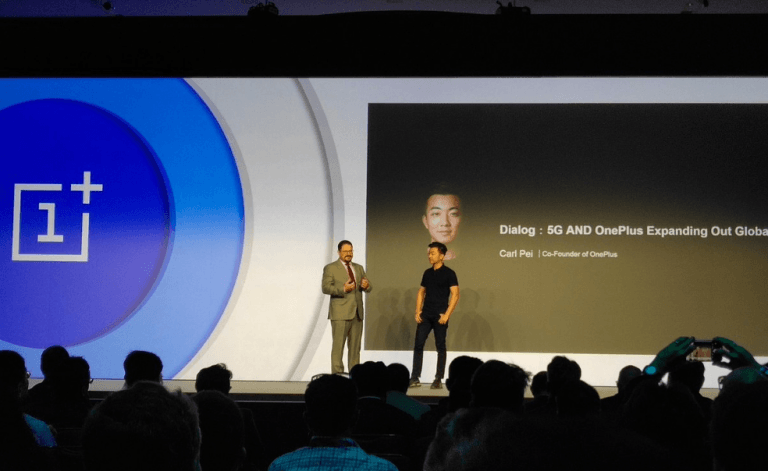 OnePlus is gearing up to unveil its next-gen OnePlus 6T flagship early next week. The phone is said to have a bezel-less design, an in-display fingerprint sensor, and no headphone jack. Just days before OnePlus 6T debut, OnePlus co-founder Carl Pei has indicated that next year's OnePlus 7 could be among the world's first phones to offer 5G support.
OnePlus 7 could be the first OnePlus phone with 5G
Speaking at a Qualcomm event in Hong Kong (via Engadget), OnePlus co-founder Carl Pei said the company would release its first 5G smartphone in 2019. The Chinese company releases only two models every year, a numbered flagship and a 'T' variant. Pei didn't mention whether OnePlus 7 or 7T would be the company's first 5G device, but we expect it to be OnePlus 7. He added that the 5G OnePlus handset will be "one of the first, if not the first" 5G phones in the world.
Excited discussing our 5G leadership plans with @cristianoamon at the @Qualcomm #4G5GSummit pic.twitter.com/ni7NsK9mQR

ADW Capital's 2020 letter: Long CDON, the future Amazon of the Nordics

ADW Capital Partners was up 119.2% for 2020, compared to a 13.77% gain for the S&P 500, an 11.17% increase for the Russell 2000, and an 8.62% return for the Russell 2000 Value Index. The fund reports an annualized return of 24.63% since its inception in 2005. Q4 2020 hedge fund letters, conferences and more Read More

— Carl Pei (@getpeid) October 23, 2018
Pei revealed that the OnePlus team had already conducted 5G tests at Qualcomm headquarters in California in August. The Chinese company has been working on 5G phones since "as early as late 2016." Qualcomm President Cristiano Amon said at the event that the first phone with its new Snapdragon X50 5G modem with downsized QTM052 mmWave antenna would debut in the first quarter of 2019.
.@oneplus to be among the first vendors to launch #5G #smartphone in 2019. – Carl Pei @getpeid #4G5GSummit pic.twitter.com/YGIR6kBgWh

— Ericsson Networks (@EricssonNetwork) October 23, 2018
OnePlus 7 would also use the Snapdragon X50 modem with downsized QTM052 mmWave antenna module. Qualcomm's 5G modem is compliant with the new 3GPP standards for 5G radios. Qualcomm in collaboration with Ericsson has announced the "successful completion of a 3GPP Rel-15 spec compliant 5G NR over-the-air (OTA) call over sub-6 GHz bands on a smartphone form factor mobile test device." Qualcomm said the OTA call was conducted in the Ericsson Lab in Stockholm.
Xiaomi launches world's first 5G phone
Qualcomm said the first 5G phone featuring its Snapdragon X50 modem would debut in the first quarter of next year. The OnePlus 7 is expected to launch in the second quarter of 2019. OnePlus traditionally refreshes its flagship line in May or June. So, which phone will be the world's first 5G device? Well, that crown goes to Xiaomi's Mi Mix 3. Xiaomi announced the Mi Mix 3 on Oct.25, and said that it would bring a 5G version of the phone in the first quarter of 2019.
Other vendors such as Huawei, Samsung, HMD Global, Motorola, LG, Oppo, and Vivo have also committed to adopting the 5G technology next year. Samsung executives have told media that the Galaxy S10, expected to hit the store shelves in March, won't be the company's first 5G phone. It means Samsung's first 5G phone could arrive even before Galaxy S10 or the company could add 5G support to the Galaxy Note 10.
However, supply chain leaks have indicated that Samsung was working on a 5G variant of the Galaxy S10 Plus. Samsung could use its own 5G modems rather than using Qualcomm's Snapdragon X50.
Wireless carriers in the US and many other countries would begin rolling out 5G services in the first half of 2019. Even if you buy a 5G phone, whether you'll be able to take advantage of the lightning fast download speeds would depend on your carrier. According to chipmakers, the early 5G devices would be bigger and less energy-efficient than their 4G counterparts because the vendors will have to work around challenges related to the initial modem, antenna, and form factor.
OnePlus 7 rumored specs
The OnePlus 7 is still several months away, and not much is known about the device. We expect it to feature an improved version of the in-display fingerprint sensor used in the upcoming OnePlus 6T. It will allow users to unlock the device by placing their finger on the screen. The OnePlus 7 will likely run Qualcomm's Snapdragon 8150 processor and at least 6GB RAM. It should run OxygenOS on top of Android Pie out of the box.
With OnePlus 7, the Chinese company could finally crack the US market. Many Chinese vendors such as OnePlus and Huawei have been trying to strike deals with wireless carriers in the US, but with little success. They already sell the SIM-free version of their devices in the US online and offline, but they have limited visibility. In the US, more than 90% smartphones are sold through wireless carriers, which makes it crucial for Chinese vendors to tie-up with carriers.
Pete Lau of OnePlus said at the MWC Shanghai that the company was in advanced talks with an unnamed US carrier to be part of their 5G launch. If it happens, it would dramatically enhance the visibility of OnePlus phones in the US. Lau has assured fans that the phones will not have any carrier bloatware even if the company starts selling its devices through carriers.