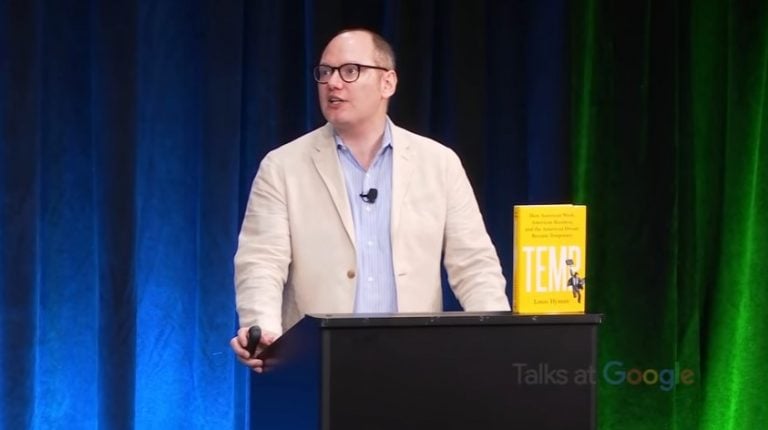 Louis Hyman, associate professor of economic history at Cornell University, discusses his new history: Temp: How American Work, American Business, And the American Dream Became Temporary. In this talk he focuses on how Silicon Valley was built through subcontracted, temporary, and undocumented labor.
Louis Hyman: "Temp: How American Work, American Business, And the American Dream Became Temporary
Q3 hedge fund letters, conference, scoops etc
Greenlight Capital Full Q2 2021 Letter: Einhorn Thinks Inflation Is Here To Stay
David Einhorn's Greenlight Capital returned -2.9% in the second quarter of 2021 compared to 8.5% for the S&P 500. According to a copy of the fund's letter, which ValueWalk has reviewed, longs contributed 5.2% in the quarter while short positions detracted 4.6%. Q2 2021 hedge fund letters, conferences and more Macro positions detracted 3.3% from Read More
Transcript
Louis Hyman: Thank you so much for having me here today and thank you. Rachel professor Dr. Rachel Professor Highman. And as a professor I'm here to remind you of lessons that you may have learned long ago when we learn about the industrial revolution in school. We hear a lot about factories and steam engines and maybe if you had a really particularly terrible teacher the power loom and we were taught that this technological innovation drives social change explains how the world works and has made it possible to work in the way that we do now. Likewise we talk about today's economy. We focus on smartphones artificial intelligence apps and here too the inexorable march of technology is thought to be responsible for disrupting traditional work for phasing out the employee who works for a regular wage or a salary and phasing in independent contractors consultants temps and freelancers. Of course none of whom are at Google. This so-called gig economy. But this narrative his role this narrative is wrong. The history of Labor shows the technology does not usually drive social change. On the contrary social change is driven by decisions about reorganizing people that reorganize our work. Only later does technology swoop in accelerate and consolidate those changes. This insight that it's not just technological determinism. It's not just market determinism it's crucial for anyone who wants to understand the insecurity and other shortcomings of the gig economy and more broadly our economy today. 4 reminds us that far from being the unavoidable consequence of progress the nature of work is part of our social fabric that progress technological or otherwise does not require insecurity.
Consider the industrial revolution well before it took place in the 19th century another revolution in work took place in the 18th century which historians call the industrious revolution. Before this Revolution people worked where they lived on a farm or in a shop. The manufacturing of textiles for instance relied on networks of independent farmers who spun and wove cloth they worked on their own. They were not employees and the industrious revolution manufacturers gathered workers under one roof where the work could be divided and supervised for the first time on a large scale. Home life and work life were separated and so this was a precondition for the industrial revolution. While factory technology would consolidate this development the creation of factory technology was only possible because people were already in the factories. Solving for this world a power loom would have no purpose if people still worked in their houses. And the story continues today in what I call in the book The Second industrious revolution. In today's digital revolution in the world and the economy that has come into being since the 1970s it's often described as a second machine age. But it's more like a second industrious revolution that's been underway for at least 40 years encompassing the collapse since the 1970s of the relatively secure work of the postwar period. This is the post industrialization. This is the rise of the service economy and over these four decades.