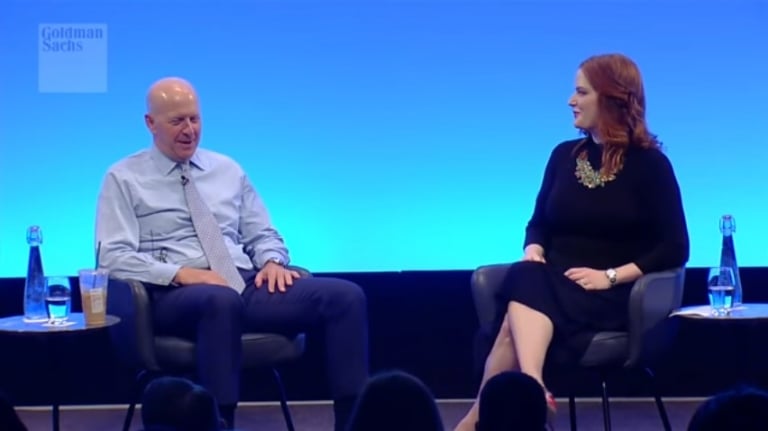 As David Solomon began his tenure as Goldman Sachs CEO, he sat down with Lloyd Blankfein to discuss what it takes to do the job. This video is the premiere of "Catch-Up With David," a series featuring David Solomon speaking with business leaders and Goldman Sachs people about trends and ideas shaping markets and the economy.

Lloyd Blankfein: "Catch-Up With David"
Q3 hedge fund letters, conference, scoops etc
This Too Value Fund Explains Why Turkey Is Ripe For Investment Right Now
The Talas Turkey Value Fund returned 9.5% net for the first quarter on a concentrated portfolio in which 93% of its capital is invested in 14 holdings. The MSCI Turkey Index returned 13.1% for the first quarter, while the MSCI All-Country ex-USA was down 5.4%. Background of the Talas Turkey Value Fund Since its inception Read More
Transcript
So. I'm sitting and I'm thinking about my day. I'm excited. But I remember so vividly. Back in May 2006. Your first day. And I remember how quickly it happened. I remember hearing from you over Memorial Day weekend. And then like the next day you were the CEO having now done it and looking back. What do you wish you knew that first day. That you can pass on to me that will help me.
Well I think. You know I think you have a lot of the stuff down I can tell you what I missed. I wasn't used to it was a very big gap. Between the attention I got. The day before. And the attention I got the day I started as CEO. And it was a very very big chasm. I think you had a. Kind of CEO elect. So are waiting the CEO in waiting. You had a time to you know gin up for that and there's an adjustment that has to be made for that not only just the weirdness of it but also the response that you have to do and how to organize your calendar and select and prioritize a sense of what's owed to you and what you owe to others. And for me it was kind of sudden there's undoubtedly disadvantages advantages to everything. But one of the things that because of the radical nature of my transition it left me with a sense of what I would want to do for my for my successor.
By the way I'm appreciative other because it's I can't imagine as I've gone through a bunch of what I've gone through the last few months and getting ready for this and moving to the next stage. I can't imagine if I had to do it the way you did. Honestly it's massive. So hopefully I would have risen to the occasion.
But I have that I have total confidence. And beyond that I will say you are so much more equipped and prepared than I was when I when I went in because my eyes of my experiences were very fairly localized on the trading side of the business. That's a long time ago now right when I got to be president and obviously I started to comprehend the whole firm but not as long period. Your background you were in this trading division you were a capital market originator obviously investment banker so your comprehension of the breadth of the firm's activities. It was much more in place and when I got the job. When you when you look back. I know you you you've really.
You've loved this job. Not every day not the moment for sure. But I just see how much energy you still have around the farm or the place of the partnership of the people. There's no question that you love it you've got enormous passion for it. What what what have you love the most.
You know I just you know not to be. That's a quibble on semantics. But let me tell you I'm sure from the outside it didn't look like every moment was a lover definitely not. I would say I. Appreciated the job I value did I. I liked and appreciated the responsibility and the consequences of it. And in any given moment if I wanted to stop I could have made it stop and I didn't so loved is a funny word because obviously when you're you know some of the things I had to go through with time and some of the press and some of the testimony in certain circumstances and the pressure and can't say gosh I loved every moment of it. But I always appreciated it and the weight of responsibility I valued because we were always in the arena. You could always I could always have stepped out and made myself an observer. But there's something about being in the arena engaging in that thing and gosh I wouldn't trade it any set of experiences little ones I had. Now that's I mean that's one of the things that. I've really learned watching you over all these years is the way. You know the way you.
Updated on