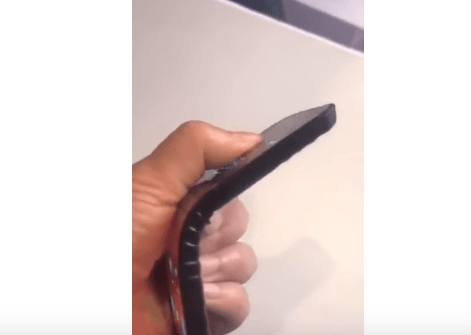 It seems the folding smartphone will be the next big thing as many big names in the smartphone world, such as Samsung and Huawei, have already revealed their intentions to release such a handset soon. Now one more smartphone maker from China is joining the list: Lenovo.
What to expect from the folding Lenovo smartphone
Lenovo first showed off a folding smartphone at Tech World in June 2016. At the time, the concept created a lot of buzz, but the company offered no further details on it. However, a leaked video of a folding Lenovo smartphone has found its way onto the web, thanks to a tipster named Jed John.
#lenovo #foldable pic.twitter.com/6IHqOT9m0S

Northern Pipe Line Wasn't Graham's Only Activist Situation

We wrote about Ben Graham's activism at northern pipe line, but there are other interesting stories involving the father of value investing Value investing and activism go hand-in-hand. Benjamin Graham, the godfather of value investing, discovered how important it is to incorporate activism into a value strategy relatively early in his career, a strategy that Read More

— ? ?️ ? ? ? ?? (@bang_gogo_) September 26, 2018
The video suggests the Chinese company is still very serious about releasing a folding smartphone and may even launch it soon. The 10-second YouTube video uploaded to Weibo reveals a bendable design quite similar to the one showcased by the company in 2016. The smartphone shown in the video has a tall, slim form factor. Further, the video shows a noticeable chin at the bottom of the device.
Additionally, the video reveals thick bezels on the top and bottom and the presence of soft navigation keys. We can also see a black spot on the right edge of the display in the center. It appears to be more of an issue than anything done intentionally. The handset does not fold into half. Its chassis is based on a durable "hinge" mechanism and functions as a "pivot" to allow the display panel to fold.
A wearable smartphone
One can also easily wear it like a smartwatch. The folding Lenovo smartphone is seen running on a customized Android operating system. Its interface changes when it is worn on the wrist. For example, it shows new fitness settings such as a step counter and the number of calories burned. This seems to suggest the folding Lenovo smartphone will also work as a fitness tracker.
If this wearable smartphone is the same as the one showcased in 2016, it will have a 4.35-inch AMOLED display and support an eSIM card, allowing users to easily switch networks. Though Lenovo did not confirm a release date for the phone, the Weibo post suggests it will launch in October.
"We are just so terribly good. It's time to show off. We'll see you in October," reads the caption on the video. It is not clear if the company will launch the device or just showcase it this month. The Chinese company has not confirmed or talked about any event in October.
The folding Lenovo smartphone is not the first wearable smartphone concept we have seen. Nubia, also a Chinese company, unveiled a wearable smartphone at IFA 2018. Nubia's wearable smartphone features a large curved OLED touchscreen display. Further, it has a front camera, a microphone and buttons on both sides.
Others working on folding smartphones
Other companies known or believed to be working on a folding smartphone include Samsung, Motorola, LG and Huawei. Some of these phones will reportedly open like a book, while others will look more like a classic flip phone.
Samsung Mobile CEO D.J. Koh recently confirmed that the company's folding smartphone will be called the Galaxy F. In a recent interview, Koh confirmed that more details about the phone will be revealed at the Samsung Developer Conference, which is scheduled for Nov. 7-8 in San Francisco.
The launch date for the Samsung phone is not confirmed yet, but it is speculated to debut by the end of this year or at CES 2019. Samsung's foldable phone reportedly won't feature Gorilla Glass.
Apple is also believed to be working on a foldable iPhone which will be released in 2020. Huawei, which already filed a patent for a foldable phone with the World Intellectual property Organization (WIPO), is planning to launch a folding smartphone by the year's end.
A hint about a Motorola phone with a flexible display came in February 2017.
At the time, Yang Yuanqing, CEO of Lenovo, which owns the Motorola brand, told TechRadar, "With the new technology, particularly foldable screens, I think you will see more and more innovation on our smartphone design. So hopefully what you just described [the Motorola Razr brand] will be developed or realised very soon."
Motorola also filed a patent for a folding dual-screen phone later.
So we have quite a few brands working on a foldable phone, but it will be interesting to see which will be the first to launch one.