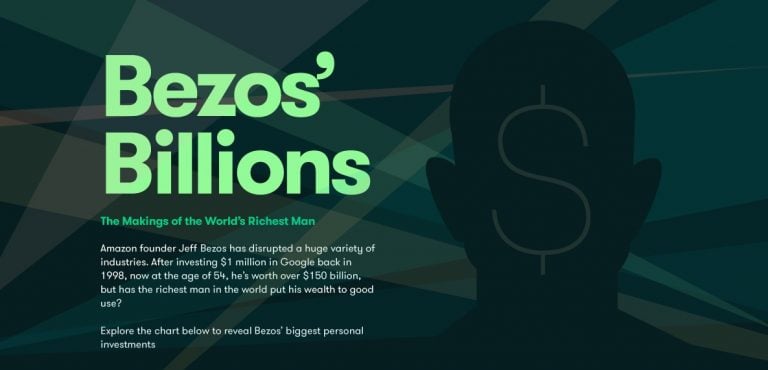 Jeff Bezos is an American technology entrepreneur, investor and philanthropist, best known as the founder, chairman and chief executive officer of Amazon. Having founded E-commerce and cloud computing company Amazon, (though originally as an online bookstore) in July 1994, the tech giant is now the largest internet retailer in the world. He is not only the richest man but also the richest  ever to live and the first person in modern history to accumulate a fortune of over $100 billion. currently 65% richer than Bill Gates, the world's second-richest man who has a net worth just south of $100 billion. But his massive fortune extends well beyond Amazon, and his investment portfolio may gives us valuable insight into this.
So how does Amazon CEO Jeff Bezos, the richest man in the world, spend his fortune?
Option Trading and the Future of Option Alpha with Option Alpha's Kirk Du Plessis
ValueWalk's Raul Panganiban interviews Kirk Du Plessis, Founder and CEO of Option Alpha, and discuss Option Alpha and his general approach to investing. Q1 2021 hedge fund letters, conferences and more The following is a computer generated transcript and may contain some errors. Interview with Option Alpha's Kirk Du Plessis
Q3 hedge fund letters, conference, scoops etc
Technology is the sector Bezos seems most comfortable investing in, with investments in a total of 11 companies. His biggest investment in the tech industry was $60 million in a company called Domo, a computer software company, which specialises in business intelligence tools and data visualisation. Founded in 2011 by Josh James, Domo designs and delivers an executive management platform, as a service to help executives manage their business.
Other investments in the technology industry include $7.4 million in Pelago, an app that enabled people to capture and share moments, but which was later acquired by Groupon in 2011. Real-time human-powered search engine ChaCha received $12 million in investments from Bezos, and artificial intelligence company Vicarious (who has also received investments from technology legends such as Elon Musk and Mark Zuckerberg), has received $12 million over the years.
The biggest investment Bezos has ever made was $200 million in EVERFI, a company which aims to revolutionise the way education is developed and delivered. EVERFI offers an online education curriculum of training seminars and awareness campaigns, aimed at a variety of different users. Other tech heavyweights investing in EVERFI include Google Chairman Eric Schmidt, and Twitter co-founder Evan Williams.
Other notable personal investment include $112 million in Airbnb, the global travel community which offers its 150 million plus users with access to over 5 million unique places to stay in more than 191 countries. In 2011, Bezos invested $37 million in global taxi app Uber, which is used in over 600 cities around the world.
With a mix of investments from education to hospitality, it is clear that Bezos doesn't restrict himself to one or two sectors - his third biggest investment over the years has been in Zocdoc, an online medical care appointment booking service, providing free of charge medical care search facilities. The company, which was founded in 2007, provides a scheduling system on paid subscription basis for medical personnel, with the Zocdoc database including specialities, range of services, office locations, and user-submitted reviews.
Bezos has even invested $37 million in the likes of American financial and business online news website Business Insider, which receives an average of over 160,000 visitors a month. Let's not also forget that Bezos was one of the first to invest $250,00 of his own personal funds into the then fledgling search engine Google, back in 1998, which is now one of Amazon's top rivals.
In addition to his personal investments, Bezos is also the founder of Blue Origin, an aerospace company. It was in 2000, with Amazon on its way to commercial dominance, that Bezos founded the private spacefaring company, which he has recently stated that he will invest over $1 billion in 2019. With Blue Origin, Bezos is now in an intense rivalry, or 'Billionaire's space race' with the likes of Richard Branson and Virgin Galantic, and Elon Musk with SpaceX.
And his spending spree doesn't stop there. He also purchased the Washington Post for a cool $250 million in 2013. At the time, the Post was a legacy media company facing years of decline, while Bezos had no prior experience in the newspaper business. Fast forward five years, and Bezos has completely changed the outlook of the 140 year old newspaper.
As Bezos expands his empire, he just keeps getting richer and richer, but what will he invest in next?
Explore the infographic by RS Components below to see all of Bezos' biggest personal investments which made him the richest man ever...