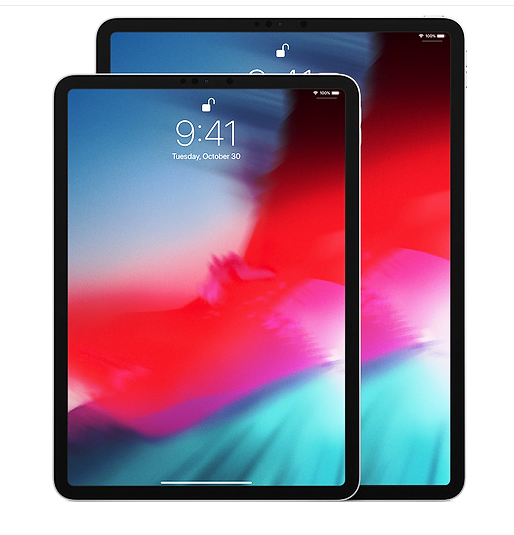 Now that Apple has released the 2018 iPad Pro, it is the perfect time to compare it with other options available to professional users. The fight is mainly between Apple's 2018 iPad Pro, the Microsoft Surface Pro 6 and the Google Pixel Slate.
What has changed with the iPad Pro?
Apple has given the iPad Pro the biggest makeover since first introducing the premium tablet in 2015. The new 11-inch iPad Pro and the revamped 12.9-inch model come with slimmer bezels and  USB Type-C ports. Further, Apple has added Pencil support and a faster processor to make it a perfect choice for professionals.
Apple's two new iPad Pro models have rounded corners, thinner bezels and a slightly slimmer profile. There is no Home button, which has been replaced by Apple's Face ID authentication technology. Apple's 2018 iPad Pro is now available for pre-order, and shipping will start Nov. 7. However, competition is tough for Apple this time as there are many worthy options available in the market, with the Surface Pro 6 and the Google Pixel Slate seen as the biggest threats.
Robinhood 2021 Conference: Cathie Wood discusses her investment process with Lee Ainslie [Exclusive]
ARK Invest is known for targeting high-growth technology companies, with one of its most recent additions being DraftKings. In an interview with Maverick's Lee Ainslie at the Robinhood Investors Conference this week, Cathie Wood of ARK Invest discussed the firm's process and updated its views on some positions, including Tesla. Q1 2021 hedge fund letters, Read More
If you are planning to buy one of these tablets this holiday season but are confused about which one to buy, this comparison of the three should help you make an informed decision. For comparison, we have only considered the 12.9-inch iPad Pro, as the Surface Pro 6 and Google Pixel Slate are also over 12 inches.
2018 iPad Pro vs. Pixel Slate vs. Surface Pro 6
Apple's 12.9-inch iPad Pro features a Retina display and has a 2,732 x 2,048 resolution (264 ppi). The Pixel Slate has a 12.3-inch Molecular display with 3,000 x 2,000 resolution (293 ppi), while the Surface Pro 6 sports a 12.3-inch PixelSense display with 2,736 x 1,824 resolution (267 ppi).
Apple's 2018 iPad Pro is powered by an A12X Bionic process which includes Neural Engine technology. Microsoft's tablet has the eighth-gen Intel Core i5 or i7, while Google has used the eighth-gen Intel Celeron or Core m3, i5 or i7.
The storage options are mostly similar for all three. The 2018 iPad Pro will come in 64 GB / 256 GB / 512 GB / 1TB options, while Google's product is available in 32 GB / 64 GB / 128 GB / 256 GB options. The Surface Pro comes in 128 GB / 256 GB / 512 GB / 1 TB variants. As far as RAM goes, the Pixel Slate is available in 4GB / 8GB / 16GB options, while the Surface tablet has 8GB and 16GB RAM variants. Information on the RAM size of the new iPad Pro is not yet available.
In terms of connectivity, the iPad Pro 2018 offers dual-band 802.11ac Wi-Fi, Bluetooth 5.0, USB-C, and Smart Connector. The Pixel Slate supports dual-band 802.11ac, Bluetooth 4.2, two USB-C ports, and a Pixel Slate keyboard port. Finally, the Surface Pro 6 supports 802.11ac, Bluetooth 4.1, a Mini DisplayPort, Surface Connect, Surface Type Cover port, MicroSDXC, USB 3.0, and 3.5 mm headphone jack.
As far as the cameras go, the iPad Pro features a 12-megapixel rear camera and 7-megapixel front camera with support for Portrait mode and Portrait Lighting. The Google Pixel Slate has an 8-megapixel camera on both front and back. Microsoft has added a 5-megapixel camera on the front with support for Windows Hello, while the rear camera is 8 megapixels.
The physical dimensions of the 2018 iPad Pro are 11.0 x 8.5 x 0.23 inches, while it weighs 1.4 pounds. The Pixel Slate is 11.5 x 8.0 x 0.27 inches and weighs 1.6 pounds, while the Surface Pro 6 is 11.5 x 7.9 x 0.33 inches and weighs 1.7 pounds.
Apple claims the 2018 iPad Pro 2018 will offer up to 10 hours of battery life, and Google makes the same claims for the Pixel Slate. However, Microsoft believes the Surface Pro should run up to 13.5 hours on a single charge.
In terms of the operating systems, the iPad Pro runs on iOS 12, while the Pixel Slate runs on the Chrome OS, and the Surface 6 runs on Windows 10 Home. Of the three, only Apple's product supports cellular network via nano-SIM and eSIM. The iPad Pro also features Face ID as an unlocking option, compared to the fingerprint sensor and Windows Hello for the Pixel Slate and the Surface Pro 6, respectively.
Apple's 12.9-inch iPad Pro starts at $999, while the Pixel Slate has a starting price of $599. The Surface Pro 6 starts at $899. Users also have the option to buy an optional keyboard and stylus. For the iPad, the optional keyboard and stylus cost $199 and $129, respectively. Similar add-ons for the Pixel Slate will set you back $199 and $99, while for the Surface Pro, the prices are $129 and $99. Apple has updated the stylus to include wireless charging as well.
Hopefully, the above comparison would help you select the right device.