Hedge fund managers and market watchers have been saying it for months. Tech stocks are done; it's time to ditch the pricey momentum names in favor of value stocks. Unfortunately it seems like every time we hear that, the tech sector pauses ever so briefly before taking another leap even higher into the sky. So when will the markets really be ready to say goodbye to high-flying tech stocks?
We might finally be there. Maybe. Perhaps. We'll just have to wait and see.
Investors unloaded equities last week
Bank of America Merrill Lynch strategists Jill Carey Hall and Savita Subramanian said in their "Equity Client Flow Trends" report this week that their firm's clients were big sellers of stocks last week. The broad-based selling of single stocks followed a week of net buying.
Ray Dalio At Robin Hood 2021: The Market Is Not In A Bubble
At this year's annual Robin Hood conference, which was held virtually, the founder of the world's largest hedge fund, Ray Dalio, talked about asset bubbles and how investors could detect as well as deal with bubbles in the marketplace. Q1 2021 hedge fund letters, conferences and more Dalio believes that by studying past market cycles Read More
Q3 hedge fund letters, conference, scoops etc
Institutional clients led the equity sales. Private clients sold stocks for the ninth consecutive week, although last week they recorded the largest sales in about three months. However, hedge funds shifted from selling to buying after four weeks of selling.
Are tech stock sales finally here to stay?
The BAML team said clients sold stocks across all sectors, but the largest net sales were in tech stocks and consumer discretionary. Both sectors have been this year's biggest winners so far, which suggests the big momentum names could finally be starting to slow down, if the trend holds, of course. Consumer discretionary sales reached the highest level in nearly two years. In fact, sales of discretionary stocks were at the fourth-highest level since BAML started keeping data in 2008.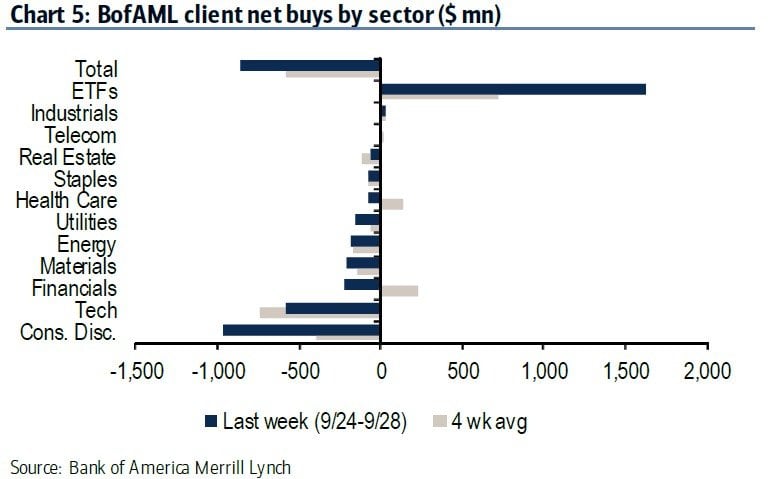 Although discretionary and tech stocks were the most out of favor in terms of sales last week, the firm said the one sector that was "the most persistently negative" in terms of flow sentiment — based on sales over the last 12 weeks — was energy. The BAML team said institutional clients, private investors and hedge funds were all unloading energy stocks last week. In fact, energy was the only sector the firm's clients sold throughout all of the third quarter.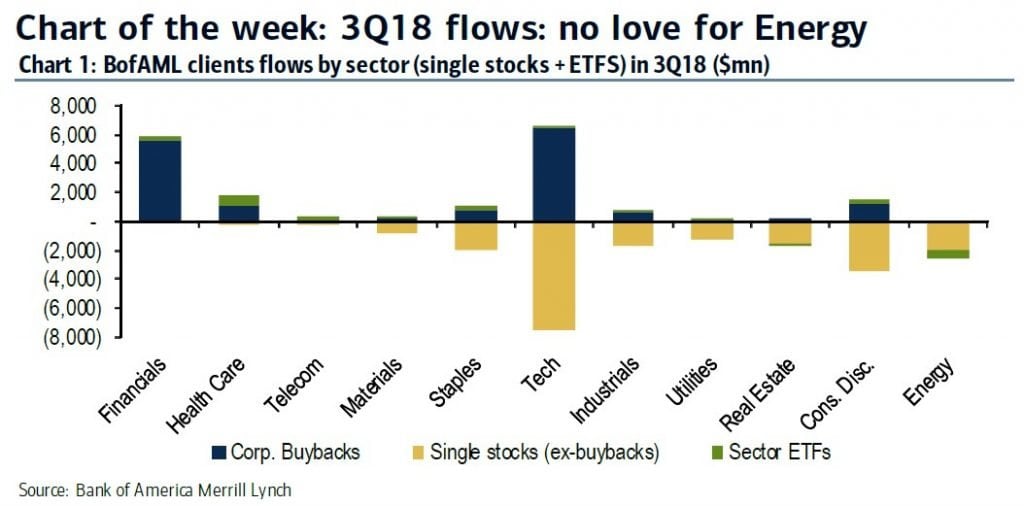 All three investor types also sold tech stocks, discretionary stocks and utilities. Industrials was the only sector BAML clients were not broad-based sellers of last week. In fact, the sector recorded inflows in three of the last four weeks, the firm added.
Share purchases slowing, ETF buying continues
Another interesting trend they noted was a meaningful downshift in share buybacks among corporate clients. Going into earnings season, share buybacks plunged to their lowest level in two years. However, repurchase are still up 88% year to date on a year-over-year basis. Buybacks tumbled 22% quarter over quarter in Q3. Despite that plunge, repurchases were still at their second-highest level since the third quarter of 2009.
BAML's clients were also buying exchange-traded funds last week. Most of that buying was in the healthcare, telecom and communication services sectors. In fact, the firm found that ETF buying in the telecom and communications sectors was at the highest level since January 2017. The sector has recorded inflows among ETFs for the last four weeks, making it the longest buying streak recently.
Last week marked the third consecutive week of buying for equity ETFs, with the highest concentrations in blend ETFs. BAML clients sold growth and value ETFs.
This article originally appeared on ValueWalk Premium