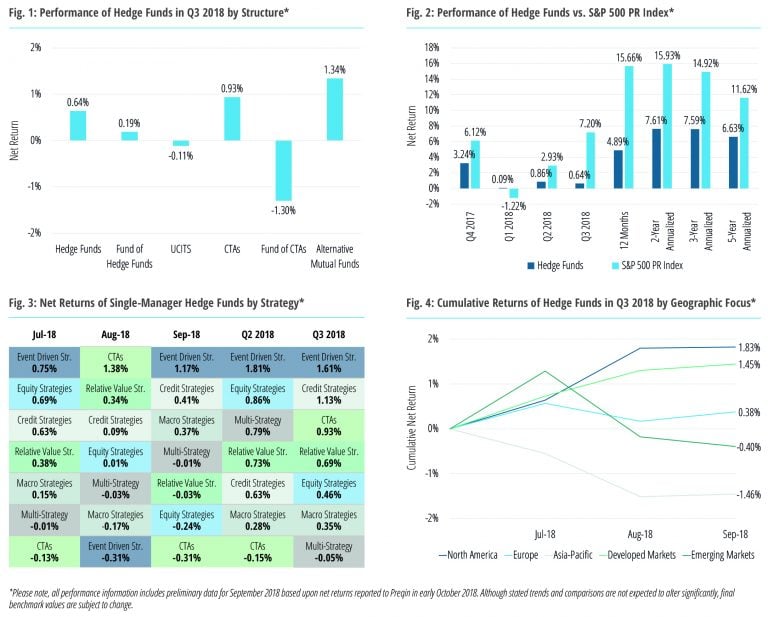 This month Preqin brings you the Q3 2018 hedge fund benchmark quarterly updates.

Performance Update
On the back of the industry's slowest start to a year in the past 10 years, performance slowed yet further in Q3 2018, with the Preqin All-Strategies Hedge Fund benchmark returning 0.64% (Fig. 1). Despite a slowdown in performance from Q2, North America-focused hedge funds remain the best performing region, returning 1.83% for Q3 (Fig. 4), while hedge funds focused on Asia-Pacific saw their YTD losses slip deeper into negative territory in their worst quarter since Q1 2016.
CTA vehicles bounced back from a negative Q2 by recording their first positive quarter of 2018. Conversely, funds of CTAs struggled: Q3 was their third consecutive quarter of negative returns and their worst quarter of 2018. Alternative mutual funds once again outperformed their European liquid alternative counterparts, returning 1.34% against the 0.11% loss generated by UCITS-structured vehicles over the same period.
How A Weakening PE Market Serves As Another Sign Of A Weakening Economy
Amid the turmoil in the public markets and the staggering macroeconomic environment, it should come as no surprise that the private markets are also struggling. In fact, there are some important links between private equity and the current economic environment. A closer look at PE reveals that the industry often serves as a leading indicator Read More
Q3 hedge fund letters, conference, scoops etc
During Q3 2018, event driven strategies and credit strategies outperformed all other top-level hedge fund strategies tracked by Preqin, returning 1.61% and 1.13% respectively (Fig. 3). Multistrategy hedge funds recorded their first negative quarter since Q3 2015, down 0.05% for the period.
Hedge Fund Benchmark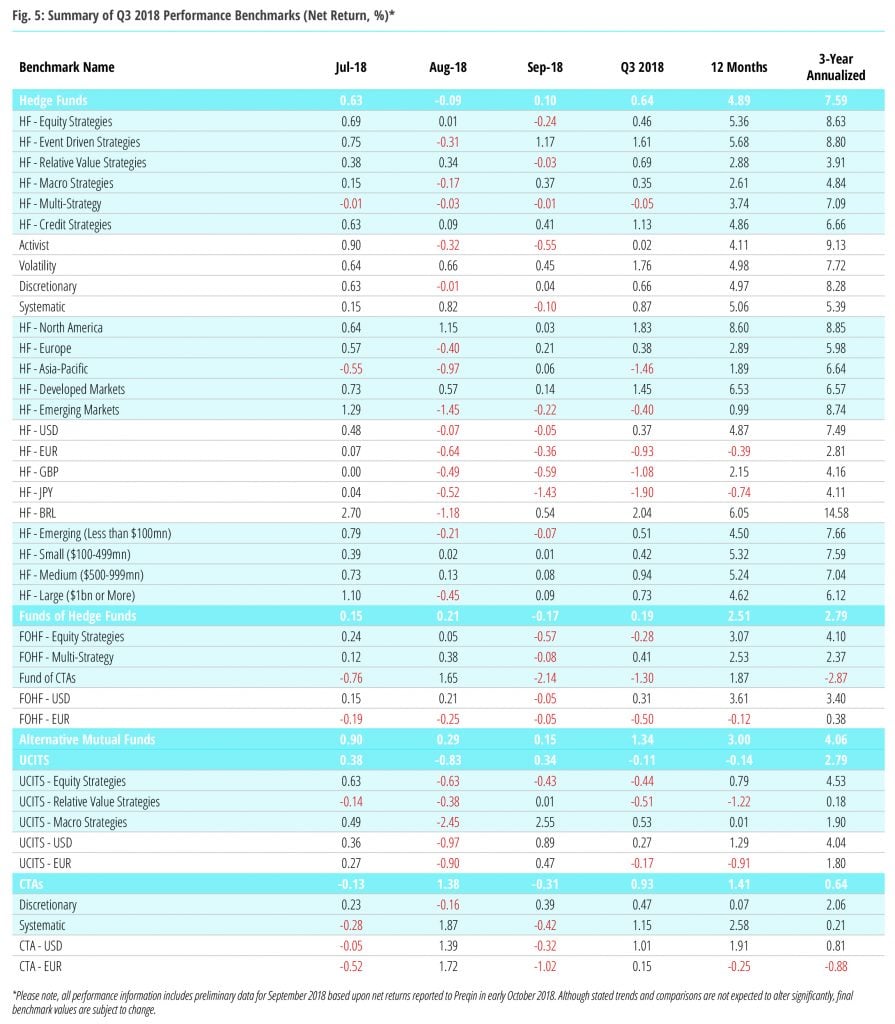 Largest Fund Managers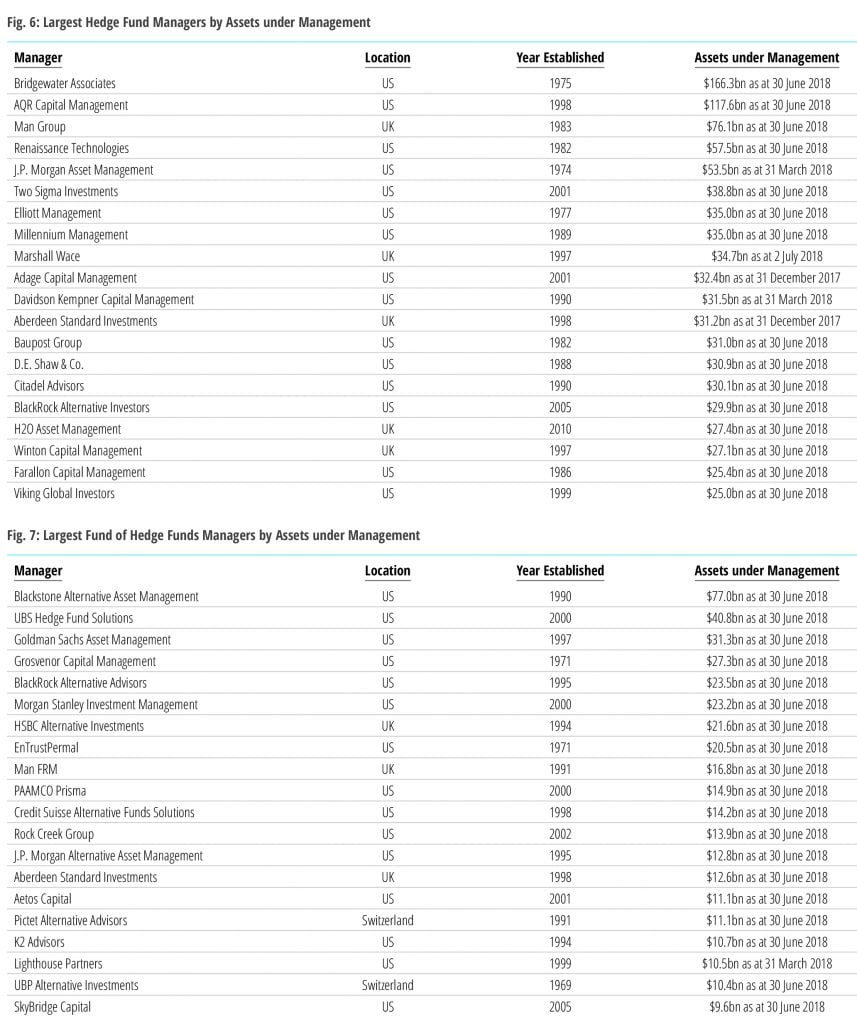 Fund Launches
In Q3 2018, 79 new hedge funds were established globally, the majority (81%) of which are single-manager funds (Fig. 8). Following two successive quarters of contributing a healthy 6% of total launch activity, funds of hedge funds represented only 1% of launches in Q3 2018. Europe accounted for 39% of fund launches, only five percentage points behind North America (Fig. 9). Man Group and Winton Capital Management, two of Europe's largest hedge fund managers, were among those launching new funds. Funds launched by Asia-Pacific-based managers increased from 9% last quarter to 15% in Q3.
Among institutional investors surveyed by Preqin in H2 2018, 28% believe Asia-Pacific presents the best opportunities for the next 12 months. Funds focused on the Far East have seen a surge in launch activity in Q3 2018, despite the Preqin All-Asia-Pacific Hedge Fund benchmark returning -3.02% YTD. Managers are backing the region to provide opportunities in the future, with 18% of launches in Q3 pursuing a core Asia-Pacific focus (Fig. 10). With Brexit deadline day looming over the UK and EU, the proportion of launches focused on Europe continues to grow as managers prepare to take advantage of a changing landscape.
Entering 2018, a greater proportion of surveyed investors were looking to decrease rather than increase their allocation to equity strategies (16% vs. 14%). However, Q3 2018 has recorded much activity for the strategy: nearly half of launches were attributed to equity strategies (Fig. 11). Conversely, macro and credit strategies – both favoured by investors coming into 2018 – have fallen short of the launch levels experienced earlier in the year.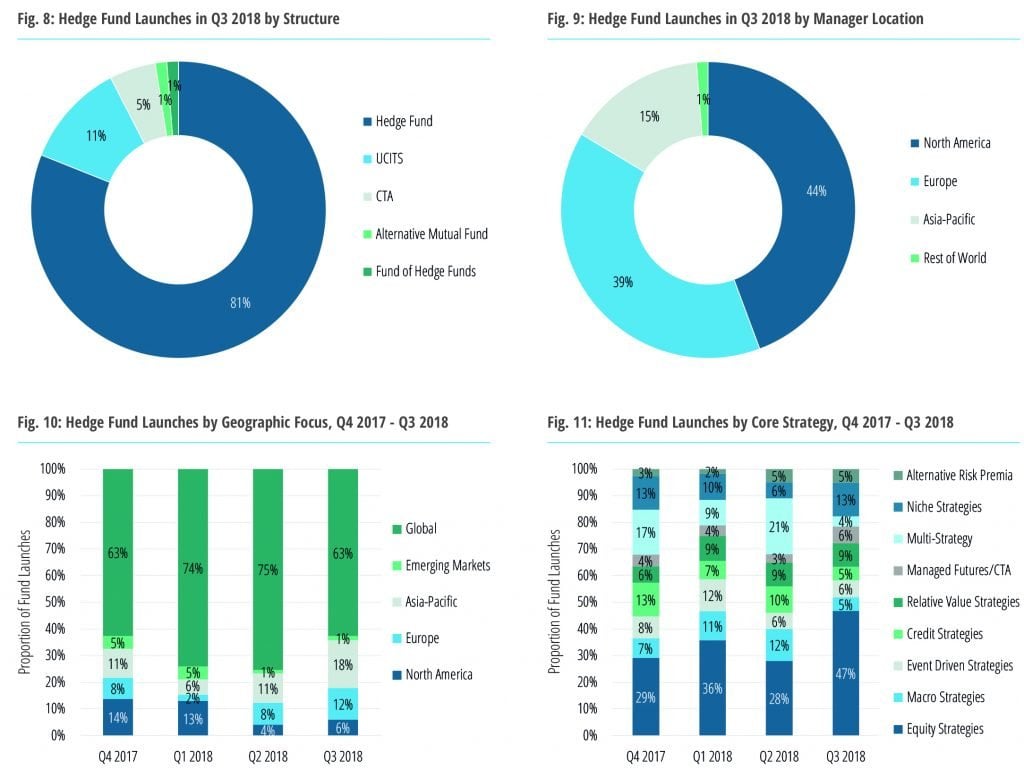 Fund Searches
Over half (57%) of the fund searches issued by hedge fund investors in Q3 2017 came from those based in North America (Fig. 12), up from 44% in Q2 2017. Europe-based investors accounted for almost a third (30%) of searches issued.
The most sought-after strategy among investors in the next 12 months is long/short equity, which accounted for 38% of fund searches issued during the quarter (Fig. 13). Macro strategies represented 20% of fund searches in Q3 2018, closely followed by multi-strategy vehicles (18%).
The vast majority (93%) of investors plan to gain access to the hedge fund asset class via commingled vehicles in the year ahead (Fig. 14). Other structures, such as managed accounts and UCITS, are targeted by far smaller proportions of investors – 14% and 9% respectively.
As in previous quarters, fund of hedge funds managers issued over half (57%) of investor searches in Q3 2017 (Fig. 15). Private wealth firms followed: family offices and wealth managers accounted for a combined 20%, while asset managers represented just 5% of investor searches.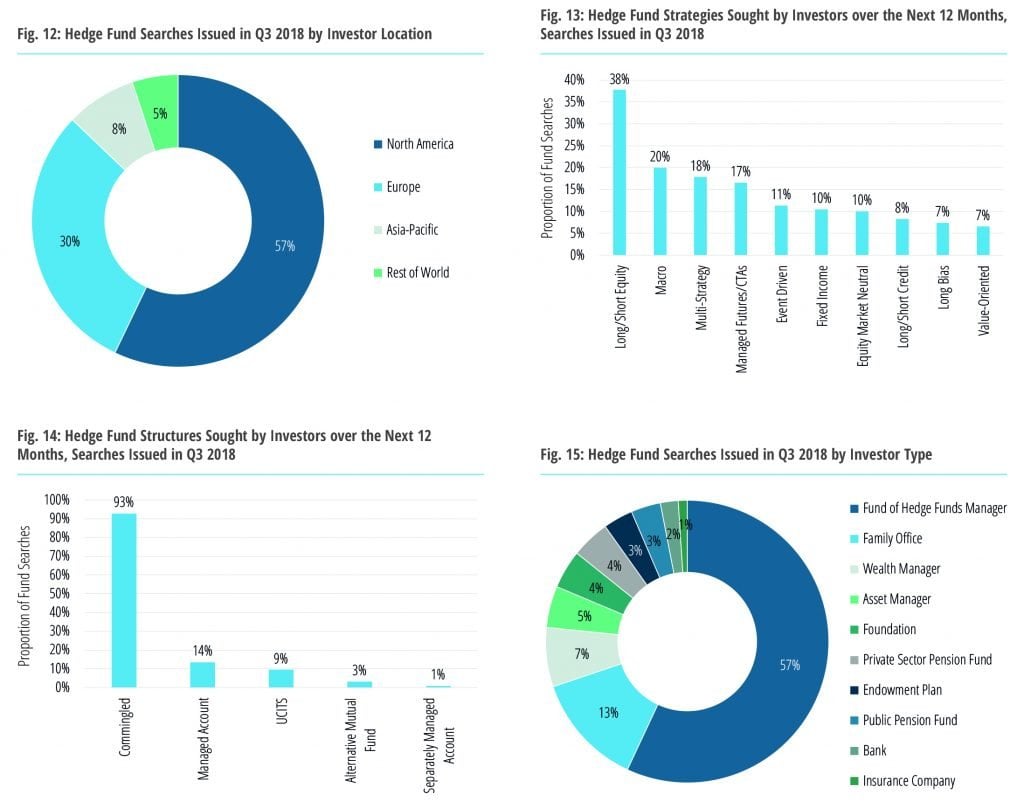 Updated on