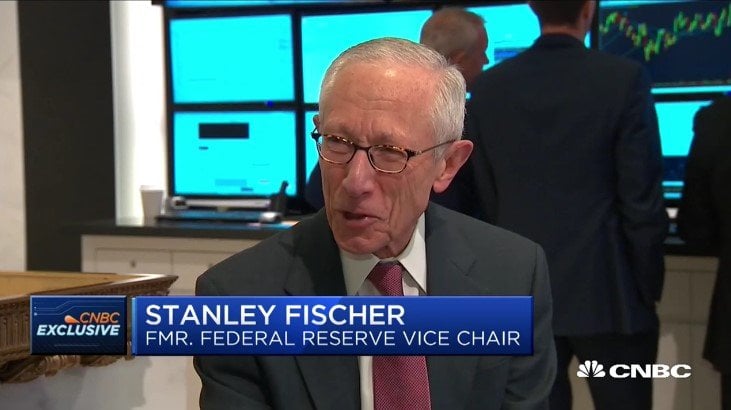 CNBC Transcript: Former Federal Reserve Vice Chairman Stanley Fischer Speaks with CNBC's "Squawk on the Street" Today
WHEN: Today, Thursday, October 18, 2018
WHERE: CNBC's "Squawk on the Street"
Greenlight Capital Full Q2 2021 Letter: Einhorn Thinks Inflation Is Here To Stay
David Einhorn's Greenlight Capital returned -2.9% in the second quarter of 2021 compared to 8.5% for the S&P 500. According to a copy of the fund's letter, which ValueWalk has reviewed, longs contributed 5.2% in the quarter while short positions detracted 4.6%. Q2 2021 hedge fund letters, conferences and more Macro positions detracted 3.3% from Read More
The following is the unofficial transcript of a CNBC interview with Former Federal Reserve Vice Chairman Stanley Fischer on CNBC's "Squawk on the Street" (M-F 9AM – 11AM) today Thursday, October 18th. The following are links to video from the interview on CNBC.com:
Q3 hedge fund letters, conference, scoops etc
Former Fed Vice Chairman Stanley to Powell: Don't listen to the politicians or let them move you
Trade war with China is the big threat for the economy, says former Fed vice chair
I don't think the Fed should take a pause right now, says former vice chair Stanley Fischer
All references must be sourced to CNBC.
SARA EISEN: ONE WEEK SINCE THE WORST SELLOFF IN STOCKS AND IN ITS WAKE PRESIDENT TRUMP CONTINUES TO BLAME THE FEDERAL RESERVE. HERE'S RECENT QUOTES FROM THE PRESIDENT. MY BIGGEST THREAT, RAISING RATES TOO FAST THE FED IS, QUOTE, GOING LOCO, OUT OF CONTROL, I'M NOT HAPPY WITH WHAT HE'S DOING THAT'S ALL BEEN IN RECENT WEEKS. JOINING US NOW IS THE FEDERAL RESERVE VICE CHAIRMAN STANLEY FISCHER, ALSO FORMER GOVERNOR OF THE BANK OF ISRAEL WELCOME TO THE NEW YORK STOCK EXCHANGE.
STANLEY FISCHER: THANKS, SARA.
EISEN: WHAT DO YOU THINK WHEN YOU HEAR THE PRESIDENT CALL THE FED LOCO
FISCHER: WELL, I DON'T THINK IT HELPS AT ALL EVEN IF HE THINKS THAT SO THE FED IS GOING TO TRY AND DEMONSTRATE ITS TOTALLY INDEPENDENT POLITICALLY AND IT IS NOT GOING TO REACT TO THAT. AND THEN THE QUESTION IS WHAT DO THEY DO TO SHOW THEY ARE NOT REACTING THEY COULD GO EITHER WAY THEY COULD PROBABLY RAISE RATES FASTER, WHICH IS NOT WHAT HE'S EXACTLY LOOKING FOR BUT I BELIEVE THIS IS A HIGHLY PROFESSIONAL BOARD THE FED BOARD WAS CHOSEN VERY WELL BY THE ADMINISTRATION AND IT'S A GOOD GROUP OF PEOPLE AND THEY WILL DO WHAT THEY KNOW THEY HAVE TO DO THEY HAVE TO MAKE THEIR PROFESSIONAL JUDGMENT AND THAT SHOULD BE WHAT THE INTEREST RATES IS AND IT SHOULD BE TOTALLY INDEPENDENT OF POLITICAL PRESSURES.
EISEN: IS THAT POSSIBLE TO DO? IT SOUNDS LIKE WHAT YOU'RE SUGGESTING IS THAT THIS WILL ACTUALLY IMPACT POLICY THAT THEY MIGHT CONTINUE TO RAISE RATES JUST TO PROVE TO THE PRESIDENT THAT THEY'RE INDEPENDENT.
FISCHER: I'M SAYING THERE IS THAT POSSIBILITY. I DON'T THINK THIS GROUP OF PEOPLE WILL DO IT. BUT IF THE RATES GO UP THEY'LL BE THE EXCUSE I TOLD THEM NOT TO AND THEY WENT AND DID IT AND OF COURSE IF IT SUCCEEDS AND WE DON'T HAVE MUCH INFLATION, NOT GOING TO SAY I GUESS I GOT IT WRONG, JUST GOING TO FALL BY THE WAYSIDE THAT THIS HAPPENED
EISEN: SHOULD THE FED TAKE A PAUSE RIGHT NOW
FISCHER: I DON'T THINK THE FED SHOULD TAKE A PAUSE RIGHT NOW BUT IT'S A YEAR SINCE I LEFT THE FED AND THINGS HAPPEN. THE ECONOMY ACTUALLY SEEMS TO BE DOING EVEN BETTER THAN WE EXPECTED IT WOULD A YEAR AGO AND I TRUST THEIR JUDGMENT THEY'RE A VERY GOOD BUNCH OF PEOPLE.
EISEN: ALAN GREENSPAN, FORMER FEDERAL RESERVE CHAIRMAN, THIS MORNING SAID ALL PRESIDENTS COMPLAIN ABOUT FED POLICIES OR HAVE SOME IDEAS ABOUT IT, THE FED SHOULD PUT ON ITS EAR MUFFS.
FISCHER: WELL, HE'S RIGHT. AND THE SEASON IS RIGHT FOR THAT AS WELL.
EISEN: DO YOU WORRY ABOUT THE FED'S INDEPENDENCE IN THIS KIND OF ENVIRONMENT.
FISCHER: WELL, THE CENTRAL BANK IS NEVER FULLY INDEPENDENT IN THE SENSE THAT THE GOVERNMENT CAN CHANGE THE LAW. I DON'T THINK THEY WANT TO DO THAT SO I DON'T WORRY THAT MUCH ABOUT THEIR INDEPENDENCE BUT I DO WORRY ABOUT HOW THE MARKETS WILL INTERPRET WHAT THEY DO.
EISEN: ON THIS QUESTION OF WHAT THEY'RE GOING TO DO NEXT, THE ECONOMY LOOKS GOOD DATA COMING IN STRONG BUT INFLATION DOESN'T APPEAR TO BE OUT OF CONTROL HOW DO YOU EXPLAIN THAT?
FISCHER: IT'S A GLOBAL PROBLEM, EVERY COUNTRY YOU GO TO CAN'T UNDERSTAND WHY INFLATION IS LOW. LISTENING TO OTHER COUNTRIES, THEY THINK IT'S COMPETITION FROM LOWER INCOME COUNTRIES THAT IS KEEPING WAGES DOWN THAT'S A POSSIBILITY BUT WE DON'T REALLY KNOW AND IT'S SOMETHING WE WATCH ALL THE TIME IT COULD HAVE SOMETHING TO DO WITH LOWER PRODUCTIVITY GROWTH THAT WE HAVE NOW THAN WE WOULD HAVE HAD AT THE SIMILAR STAGE OF THE BUSINESS CYCLE 20 YEARS AGO. SO THAT COULD BE ANOTHER FACTOR BUT IT'S SIMPLY A PROBLEM THAT HAS TO BE UNDERSTOOD AND IT ISN'T FULLY UNDERSTOOD.
EISEN: WHERE'S THE RISK RIGHT NOW FOR THE ECONOMY? IS IT OVERHEATING OR SLOWING DOWN
FISCHER: WELL, THERE'S ONE BIG THREAT ON THE HORIZON AND THAT'S THE TRADE WAR WHICH WE MAY OR MAY NOT HAVE WITH CHINA. THIS IS NOT SOMETHING – THE PRESIDENT SAID TRADE WARS ARE GREAT, YOU CAN WIN THEM EASILY WELL —
EISEN: YOU DISAGREE?
FISCHER: I DON'T THINK HE KNOWS WHAT A BIG TRADE WAR IS ABOUT NOT PLAYING WITH CANADA NOW, PLAYING WITH CHINA WHICH IS VERY IMPORTANT IN THE GLOBAL ECONOMY AND IMPORTANT FOR US SO IT'S GOING TO BE A HARDER GAME TO PLAY AND IT WORRIES ME.
EISEN: DO YOU THINK THE U.S. CAN STAY — IF YOU LOOK AT THE MARKETS, THE CHINESE MARKET SUFFERED SO MUCH WORSE, SO HAS ITS CURRENCY, THE U.S. HAS BEEN REMARKABLY RESILIENT IN THE FACE OF TRADE RISKS CAN THAT REMAIN THE CASE
FISCHER: IT CAN. AND WE'VE SEEN THAT WHEN THE MARKET HAS IN RECENT WEEKS BEGUN TO WORRY A LITTLE BIT AND THE MARKET GOES DOWN FOR A FEW DAYS, THEN EVERYBODY STARTS THINKING THE GAME IS OVER AT SOME POINT THE ECONOMY WILL NOT GROW AT THIS SPEED THIS IS FASTER THAN IT CAN SUSTAIN. AND I ALWAYS SAY WE THE CENTRAL BANKERS CUT INTEREST RATES SEVERELY TO ENCOURAGE GROWTH AND TO SUPPORT EQUITY PRICES THAT ADJUSTMENT HASN'T BEEN FULLY MADE YET PRICES HAVE GONE DOWN A BIT BUT THEY HAVEN'T GONE DOWN RELATIVE TO WHERE THEY WERE 20 OR 10 YEARS AGO AND THAT ADJUSTMENT MAY NOT BE OVER AND SO THAT HAS TO HAPPEN AT SOME POINT. WE'RE GOING BACK TO NORMAL WE'RE VERY CLOSE TO NORMAL BUT WE'RE NOT THERE YET.
EISEN: BUT I THINK THE FEAR AMONG SOME INVESTORS IS THAT THIS FED IS SO FOCUSED ON TRYING TO GET BACK TO NORMAL OR NEUTRAL OR WHATEVER THAT IS THAT THEY MAY BE IGNORING OR OVERLOOKING SIGNS OF WEAKNESS IN THE ECONOMY, LIKE WHAT'S HAPPENING IN HOUSING OR THE GLOBAL SLOWDOWN POTENTIALLY IMPACTING THE U.S. AND THEY'RE POTENTIALLY HIKING INTO A RECESSION.
FISCHER: WELL, THAT IS ALWAYS THE CASE AND YOU HAVE TO MAKE YOUR JUDGMENT AND THEY'VE BEEN RIGHT SO FAR FOR QUITE A WHILE AND OF COURSE BUSINESSMEN ALWAYS WANT LOWER INTEREST RATES WHEN THEY START GOING UP AND THE FED HAS TO MAKE A JUDGMENT AS TO WHAT IS NEEDED AND THEY ARE UNDOUBTEDLY LOOKING AT THE RATE OF GROWTH WHICH IS VERY HIGH BY HISTORICAL STANDARDS AND WORRYING ABOUT INFLATION. THAT'S WHAT'S GOING ON AND THE ONLY BIG PROBLEM IS THERE ARE LAGS IN THIS PROCESS YOU RAISE PRICES, YOU RAISE INTEREST RATES NOW BECAUSE OF INFLATION YOU FEAR DOWN THE ROAD. AND SO IT'S VERY EASY TO SAY ALWAYS, YEAH, THEY'RE PREMATURE. WELL THEY BETTER BE CAUSE IT TAKES AWHILE.
EISEN: SOUNDS LIKE YOU'RE WORRIED ABOUT THE TRADE WAR. DO YOU PREDICT THE FED WILL EVENTUALLY HAVE TO RESPOND
FISCHER: YOU MEAN BY CUTTING INTEREST RATES?
EISEN: POTENTIALLY IF THERE'S AN IMPACT.
FISCHER: WELL, IF THE ECONOMY SLOWS DOWN, IF THE GROWTH RATE SLOWS DOWN TOO MUCH OR IF THE FED EXPECTS IT TO SLOW DOWN TOO MUCH, WHICH IT CLEARLY DOESN'T DO RIGHT NOW YES, THEN THEY WILL CUT RATES AS ANY CENTRAL BANK WOULD BUT IT HASN'T HAPPENED.
EISEN: WHAT ABOUT WHAT'S HAPPENING GLOBALLY THE IMF TOOK DOWN THE GLOBAL ECONOMIC FORECAST TO 3.7% GROWTH.
FISCHER: RIGHT.
EISEN: DOES THAT SOUND RIGHT TO YOU GIVEN THE ACUTE CRISES IN EMERGING MARKETS THE TRADE TENSIONS WHICH ARE ESCALATING WITH CHINA? THE FED RAISING RATES?
FISCHER: WELL, I CAN'T REALLY TELL THE DIFFERENCE BETWEEN A FORECAST OF 3.9 AND 3.7. THEY BOTH SEEM TO BE PRETTY GOOD BUT THE DIRECTION SEEMS RIGHT IN LIGHT OF THE TRADE SITUATION AND THE FACT THAT WE'RE HEADING FOR CONFRONTATION. IT'S NOT CLEAR THERE WILL BE A CONFRONTATION AND IN EVERY CASE SO FAR IN THE END THE UNITED STATES HAS COMPROMISED SO THE BIG QUESTION IS ARE THEY SAVING UP THE NON-COMPROMISING ACTIONS FOR CHINA OR IS THAT GOING TO BE LIKE THE ONES WE'VE HAD SO FAR
EISEN: DO YOU THINK WHAT'S HAPPENING IN THE U.S. IS A SUGAR HIGH? LARRY KUDLOW SAYS IT'S NOT, BUT THERE'S SOME DEBATE.
FISCHER: WELL. I DON'T KNOW, YOU MEAN IS THIS GOING TO GO DOWN? THAT'S ANOTHER WAY OF SAYING IT IS ABOUT TO GO DOWN AND I DON'T THINK IT'S IMMINENT BUT YOU CAN'T TELL ON THESE THINGS.
EISEN: WHAT ABOUT GLOBAL CENTRAL BANKS ARE EUROPEAN UNION AND JAPAN EVER GOING TIGHTEN AND GET BACK TO NORMAL IN THE WAY THE FED IS TRYING TO DO?
FISCHER: YOU SOUND JUST LIKE THE QUESTIONS YOU ASKED ABOUT THE FED FIVE YEARS AGO OR THREE YEARS AGO. YES, THEY WILL ONE DAY GET TO THAT SITUATION AND WHEN THEY RAISE RATES EVERYONE WILL SAY IT'S PREMATURE BUT IT WILL COME AND THEY WILL NORNALIZE IT AT SOME STAGE.
EISEN: IS SOME STAGE SOON? DO YOU STILL TALK TO THE GLOBAL CENTRAL BANKERS? YOUR FORMER STUDENTS?
FISCHER: I DON'T CALL THEM YOU'RE ASKING THEM TO DO SOMETHING WHICH THEY SHOULDN'T DO WHICH IS TALK TO AN OUTSIDER SO I DON'T CALL.
EISEN: SO IF YOU HAVE A MESSAGE FOR CHAIRMAN POWELL WHO I KNOW YOU SERVED ON THE BOARD WITH AND YOU KNOW VERY WELL GIVEN THE CRITICISM GIVEN THE DEBATE ABOUT THE ECONOMY, WHAT'S REALLY HAPPENING WHAT WOULD YOU TELL HIM
FISCHER: I'D SAY IT LOOKS GOOD FROM THE OUTSIDE YOU SEEM TO BE DOING THE RIGHT THING. I CAN'T REALLY TELL BUT THAT'S MY CURRENT GUESS AND DON'T LISTEN TO THE POLITICIANS YOU'VE GOT TO NOT LET WHAT THEY SAY MOVE YOU IN EITHER DIRECTION BECAUSE I CAN MAKE AN ARGUMENT WHY THEY'D CUT INTEREST RATES CAUSE THE PRESIDENT SAYS THEY SHOULD AND WHY THEY RAISE THEM BECAUSE THEY'RE WORRIED ABOUT INFLATION AND OTHER THINGS AND THEIR REPUTATION AS WELL IF THEY LOSE THE REPUTATION FOR INDEPENDENCE, MONETARY POLICY BECOMES A MESS YOU NEVER KNOW WHY THEY'RE RAISING INTEREST RATES REDUCING INTEREST RATES YOU REALLY HAVE TO GET THAT ELEMENT THE PRESIDENT OUT OF IT. YOU HAVE TO UNDERSTAND THESE ARE PROFESSIONALS, THEIR JOB TO BE PROFESSIONAL, THEIR PROFESSION REQUIRES THEM TO BE PROFESSIONAL THEY DON'T WANT TO BE REGARDED AS THE GUYS WHO FOLDED AND THEY SHOULDN'T BE THE REGARDED AS THE GUYS WHO EXAGGERATED IN ORDER TO PROVE THEY WEREN'T FOLDING AND I DON'T THINK THEY WILL.
EISEN: DON'T LISTEN TO THE PRESIDENT SHOULD THEY LISTEN TO THE MARKETS AND HAVE THE MARKETS THROWN ENOUGH OF A FIT FOR THEM TO DO ANYTHING ABOUT IT?
FISCHER: I CAN'T MAKE THAT JUDGMENT FROM A YEAR OUT OF THE FED AND WHAT'S HAPPENING TODAY I DON'T THINK SO IF THEY WERE AVERY BIG MARKET MOVE THEY MIGHT SLOW THINGS DOWN A LITTLE BIT BUT IT WOULD TAKE A LOT TO GET THEM TO MOVE AT THE MOMENT.
EISEN: I KNOW YOU'RE CAREFUL ABOUT WHAT YOU'RE SAYING AS A FED OUTSIDER FROM AN INSIDER, WE APPRECIATE THE COMMENTS AND THOUGHTS AND ADVICE HOPE CHAIR POWELL IS WATCHING.
FISCHER:WELL, I HOPE WE'RE APPROPRIATELY — I'M APPROPRIATELY CAUTIOUS I COULD SAY THINGS BUT I WOULDN'T BELIEVE THEM.
WE'LL GET YOU FAR OUT FROM THE FED AND SPEAKING MORE CANDIDLY BUT THIS IS A GOOD START. STANLEY FISCHER, THANK YOU.