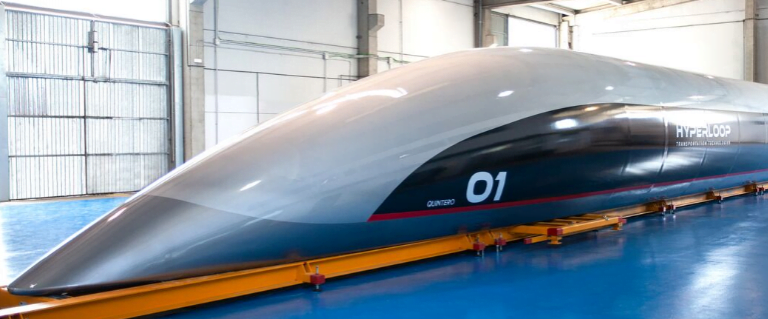 Hyperloop Transportation Technologies (HTT) showed off its first passenger pod to the world on Tuesday, moving one step closer to its vision of carrying passengers at super-fast speeds. The company's first hyperloop pod is named the Quintero One, and it was built at Puerto de Santa Maria, which is home HTT's Spanish manufacturing partner Airtificial.
Everything you need to know about HTT's first hyperloop pod
Stressing the importance of their first hyperloop pod, HTT chairman and co-founder Bibop Gresta told CNBC that it's a "real full-scale capsule" and this is the first time "we've shown what a hyperloop would look like." Their first hyperloop pod will now be shipped to HTT's European headquarters in France for "additional assembly and integration."
To mark the occasion, the company released a video entitled "How We Built the World's First Hyperloop Passenger Capsule."
Hayden Capital 2Q22 Performance Update
Hayden Capital's performance update for the second quarter ended June 30, 2022. Q2 2021 hedge fund letters, conferences and more Dear Partners and Friends, The markets continued to sell-off in the second quarter, especially for internet-based businesses.  This year continues to be the toughest stretch for us, since the Hayden's inception.  Inflation concerns and the Read More
HTT's pod is 32 meters (105 feet) long, and the passenger cabin is 15 meters (50 feet). The pod weighs five tons. As of now, it is not clear how many passengers the pod can accommodate. However, the dimensions of the pod are similar to a New York subway car. Previously, the company has said the pod can be seen as an "airplane without wings."
HTT's capsule was built by its Spanish manufacturing partner Airtificial, which was formed by the merger of Spanish engineering company Inypsa and manufacturer Carbures. Inypsa is known for manufacturing parts for companies like Airbus and Boeing. Design consultancy PriestmanGoode designed the pod's aerodynamic exterior. The interior of the pod is not yet completed. Once the final touches are done, it will be tested on a hyperloop test track.
Airtificial co-founder Rafael Contreras claims the pod is the "safest transportation vehicle in the world" due to the heavy use of carbon fiber and composites in its construction. The pod's skin is made of Vibranium, which includes carbon fiber and embedded sensors. HTT claims this material is 10 times stronger than aluminum and eight times stronger than steel.
When will the full hyperloop system be ready?
HTT claims it will be ready to ferry passengers before the end of next year. The company is also working on developing a test track at its French facility. Moreover, HTT is considering a framework for insurance and certification, something it believes will help it quickly roll out the technology in more markets.
In 2017, HTT signed a partnership agreement with insurer Munich Re to offer insurance for the transportation system. The company also signed contracts to develop tracks in the UAE, China and Ukraine.
HTT CEO Dirk Ahlborn said it will take three more years to develop the full hyperloop system.
"In three years, you and me, we can take a hyperloop," he told CNBC. Further, Ahlborn noted that the hyperloop transport would see worldwide adoption in "five to 10″ years once the legal framework is decided.
Others in the race
Tesla CEO Elon Musk was the first to talk about hyperloop transport in 2013. The pods are envisioned to carry passengers at speeds of over 700 miles per hour. With such a speed, a trip from San Francisco to Los Angeles would take just 30 minutes. The technology uses magnets to mount and push the pods.
In addition to HTT, other companies are also striving to be the first to place such a transport system in operation. For instance, Virgin Hyperloop One showcased a prototype model of its full-scale passenger pod earlier this year. Virgin Hyperloop One also successfully tested its hyperloop capsules on its track in the Nevada desert. The capsule touched 387 kilometers per hour.
On the other hand, HTT has only carried out "feasibility studies" so far with the aim of identifying if a hyperloop system is economically feasible in some countries. HTT was the first company to be formed after Musk revealed his idea for a transportation system that uses levitation pods and nearly air-free tubes to eliminate friction and drag.
Initially, HTT adopted a crowd-sourced-type of approach. Engineers who already had permanent jobs at places like NASA and Boeing were paid for their contributions to the project in their spare time via equity. Now more than 800 engineers are working for HTT.
Updated on