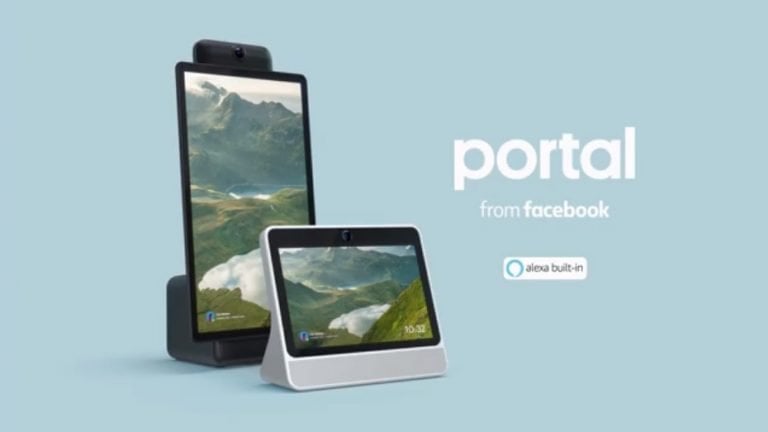 Facebook has finally launched its very first hardware product following years of rumors about other devices, such as the Facebook phone. Preorders for the Facebook Portal begin today, and shipments will start next month.
Facebook Portal now up for preorder
The Facebook Portal is a chat device with a screen and support for Amazon's Alexa. It's essentially a smart speaker with a display, camera and touchscreen designed to zoom in on the user's face while they're chatting with someone. The camera even follows the user around the room if they aren't sitting still. The company wants users to feel like they're actually visiting with someone in person rather than through a screen.
The Facebook Portal comes in two sizes: one with a 10-inch display and one with a 15.6-inch screen that swivels. The larger size is called the Portal+, and some of its other specs are also better than those on its smaller sibling. Both devices come in black and white, and the smaller one is priced at $199, while the larger is selling for $349.
This mining and metals fund is having a strong year so far
The Delbrook Resources Opportunities Master Fund was up 9.2% for May, bringing its year-to-date return to 33%. Q1 2021 hedge fund letters, conferences and more Dellbrook is an equity long/ short fund that focuses exclusively on the metals and mining sector. It invests mainly in public companies focused on precious, base, energy and industrial metals Read More
The display on the smaller Facebook Portal offers 720p resolution, while the larger model features 1080p resolution. Both models have a 12-megapixel camera with 140-degree field of view, but the larger one has 20w audio, versus only 10w audio in the smaller Portal. Both devices have a 4-mic array with 360-degree pickup.
Unique Facebook features
Users must be logged into their Facebook Messenger account to use the device, which requires a phone or tablet which supports the app. The Facebook Portal supports voice control which allows users to begin a video chat with someone using only their voice. They simply have to say, "Hey Portal," and then tell it who to call. Users can also tell it to play music and control other connected devices. The Facebook Portal uses Amazon's Alexa for voice commands.
The device also supports augmented reality in some ways, like allowing users to place virtual objects in the room with them or add things to their face that aren't there, like facial hair, for example. The Facebook Portal also supports Spotify and Pandora, so users can listen to music and share it with the person they are chatting with. The device even supports Food Network so users can watch some videos with those they're chatting with.
It can also be used to check the weather and sports scores from their favorite teams. Facebook also included an immersive storytelling feature to make it easy for parents or grandparents to tell a story to their children or grandchildren if they're far away from each other. Story Time can add sound effects and animations to the story while it's being told.
The device also supports some features from Facebook, like displaying birthdays and some photos and videos from the user's account. However, it doesn't seem to have full access to users' Facebook accounts. It also lacks a browser.
Addressing privacy concerns with the Facebook Portal
In some ways, the Facebook Portal is similar to Amazon's Echo Show, which is another smart speaker with a screen. However, Facebook's device is designed specifically for video chat, so the company probably hopes it is different enough that people will be convinced to buy it. Because consumers are already accustomed to having a smart speaker in their homes, most probably won't think much about adding another connected device, although some of us can't get past the creepy factor.
Since the Facebook Portal is designed for video chat, it brings with it some obvious privacy concerns. The company wanted to make sure consumers know that the Facebook Portal comes with a cover for the camera. The device also features a mute button for the microphone, and all videos and chats are stored locally on it rather than on Facebook's services.
It does not support Facebook Live, the company's live-streaming service. That decision seems to be intentional so users don't accidentally broadcast their home live on Facebook (now that would be embarrassing and a severe invasion of privacy).